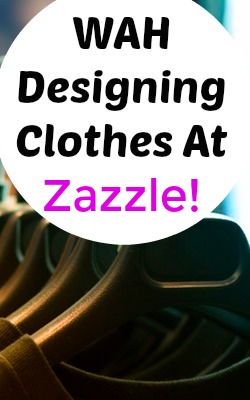 Zazzle is a site that lets you open your own online storefront and sell t-shirts and other products you design. It's free to open your own store, and Zazzle handles all of the production, shipping, and customer relations.
Zazzle lets you set your own price, and you get to keep all the profits. If you're creative, this might be an awesome way for you to make some extra money, and it's possible to make a full-time income.
If you're not creative, Zazzle isn't for you. Make sure to check out my full Work At Home Job Directory.
In this Zazzle Review, I'll cover how to open a store, how to design products, how you get paid, and if selling products on Zazzle is a scam!
---
Zazzle Review
Site: Zazzle
Type: Design, Selling
Verdict: Legitimate
In this Zazzle Review, I marked it legitimate. It seems there're tons of people that make an extra income with this site and even some that make a full-time income designing products.
I like that you get to set the markup on the products you design and that you get to keep all the profits from your sales. I also like that after you create a product, the rest of the process is handled by Zazzle.
If you ran your own online store, you'd probably have a higher revenue on each product, but after you create and ship the product I don't see how you could make any more than if you used Zazzle.
If your creative and have some design ideas, Zazzle seems to be a great site to use.
---
How Does Zazzle Work?

1. Sign Up For Free & Create Store
It's completely free to join Zazzle and open a store; the first step is to visit Zazzle.com and join. Once you join, it's time to set up your store. Fill out the name, tagline, about, tags, and location of your store. You need to upload a logo, and you can even leave a link to your website and social media accounts if you're already selling products online.
2. Create Products
Once you set up your store, it's time to create your first product. You can design men's, women's, and kids apparel along with other items like phone cases, buttons, coffee mugs, stickers, posters, and a few other items.
Choose what item you'd like to design and then either upload your design or use their builder to create your design (the builder is limited, so you'll want to create your design elsewhere.)
3. Set Price
Once you're happy with your design, you'll post it for sale in your store. This process includes naming the product, adding tags/categories, and setting your price.
Based on your design, Zazzle will give you the base price they charge to create and ship the product. You can choose a markup of 5%-100%, but for results choose in the 5%-15% range.
4. Promote
Once you create and set the price of your product, it begins to show up in your store and on Zazzle search results. From this point, it's time to promote your products. Zazzle has guides that can help you make your first sale, so I recommend reading those.
If you already have a target audience, I recommend promoting your items to them on social media.
If you're a blogger or have a following on social media, you may want to promote your products to them. For example, you could put your logo on a variety of different products and sell them. You can see a shirt I put my logo on here. If you have a following that's passionate about you, you can probably get people to buy products with your logo on it; please make it look better than the shirt I created while writing this review!
5. Collect Profits
Once you begin to make sales, Zazzle pretty much handles the rest of the process. They create the product and ship it to the customer. If there's an issue with customer service, Zazzle handles those too!
As you make sales, Zazzle does all the work, and you earn the markup on every sale you make!
---
How Does Zazzle Pay?
As mentioned, Zazzle gives you a base price per item, and you get to set the markup. You'll earn 100% of the markup earnings on all sales. You can get paid via PayPal or mailed check.
The minimum threshold for PayPal is $50 and $100 for mailed check.
If your monthly income reaches the threshold, your payment is issued before the 15th of the following month. For example, if you earn $50 or more in January, you'll get paid before February 15th.
---
Is Zazzle A Scam?
Zazzle is not a scam; it's a legitimate way to make money online and if you can create popular designs you can make a large income. They key to a significant income with this site is promotion and focusing on a target audience or niche.
Luckily Zazzle has plenty of information to help you set up your store, make your first sale, and grow your sales.
If you'd like to learn more or to join, visit Zazzle.com and open a free store!
If you're creative Zazzle is a great option, but have you thought about using your design skills to make money other ways? I know quite a few people that make a full-time income on a site called Fiverr. Design gigs happen to be extremely popular on that site.
If you're not creative, designing products probably isn't for you. You can see other ways to make money online at my Work At Home Jobs Directory.
If you'd rather work for yourself, I highly recommend learning how to Start a Profitable Blog.
Do you think Zazzle is a scam? Do you have a Zazzle Success Story to Share? I'd love to hear your thoughts on this review in the comments below! 🙂