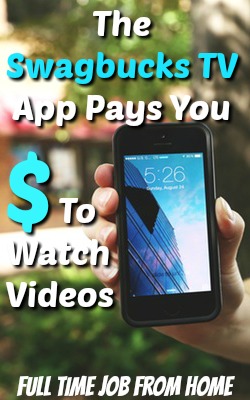 One of my favorite extra income sites is Swagbucks. They've recently updated their mobile app and created a new app called Swagbucks TV.
Swagbucks TV is the same as the watch tab on the computer version, but of course, it's on your phone.
Today I'll cover the Swagbucks TV app in detail to see if it's worth using.
This app is not a scam; Swagbucks is a legitimate company that's paid me over $1,000.
In this review I'll cover how the app works, what features are available, how much you can earn, and the complaints I have.
---
Swagbucks TV App Review

App: Swagbucks TV
Type: Watch Videos
Score: 70 out of 100
Verdict: Legitimate
The Swagbucks TV app is completely legitimate, but honestly, it's not the best app in the world. If you want to get paid to watch videos, it works just fine, but there're daily limits on how much you can earn, and you won't make much.
I have to say that I am disappointed in the app. I love Swagbucks, and I thought their regular app was pretty good.
One thing I do like about the app is you can access most of the information (account information, point balance, rewards) inside this app without having to access a computer. The other thing I like is you can watch the videos with your phone on silent with no noise from the video, which is perfect if you need to kill some time in public, and don't have headphones.
Overall the Swagbucks TV app is a decent app to get paid to watch videos; it's an easy way to kill some extra time each day and make some extra cash.
---
How To Earn: Swagbucks TV App
If you're familiar with Swagbucks, it's very similar to the watch tab on the desktop version. There're many categories of videos to choose from.
Once you watch the first full video, it shows suggested videos and even auto plays the next video most of the time. Every couple videos a 15-30 second ad will play, it usually requires you to exit the ad before watching the next video (meaning you can't just set your phone down and walk away).
After watching five videos, you'll earn 2 Swagbucks (equal to $.02). Most videos range from 30 seconds to 2 minutes.
There's a daily limit of 10 Swagbucks earned through the Swagbucks TV app.
---
Swagbucks TV App Features
Not only can you earn cash watching videos, but I was surprised to see the extra account features you can access in the app.
You can see a running total of you Swagbucks balance including where you earned all of your points.
Access the Invite Your Friends tab, invite friends through text/email, earn 10% of their earnings for life.
Access rewards and cash out $5 gift cards and PayPal payments starting at $25.
Honestly, it's not a huge deal that these features are available, but if you plan on just using the mobile app, it makes it much easier to see all this information on your phone.
---
Swagbucks TV App Complaints
Daily Limit
There is a daily limit of 10 Swagbucks earned through the Swagbucks TV app. Let me make it clear that you can still earn Swagbucks other ways or even watch videos on the desktop version of Swagbucks.
It does suck though for mobile users that you're limited to such a small amount of earnings ($.10) each day.
Is It Worth The Time?
To earn 2 Swagbucks, you need to watch five videos. If you add up the time to watch five videos and the random ads it can easily take 10 minutes to earn $.02.
Honestly, unless you're just trying to kill time I don't see how this is worth it. If you're doing something else and can check your phone every now and again, it could work, but it's not going to make you much money.
App Not Working
In the app store, there're quite a few reviews saying that the app is not working and videos won't play. Before writing this review, I used the app a few days and never had any issues.
I'm not sure if there was just an issue with a previous version of the app, but I did allow my phone to use cellular data to play videos, so that might be the problem for some people.
---
Is the Swagbucks TV App a Scam?
The Swagbucks TV app is not a scam; you'll earn Swagbucks which you can exchange for rewards. With that being said, I was pretty disappointed after using this app; I love Swagbucks, but I'm not impressed with this app.
This app is going to be a tiny income, but if you're looking to kill some time it can be a fun way to do so. If you'd like to learn more visit Swagbucks.com to earn $.70 when joining!
The Swagbucks TV app isn't the best, but the desktop version is awesome, here're some other ways to make an extra income online that I recommend.
Extra Income is awesome, but I make a much larger income online Blogging. It's easier than every to make money blogging and I have a guide to help, visit How To Start a Profitable Blog to get started.
Do you think the Swagbucks TV app is a scam? I'd love to hear your thoughts in the comments below! 🙂
Summary
Reviewer
Review Date
Reviewed Item
Author Rating