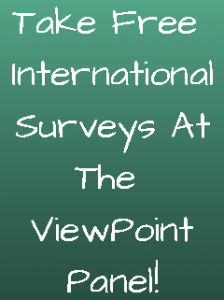 ViewPoint Panel is a survey site that's available to anyone over 16 in many countries. I decided to write a quick ViewPoint Panel Review because there're many people outside of the US looking for legitimate paid online surveys.
From what I can see the ViewPoint Panel is a completely legitimate and scam free paid survey site, but if you're in the US, there're much better options out there. In some countries, this might be one of the better choices, since you're limited to what survey panels you can join!
Please understand that taking surveys is going to be a tiny income, it's usually a horrible hourly rate. If you're interested in making a large income online, check out My #1 Recommendation, it's how I made over $13,000 online last month!
In this ViewPoint Panel Review, I'll cover how it works, how you get paid, the complaints, and if this survey site is a scam.
---
ViewPoint Panel Review

Site: ViewPoint Panel
Price: Free To Join
Verdict: Okay, Not Recommended 
In this ViewPoint Panel Review, I gave them an okay score mainly because I know this site is not a scam. They do pay, but I don't recommend it over a lot of other survey sites. I do have to say that they were very honest on their FAQs about how much their surveys pay and how much you can make, which is always great to see!
In my opinion, if you're in the US don't bother with ViewPoint Panel, but if you're in a country that has limited survey panel options, this might be one of the better ones.
If you do decide to join, you will get paid your earnings, but I'd check out the survey sites I recommend first!
---
How Does ViewPoint Panel Work?
Signing Up and Profile
Anyone who's over the age of 16 can join ViewPoint Panel, and it's available in the US, Canada, UK, India, Philippines , Indonesia, Malaysia, Australia, France, Sweden, Vietnam, and Brazil. They say they're adding more countries soon!
Signing up is very similar to any other survey site, you'll enter your email, name, zip code, and age. All you need to do is verify your email to get started!
The next step in the sign-up process is completing your profile; you need to complete it before they send you any surveys.
There're 15 different profile surveys you'll need to take. Some of them cover demographics, employment, and household information. It only takes 5-10 minutes to complete the rest of your profile.
Taking Surveys
Once you complete your profile, ViewPoint Panel will start to send you surveys. You can set it up to email you when new surveys are available or just log into your account to see.
Just because ViewPoint Panel says there're surveys to take doesn't mean you'll be able to take them and get paid. You have to answer some screening questions and see if you qualify before taking the survey.
If you do qualify you can complete the survey and get paid, but if you don't you'll earn nothing and will have to try to qualify for a different survey.
---
How Does ViewPoint Panel Pay?
Once you take some surveys and earn some cash ViewPoint Panel will pay you via PayPal once your account reaches $12.50. On their site, it says current minimum cash out, so I'm not sure if this amount ever changes.
Once you cash out, expect your money with 5-7 days.
---
ViewPoint Panel Complaints
Limited Surveys/Qualifying
This seems to be a common complaint when it comes to sites that only offer surveys. There're quite a few members that are complaining about not receiving very many surveys. They also say that it's impossible to qualify for surveys. If you've taken surveys before you know that you have to qualify for a survey, although ViewPoint Panel sent you a survey, it doesn't mean you can take it and get paid.
There's a good chance, especially if you're from outside the US, it will be very hard to qualify for surveys!
Not Mobile Friendly
More and more people are starting to make money on their mobile phone. Surveys are one way to make money on your phone through apps, but the ViewPoint Panel does not have an app, and they say that it actually won't work on your phone's browser.
In the FAQs, they said their surveys are set up for computer based only. If you want to take surveys on your phone, ViewPoint Panel will not work!
No Referral Program
Most survey sites have referral programs, and all of my survey site income comes from referrals. ViewPoint Panel does not have a referral program, so if you planned on inviting some friends to make an extra income, you wouldn't be able to!
Most people don't have a way to make good money referring people, so this should not be a major issue for most.
---
Is ViewPoint Panel A Scam?
The ViewPoint Panel is not a scam, it's a completely legitimate way to make money taking surveys online, but it's not a site I recommend. There're much better survey sites out there. The only way I'd recommend this site is if you're outside of the US and there're no better options. Still, you'll have to have a PayPal account so PaidViewpoint would be a much better option.
If you're in the US, I would recommend staying away from ViewPoint Panel and checking out Swagbucks or Fusion Cash. You can see a full list of all the Survey Sites I Recommend, before joining ViewPointPanel!
I stopped taking paid online surveys about two years ago when I found a much better way to make money online. You can see how I make a full-time online income building website with My #1 Recommendation. Also, check out how you can work directly with me for just $19 a month!
Do you think the ViewPoint Panel is a scam? 
ViewPoint Panel
Summary
ViewPoint Panel is a survey site available in over 15 countries. It's very similar to any traditional survey site where you sign up for free, wait for survey invitations, and then try to qualify for the survey.
If you qualify you might be able to complete the survey and get paid, but if you don't qualify, you earn nothing and just wasted your time.
I do like that they pay with PayPal and a $12.50 minimum cashout amount isn't the worst, but there're much better sites out there to use.
Please keep in mind that even if you're using a great survey site, you won't get rich taking surveys.
Number of Surveys

Reward Options

Minimum Cashout Amount

Income Potential

Payout Timeframe

My Overall Impression
Comments Rating
( reviews)
Pros
Available in Several Countries
Cons
You Didn't Qualify
Limited Surveys
No Referral Program