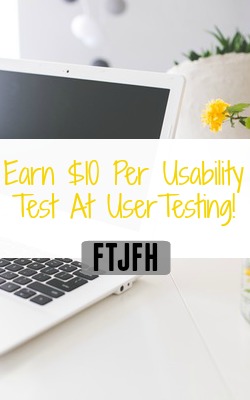 As most of you have probably seen I've been on a roll reviewing Usability Testing Jobs. I ran across another called UserTesting.com and wanted to see if it's a scam.
From what I can see it's pretty similar to most of the usability testing sites out there and is probably a good join to maximize the number of tests you can complete.
If you're not familiar usability testing sites like User Testing are looking for normal people just like you and me to give feedback on company websites. It's usually really easy, takes a short time, and the pay is pretty good.
I'll go into more detail on how it works below, but for now, let's jump into this User Testing Review!
---
How Does UserTesting.com Work?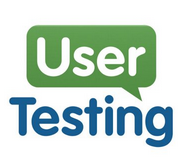 If you're not familiar with Usability Testing here is what to expect. After you're accepted you will get tests sent right to your email. You will be brought to a companies website and have a series of tasks to complete.
You will be recorded with a webcam and mic as you complete the laid out tasks.
For example you may be asked to add some items to your shopping cart or navigate to a certain page of a website. All you need to do is give your feedback on what's easy, what was confusing, stuff that you'd like to be added, and so on.
As you can see it's a really simple process that almost anyone can do!
---
UserTesting.com Requirements
As mentioned before these sites are looking for normal consumers just like you and me, but there are a few specific requirements. One you must 18 years of age to apply and be fluent and able to communicate.
You'll be giving your own feedback so being able to express your thoughts is very important.
You will need a computer, high-speed internet, a webcam, and microphone. If you do not have a webcam, I recommend this high-quality webcam on Amazon. The software does work on PC or Mac.
They also offer mobile tests that can be completed on iPhone or Android smartphones.
---
UserTesting.com Application
The application is pretty simple. You'll fill out a form on their website that is similar to signing up for a survey site. The form includes basic information, demographics, hobbies and interests. It should just take a few minutes to get filled out.
After you submit the form you'll be required to submit a sample test. The test is really easy and they give you an idea of what they're looking for. Complete the tasks they have lined up and submit.
As long as you provide good feedback and show that your mic and webcam are of quality you should be accepted and start receiving tests to your email shortly after.
---
How Much Does User Testing Pay?
UserTesting.com pays you $10 per test that you complete. All tests take under 20 minutes to complete so it's pretty good money for your time.
After you submit your test you'll be paid exactly 7 days after. User Testing pays by PayPal and funds will be automatically added to your account.
---
Schedule and Potential Income
As mentioned usability testing sites are extra income and there is no set schedule. You will receive tests straight to your email. They are first come first serve and once they get the feedback they need they'll be closed.
To maximize your earnings make sure to take the tests as soon as you receive them. There is no exact number of tests you will receive, but it seems that most members receive 1-4 a month depending on demographics, since they pay $10 each you could make $40 or so extra each month for about an hour of your time. It's not a full time income, but can be combined with other sites to give you some extra cash!
---
Is UserTesting.com A Scam Or Legit?
UserTesting.com is completely legit. I've done my research and there is no negative feedback about this site. If you've done usability testing in the past you know to maximize your earnings you need to sign up for multiple sites so this is a good option to be added to your list.
No this site won't make you rich, but $10 is pretty much industry standard. The only site that pays more is YouEye at $12 a test.
As long as you have the required equipment and can speak decent you should have no problem getting accepted and earning some extra cash with this site.
To apply or learn more visit Become a tester.
To see some other ways to make some extra money take a look at my list of extra income jobs! To see how I make a full time income visit Start Your Own Online Business.
Are you already a UserTesting.com Tester? Have something to add to this review? Let me hear your story in the comment section below!
Summary
Reviewer
Review Date
Reviewed Item
Author Rating