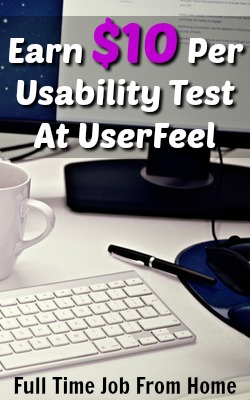 A few months back I came across a cool way to make money online called website usability testing. After that, I reviewed a ton of sites and made a list of 11 websites usability testing jobs.
Well, today I came across another site called UserFeel.com that hires website testers and decided to write this review. If you're not familiar with website testing don't worry, I'll cover exactly how it works inside this testing job review.
Although you can earn $10 per test, usability testing won't make you rich, there are usually only a few tests per week, which limits your earnings. If you're interested in making a large online income, check out My #1 Recommendation, it's how I made over $13,000 online last month!
In this UserFeel.com review I'll cover the requirements, how much they pay, a typical website test, and of course answer is this site legit or a scam.
---
UserFeel.com Requirements & Application
Pretty much anyone can join UserFeel.com as a tester, but here are the requirements. You need to be at least 18 years of age. You'll need a computer with a webcam and mic. It does not have to be a built in mic and webcam. I highly recommend this high-quality webcam from Amazon.
Payments are made via PayPal so you'll also need an account to get paid.
If you have the required equipment, you can apply. They are looking for ordinary people just like you and I so don't think you need special skills or background knowledge to apply and make money testing.
To start the application process, you can apply on their website. This contains basic personal and demographic information.
You will need to complete a sample test to make sure you have the required equipment, have the ability to complete the tasks they lay out, and provide quality feedback.
They do give you information on what they're looking for in your practice test, so you should have no problem giving a great test and getting accepted!
It says that most of the time you'll hear back within seven days, but it can take up to two months to hear back on acceptance.
---
UserFeel.com Typical Test
Once you join and are accepted, you'll begin to receive emails with links to available tests. Just click the link to start the test. One thing to keep in mind is it's first come first serve and tests fill up quick. To complete a test and get paid you'll need to do it as soon as possible.
Once you enter a test, you're screen and voice will be recorded. You'll have a few tasks to complete such as navigating the website, adding items to your cart, or going through different shopping options.
It's your job to complete the tasks and let the owner know what you liked, what was difficult, what they can improve, and general opinions of the site.
A typical test lasts from 15-30 minutes. Once you're done, your feedback will be approved, and you'll be paid for your time and opinion.
---
How Much Does UserFeel.com Pay?
UserFeel.com pays $10 for every test that you complete. Payments are made via PayPal at the end of each week.
A typical test takes from 15-30 minutes, so it's pretty good money for the time required to complete a test.
---
UserFeel.com Tester Schedule
There is no set schedule for testers at UserFeel.com. This is also just a part time income. When tests are available, you'll be notified via email.
If you want to complete the test, you'll need to complete it as soon as possible because each test only needs so much feedback.
UserFeel.com reports most members make around $100-$200 a month, which means there're 10-20 tests per month available. Seems to be right on track from what I've found on other website usability testing sites.
---
Is UserFeel.com Legit or A Scam?
UserFeel.com is a legit completely scam-free way to make money online testing websites. I'm a pretty big fan of usability testing because the pay is not bad for the 15-30 minutes it takes to complete a test.
The schedule is super flexible, so if you have the time, you can make a decent side income just by giving feedback on websites.
I like that they pay via PayPal at the end of each week and that it's available to everyone!
If you'd like to learn more or to apply, visit UserFeel.com Become A Tester.
Usability testing isn't a full-time income, but if you'd like to build a larger online income, you can join a few other usability testing sites or these extra income jobs that I recommend.
If an extra side income isn't for you, you can see how I make a full-time income online by visiting How To Work At Home, it's how I made over $13,000 online last month!
Do you think UserFeel.com is a Scam? Let me hear your thoughts on this usability testing job in the comments section below!
Summary
Reviewer
Review Date
Reviewed Item
Author Rating