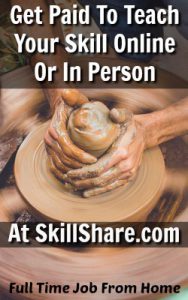 SkillShare is a site that lets ordinary people like you and me teach their skills to students around the world.
Almost anyone can hold a teacher job at SkillShare as long as you have the ability to teach a skill you have.
Sign up as a teacher, create a class, set a price, teach students, and earn cash.
Teaching your skills is a great way to make money online, it's almost as passive as my favorite way to earn a full-time income from home, check out My #1 Recommendation, it's how I made over $13,000 online last month!
In this SkillShare Jobs Review, I'll show you the requirements, how it works, how much you can earn, and see if this a legit way to make money online.
---
How SkillShare Teaching Works?
SkillShare is super easy to use and make money teaching. Here's an example of how it works.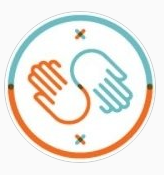 1) Create A Class
The first step is creating a class. I cover exactly what you can teach later on in this review, but almost everything can be taught at SkillShare. First, create a title and brief description of your class.
Then create videos of you teaching your skill. A typical class consists of 30-60 minutes of pre-recorded videos.
The next step is creating a cool class project. The class project should put to work the skills you taught in your class. For example, if I taught someone how to build a website the class project should involve the student creating a website!
2) Promote Your Class
The next step is getting people to sign up for your class. Your class is listed on SkillShare and students can search by category to find your class.
SkillShare gives you a lot of tools to help you promote your class and even has a course on how to get more people to sign up.
3) Interact & Answer Your Students Questions
You only have to create the training of your course once, but as students sign up and take your class they're going to have questions.
Make sure to monitor and respond to all the issues and leave feedback on students class projects!
4) Get Paid
You get paid for every student that signs up and takes your class. SkillShare does make a small cut, but your earnings will be paid via PayPal.
---
Who Can Become A Teacher?
Here's the awesome thing about SkillShare, you don't need a teaching degree or even a degree in the skill that you'll be teaching.
As long as you have a skill that people want to learn about you can create a class and make money teaching on the site.
One thing to keep in mind is that you'll have to prove to SkillShare that you know what you're talking about. For example, if you teach a class on web design, you'll have to submit a short demonstration on what you'll be teaching.
---
What Can You Teach?
You can almost teach anything at SkillShare through either an online class or a local workshop. To teach online it needs to fit in one of the following main categories:
Design
Film
Photography
Technology
Writing
Fashion
Music
These are very broad categories and a lot of things that might not fit exactly into these categories still get accepted.
Probably the easiest way to figure out what you can teach is to visit the site and see if anyone else is teaching something similar.
But for things like woodworking or gardening, you'll have to hold a local workshop.
---
How Much Does SkillShare Pay?
There isn't an exact answer for this. It all depends on how many people sign up for your classes and what price you charge per ticket.
SkillShare does take a 12% cut of the total earned per class. So you can account for this when setting the ticket price. For example, if you earn $500 in ticket sales for your class you'll receive 88% or $440.
Payments are made via PayPal.
---
Current Teachers & Typical Income
After doing some research, it seems that most teachers are very happy with SkillShare. Most of the feedback is from successful members, though.
It seems that they give you tons of help with getting started, how to create a course, how to get people to sign up, and more.
To me, it's a cool, easy way to make some extra money teaching your skill.
I found on the SkillShare website that a regular active member makes $3,400 a year, and there's a lot of stories of members who make over $100,000 a year.
I have to say that this is similar to Fiverr, except you can set your price higher than $5. If you teach something that people want to learn, do a great job teaching it, and help students when they have questions you should be able to make good money with this website!
---
Is SkillShare Legit Or A Scam?
SkillShare is a completely legit scam free way to make money online and has the potential to turn into a full-time work at home job income.
I like that anyone can sign up and teach. To me, if you teach a popular skill well, you should have no problem making some good money with this site.
Now there's no guarantee that you'll make a class that people will sign up for, but there's a possibility of a substantial income with this site.
I have to say that I recommend SkillShare if you have something your good at that others might want to learn.
To learn more or to sign up, visit SkillShare become a Teacher.
If teaching isn't your thing, then you should check out these other ways to earn an extra income from home.
If you're intertested in making a full-time income online, check out My #1 Recommendation, it's how I made over $13,000 online last month!
Do You have A skill you'd like to teach? Let me hear your thoughts on this SkillShare Teaching Job Review in the comments section below!