PocketMoneyGPT is a rewards site that pays you to do things like take surveys, complete offers, visit websites, and more.
I decided to write a review, to see if this was a scam or an extra income site worth using. Surprisingly, PocketMoneyGPT is a decent site that does pay their members.
I have to say that I prefer some extra income sites over it, but if you decide to join, you'll be a member of a scam free site.
In this review, I'll cover how to earn, the rewards available, and if it's a legitimate option worth using.
---
PocketMoneyGPT Review
Site: PocketMoneyGPT
Type: Rewards Site
Verdict: Legit
In this PocketMoneyGPT review, I marked them legitimate. Based on the older design of the site, I figured this site wouldn't be worth using, but I was surprised. They have a decent amount of ways to earn, and I really like that you can get paid via PayPal starting at just $1.
With that being said I prefer some extra income sites over PocketMoneyGPT, but overall the site is legitimate and decent.
---
How To Earn At PocketMoneyGPT
Offers – PocketMoneyGPT pays you to complete free and paid offers. Most free offers require you to sign up for a free site or mailing list. Most pay $.50-$2. Paid offers require you to sign up for a free trial (credit card on file) or make a purchase. The paid offers pay much more, but you might get charged if you don't cancel your free trial.
Surveys – They also pay you to take surveys; most surveys pay from $.50-$1.50. Keep in mind that you'll need to qualify for the survey to get paid, so you'll waste time trying to qualify. The only site that pays you for every answer is PaidViewpoint.
Paid To Click – They also pay you to click which is basically clicking/visiting a website for 10 seconds. This pays about .0005 cents a piece, so it's very low paying.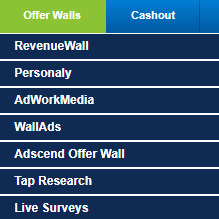 Offers Wall – Here you'll find all of the third-party providers that work with PocketMoneyGPT. You'll find more offers, surveys, and ways to earn like watching videos and visiting websites. Basically just more of the same from other providers.
Contests – Each month PocketMoneyGPT has several contests you can win. You can win most of the contests for being a member that completes the most offers (ways to earn.) If you're on the leaderboard, you'll win cash prizes from $1-$15.
Refer Friends – You can earn more by referring your friends. You'll earn 10% of your referrals earnings and $.30 once your referral completes a way to earn worth $.24 or more. You can increase your referral percentage with a paid membership, but I don't recommend it for most people. I'll cover this more in the complaint section.
---
PocketMoneyGPT Rewards
PocketMoneyGPT has two reward options with a cashout amount of $1, so it won't take long to cash out and get paid.
After you earn $1, you can get paid via PayPal or Amazon gift card.
Their FAQs state that they pay daily, so I'd expect your reward within 24 hours of cashing out.
---
PocketMoneyGPT Complaints
Paid Memberships
One thing that most legitimate extra income sites have gone away with is paid memberships. There were many complaints about having to pay to earn more, so most sites don't have that option anymore.
PocketMoneyGPT does have paid memberships, but I don't recommend paying for them. They only give you additional referral earnings.
Unless you're referring 100s of members a month, this will not be beneficial.
Luckily it's just a one time charge, instead of a monthly fee like some other sites. Either way, I would not pay for a membership and wish this site would get rid of paid memberships.
---
Is PocketMoneyGPT A Scam?
PocketMoneyGPT is not a scam. It's a legitimate rewards site that does pay and has a lot of ways to earn and PayPal payments starting at just $1. PocketMoney isn't super popular, but I think it would be if more people knew about it.
One thing to keep in mind is this is just extra income. It's not going to make you rich, but if you use the site to earn extra cash, you will get paid.
To learn more or to join, visit PocketMoneyGPT.com to sign-up for free.
Personally, I prefer sites over PocketMoneyGPT, make sure to check out the Extra Income Sites I Use.
If you're looking to make more than an extra income, check out My #1 Recommendation!
If you didn't find what you were looking for here, make sure to check out these helpful links:
Work From Home Companies Hiring
Do you think PocketMoneyGPT is a scam? I'd love to hear your thoughts on this review in the comments section below!
Summary
Reviewer
Review Date
Reviewed Item
Author Rating