NO LONGER AVAILABLE. Check out my Favorite Was To Make Money Online!
Almost everyone is on social media and so many people waste hours a day looking at what others are doing. Well what if you could get paid to waste time on social media? Now you can with tsu, a new social network that pays you to post, share, like, comment, and basically be social.
tsu was brought to my attention after a reader asked if it was a scam. I thought instead of just replying to one person I might as well write a full tsu Social Network Review for all of my readers.
In this tsu review I'll cover how it works, how much you're paid, some tsu complaints, and answer is this a scam or a legitimate way to make money on social media.
---
tsu Social Network Review
Site: tsu.co
Price: Free
Score: 70 out of 100
Verdict: Legitimate
In this tsu social network site review, I gave them a good score and marked it legitimate. The first thing you should know is that this site won't be a huge income. Some people are making decent money, but you need to be very popular, receive a lot of interactions on your posts, and have the ability to invite a lot of friends to grow your "family tree". With some work you can make some decent money.
I like the idea behind the site. So many people waste time on social media, including myself. It's awesome that I can get paid to share content and interact with others.
Overall a cool site that's scam free and legitimate, but takes some time to build up a decent extra income.
---
How Does tsu Work?
Is It Actually A Social Network?
One question most people have when hearing about tsu is it actually like a social network? The answer is yes you can follow and friend other members. You can post content and like, comment, and share other peoples content.
You have your own profile with a picture, header photo, bio, and everything else you normally have on any social network. As you build your network, your news feed will fill up with the content that they post.
So yes tsu is just like any other social network, but they pay you.
How Do I Earn Cash At tsu?
The biggest question people ask when hearing about tsu is how do I earn money, and the answer is very simple. The tsu social network has ads, just like Facebook, Twitter, or any other network. The difference is that the other social networks keep their advertising income, but with tsu they share the ad revenue with their members.
The amount of money you make has to do with how much money your content generates. I'll cover exactly how it works below:
Your Direct Earnings
The first portion of your earnings is your direct earnings from your content. You'll earn a share of the ad revenue your content generates. You don't actually earn by receiving likes, comments, and shares, but higher earnings and more interactions are related.
The more people that interact and see your content directly relates to more ad revenue generated and more money in your pocket.
Your "Family Trees" Earnings
The other portion of your earnings comes from your "family tree" or the people you invite to tsu. So to make it easier to understand, it's earnings from the referral program or "refer-a-friend" program.
For your direct referrals you'll earn 50% of their ad earnings. The program is multi-tiered so if your referral invites a friend you'll earn a 33% of their ad earnings. The process continues down each tier with the percentage amount getting cut in 1/3 at each tier. For example the 3rd levels earnings is 33% x 1/3 or 11%.
I've included a table below if you're still a bit confused: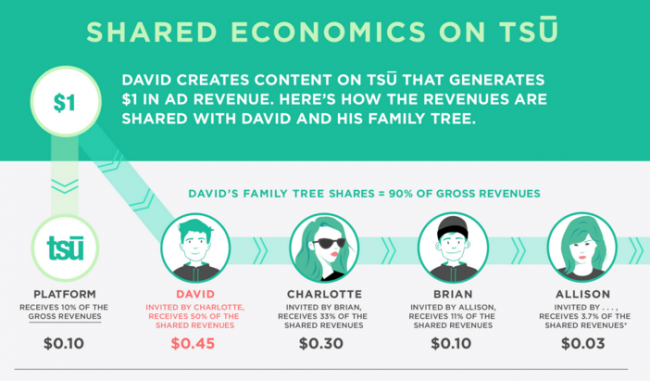 ---
How Does tsu Pay?
All of your earnings will be added and tracked within the tsu electronic wallet. You can cash out at any time once you reach $100 in earnings.
Payments are made by mailed check. They do have the option to donate earnings to charity. You'll have to verify your information before cashing out. You should expect your check within 14 days of cashing out.
---
tsu Social Network Complaints
Payment System
The biggest issue I have with the tsu social network site is the payment system. The cash out amount is extremely high at $100, which I think is ridiculous. It would be so much better if they got it down towards $20. More members would join and actually reach the cash out amount in a timely fashion.
The next major issue, in my opinion is the payment form. You would think a revolutionary site like this wouldn't be using the old method of getting paid by mailed check. I really wish direct deposit and PayPal were options.
Either way, the $100 cash out amount is reachable once you build up your following and family tree, and your check will arrive if you cash out.
I Thought You Said I Get 90%?
One of tsu's big advertisements on their homepage is that they keep 10%, and you receive 90% of ad revenue, but this might not actually be the case.
It's true that tsu only keeps 10% of earnings, but the rest of the 90% gets split between the person that referred you and their family tree.
You really won't be earning the full 90% yourself, but I guess the advertisement of 90% of earnings goes to members is still true!
---
Is tsu a Social Network Scam?
The tsu social network is not a scam; it's a completely legitimate way to make money online while spending time on social media. With that being said, I do have some complaints about the site that I wish they would change.
Although there's some complaints, it's possible to join and reach the cash out amount if you work at it. Personally I've been using the site just to share some of my reviews. I'm starting to build up a following and will hopefully be able to make some good money with this site in the future as it becomes more popular. Might as well give it a join and make money on social media.
To learn more or to join visit tsu.co to get started. You'll become my friend automatically, so I'll see you inside!
If you don't enjoy making money with something you already do everyday, check out how I make a full time income online with My #1 Recommendation or see some other great ways to make an extra income online.
Have you used tsu? Do you think tsu is a scam? What's your thoughts on my tsu social network review? 
Summary
Reviewer
Review Date
Reviewed Item
Author Rating