I recently ran across a survey site called TestSpin and decided to write a review. Honestly, I'm not impressed with this survey site and feel like there're much better survey sites out there.
The odd thing about this site is that you earn itcoins that can be redeemed for rewards on a different site called Redeem it Now. Personally, I think this is pretty dumb, but I'll cover more on this later.
I don't recommend TestSpin, but if you'd like to take surveys check out these awesome extra income sites.
In this TestSpin Surveys Review, I'll cover how to earn, how to get paid, and is this survey site a scam.
---
TestSpin Surveys Review
Site: TestSpin Surveys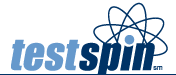 Price: Free
Score: 10 out of 100
Verdict: Scam!
In this TestSpin Surveys Review, I gave them a terrible score and marked it a complete scam. There're tons of complaints about not qualifying for surveys and getting kicked out of surveys. But the main complaint is not receiving rewards and no support once you have problems.
I also have an issue with the site called Redeem It Now, which is the rewards center for TestSpin. I never trust a site that doesn't pay you and have rewards directly with them. Turns out Redeem it Now isn't paying rewards.
Overall, this is a terrible site that you should not waste your time on. If you want to get paid to take surveys, check out the Survey Sites I Recommend. You'll get paid by these sites!
---
How To Earn At TestSpin
The main way to earn at TestSpin is by taking surveys. It's a very similar set up to other survey sites. You join, complete your profile, and wait for survey invitations to roll into your email.
As surveys come in you can click on the link to go to the study. You'll have to answer some screening questions to make sure you qualify. If you do, you can continue with the survey.
Once you complete a survey, you'll be paid in itcoins that can be exchanged for gift cards.
---
How Does TestSpin Pay?
PLEASE READ THE COMPLAINTS ABOUT PAYMENTS. First off there's been a ton of complaints about people getting paid, but I'll still cover the payment system. Awhile back TestSpin switched to a provider called Redeem it Now. The points you earn are called itcoins.
To redeem your itcoins, you'll have to sign up for Redeem it Now and log in. You can redeem your itcoins for Amazon gift cards and PayPal payments, but you'll most likely not get paid!
---
TestSpin Survey Complaints
Can't Qualify
If you've ever taken surveys before, you know that you have to be eligible for surveys. Even though you get a survey invitation, you'll have to answer some screening questions before the survey even starts. The only survey site that doesn't do this is PaidViewpoint.
There're many complaints from current members that they never qualify for surveys and sometimes get kicked out of survey right before they complete the survey.
There're complaints of people not qualifying for surveys in over a year.
No Payments
At one time TestSpin did have some happy members, but it seems over the years it's gone downhill and since they've switched to the new itcoins system at Redeem it now it's become even worse.
There's tons of unhappy members who report reaching a cash out amount, cashing out a reward, and never receiving it. When they contact support about the issue, they never hear anything back. I knew right away when I saw they used a different point and reward provider that this could be a scam, and turns out I was right on point.
---
Is TestSpin Surveys A Scam?
In my opinion and the opinion of other TestSpin members, this site's a scam. It's not worth taking a risk on not getting paid, especially when there's nothing good about this survey site, to begin with. My advice is to stay away, nd you won't have to worry about not getting paid.
If you're still interested in taking surveys online for cash, I've reviewed tons of much better survey sites you might be interested in. Visit Extra Income Survey Sits to learn more.
If you weren't aware that survey sites are just extra small incomes, here's how I make a larger online income with My #1 Recommendation.
Have you been scammed by TestSpin Surveys? Let me hear your thoughts on this review below!
Summary
Reviewer
Review Date
Reviewed Item
Author Rating