10
Yaarlo App Review: Scam Or Legitimate Paid To Shop App?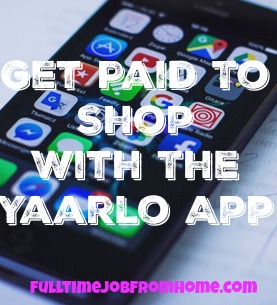 NO LONGER AVAILABLE CHECKOUT IBOTTA
Yaarlo is an app that pays you to upload your shopping receipts. They also offer cash back at some online stores. I decided to write a Yaarlo App Review because although I've seen many shopping apps I'd never heard of Yaarlo and was interested to see if it was better than any of the others.
From what I can see the Yaarlo app is scam free and legitimate, but you should know this app won't earn you much money. It will be extra income just for uploading pictures of receipts. Out of all the shopping apps, I prefer Ibotta.
In this Yaarlo App Review I'll cover how it works, how to get paid, and the complaints I have with this shopping app.
NO LONGER AVAILABLE CHECKOUT IBOTTA
---
Yaarlo App Review
App: Yaarlo

Type: Shopping
Score: 82 out of 100
Verdict: Legitimate
NO LONGER AVAILABLE CHECKOUT IBOTTA
Last Month I Made

$13,841 Online
I Bet You're Tired Of Making Pennies Online. No More BS. If You're Serious About Making A Full-Time Income Online You Need To See The TRUTH. Stop Wasting Your Time With The Next Big Thing When There's Already A Proven Method That Works!
In this Yaarlo App Review, I gave them a pretty good score and marked it legitimate. The first thing you need to know is that you'll be earning 1% or less of your receipts purchase price, so this will not be a significant income. It's going to take a lot of receipts to reach the cashout amount, but when you do you'll get paid.
Other then the time required to reach the cashout amount I do have some other complaints with this app, but overall it's an easy way to make some extra cash. I think some will feel like this won't be worth the time, if so check out some of the other shopping apps I recommend here.
---
How To Earn With The Yaarlo App?
Uploading Receipts
The main way to earn with Yaarlo is through uploading receipts. I've covered how it works below.
1) Make A Purchase At A Qualifying Store
The first step to getting paid to upload receipts is making a purchase at a qualifying store. Yaarlo accepts receipts from retail stores, grocery stores, restaurants, Gas, Wholesale Clubs, Entertainment, and personal services. You can pretty much upload a receipt from anything, but the rate they'll pay you depends on the category.
Pretty much all of the categories range from .25% or less. Occasionally they'll run promotions with higher rates.
Once you've made a qualifying purchase it's time to upload your receipt.
2) Upload Your Receipt
If you have an eligible receipt it's time to upload it. You can quickly take a picture of the receipt inside the app. You'll need to make sure the receipt is itemized, has store name, date, and total purchase price.
If your receipt is long, it's acceptable to take multiple pictures. Make sure to meet all the qualifications or your receipt may get rejected.
3) Earn Around 1% of Your Purchase
Once you upload your receipt, Yaarlo will approve it and add it to your account balance.
Online Shopping
Yaarlo also offers some online shopping cash back. If you're interested in this, I highly recommend checking out Ebates, because Yaarlo is extremely limited. But here's how it works.
Yaarlo offers online cash back to Walmart, JCPenney, Kohl's, and Macy's. You'll earn 2-3% for your online purchases. All you need to do is visit the store through the Yaarlo app or their website. Once you reach the site, just shop normally and complete a purchase.
It's a simple process, but you need to visit the store through the link on Yaarlo to get paid.
---
Yaarlo Refer a Friend Program
Yaarlo does have a refer a friend program that can help you earn more and reach the cashout amount quicker. The program pays you $.50 $1 for every friend you refer that confirms their email and uploads at least one receipt.
You can invite friends by text, sharing on social media, or grabbing the link and posting it on your website. They say that you'll need to upload at least one receipt before being eligible for referral earnings. They also say it may take up to 48 hours for referral earnings to show up.
---
How Does Yaarlo Pay: Yaarlo Rewards
The Yaarlo App offers a few ways to get paid including PayPal and a few gift cards. All gift cards start at $10 and are available at Amazon, Target, Panera, Starbucks, and Macy's. PayPal payments are available but don't start until $20.
Once you request a cash out, you'll receive an email confirmation, but it takes 5-7 days to receive your gift card by email.
---
Yaarlo App Complaints & Concerns
It's going to be a while…
This applies to almost every part of this app. Like mentioned, you'll be earning around 1% or less of your receipts total price. It's going to take a good deal of receipts and money spent to reach the $10 minimum cash out amount. For example, if you only upload receipts you'll need to spend around $1,000 to reach the cashout amount. You'll probably need to do some online shopping or refer some friends to reach the cashout amount quicker.
Once you do reach the cashout amount, it's unfortunate you have to wait 5-7 days to get paid. Most likely it took you months to reach $10, so I wish they sent you your gift card immediately.
---
Is the Yaarlo App A Scam?
NO LONGER AVAILABLE CHECKOUT IBOTTA
The Yaarlo App is not a scam; it's completely legitimate, and once you reach the cashout amount, you'll get paid. The main issue I have with this app is that it's going to take a very long time to reach the cashout amount. You'll need to spend around $1,000 to reach it so this app might not make sense for some small spenders.
As long as you know that this app is a small extra income that won't make you rich, you'll most likely enjoy the Yaarlo app.
If you'd like to learn more or to join, visit Yaarlo.com or just download the app on your mobile devices app store.
NO LONGER AVAILABLE CHECKOUT IBOTTA
Personally, I don't think this is worth it, so I don't use the Yaarlo app, but here're some other ways I make an extra income online, and it's worth the time.
If a small income won't work, here's how I make a full-time income online with My #1 Recommendation.
Do you think the Yaarlo apps a scam, legitimate, or just not worth the time? 
Summary
Reviewer
Review Date
Reviewed Item
Author Rating