2
Treasure Trooper Review: Is Treasure Trooper Legit?

I am a big fan of making extra cash each month with paid to do sites. Treasure Trooper is a paid to do site that can help you make some extra spending money every month. So you are probably wonder if is Treasure Trooper Legit?
In this Treasure Trooper Review I will show you why it's legit, but also tell you why Treasure Trooper is one of my least favorite legit paid to do sites out there.
How can it be legit, but one of my least favorite. Well keep on reading and find out!
---
 What Is Treasure Trooper
Treasure Trooper is a paid to do site which basically means you are going to get paid to do certain things like taking surveys and completing offers. As you can guess by its name it is themed in a treasure/castaway way. The whole website goes along with this which in my opinion makes it very confusing.
---
How To Earn With Treasure Trooper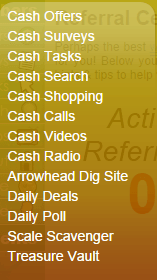 Like most other paid to do site Treasure Trooper offers multiple ways for you to earn you can see these listed below.
Offers
Tasks
Surveys
Search
Videos
Referring Others
---
Referral Program
Treasure Trooper does offer a referral program. The referral program is a 4 level program that offers more percentage of your referral's earnings based on how many referrals you have. You can see a diagram of the different levels of the program below. But the base level which is considered bronze is 20% of your direct referral earnings plus 5% of your referral's referral earnings. These earnings are only available on cash offers.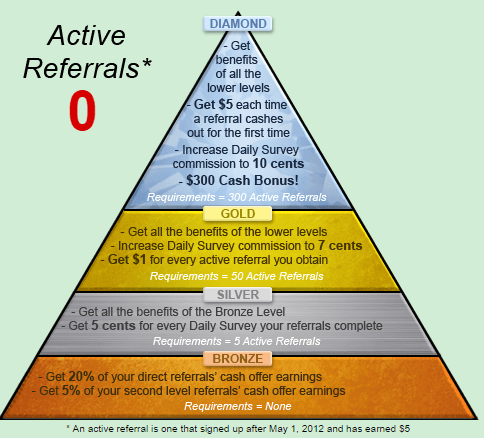 ---
How To Get Paid!
Treasure Trooper offers two different forms of payment, Check and PayPal. The minimum cash out amount is $20 for both methods. Checks usually take 15 days to receive after cashing out and PayPal only takes a day or two.
---
Treasure Trooper Review
Website: TreasureTrooper.com
Price: Free
Score: 75 out of 100
Verdict: Legit, but I don't like it!
I gave Treasure Trooper a 75 out of 100 and marked it as a Legit Opportunity. Treasure Trooper will pay you all the money you earn each month. There is nothing that makes this company a scam, but my personal opinion is it's to confusing and you will waste your time trying to figure out how it all works.
Last Month I Made

$13,841 Online
I Bet You're Tired Of Making Pennies Online. No More BS. If You're Serious About Making A Full-Time Income Online You Need To See The TRUTH. Stop Wasting Your Time With The Next Big Thing When There's Already A Proven Method That Works!
Treasure Trooper is legit, but I think there are companies that pay you for the exact same thing that are just better. Some example of these are Cash Crate, SwagBucks, & Inbox Dollars.
---
What I Like About Treasure Trooper
 Payments
One thing that is great about Treasure Trooper is it offers payments by PayPal. If you have PayPal I recommend using this method because you will get paid much faster! The cash out amount is $20 which isn't too bad, but it will take a bit of time to reach each month.
Does Actually Pay You
Like I said before Treasure Trooper does really pay you for your earnings. In no way is this company a scam, but my personal opinion is that the site is confusing which I will cover below!
---
Treasure Trooper Concerns
Referral Program
One real crappy thing about Treasure Trooper is the referral program now as you rise to the higher rankings the commissions get much better. But at the beginning you will only be paid for cash offer earnings. I really wish that commissions on all categories of referral earnings were paid for every level of the program.
Themed Site
I have done reviews on a few different themed sites, what I have found is the theme always ends up hurting the site in the long run. It seems like some people like it, but I think that it makes it very hard to navigate and confusing on what's going on.
Here is a few examples of what I am talking about.
Arrow Heads
You will earn arrow heads my taking some paid surveys and completing offers. Basically arrow heads can be traded in for cash or other items that help you build treasure maps and breed dragons. LOL I know what the heck do Dragons have to do with this.
Dragon Scales
You can collect Dragon Scales by completing cash offers. Basically Dragon Scales are needed to bread dragons along with other items you need to trade Arrow Heads for. One you have everything you need which seems like a whole you can breed a dragon and sell it.
Treasure Maps
Randomly while completing offers and tasks you will get pieces of a treasure map, once you collect all the pieces you usually get a cash bonus.
Now some people might think this portion of the site is awesome, personally it seems like a lot of work and waste of time. I just want to earn cash and not have to do all this trading to earn money!
---
Final Verdict
Personally I do not use Treasure Trooper to make money online. I find it way to hard to navigate and I don't like the theme, it makes it to confusing for me. It's easy for me write off Treasure Trooper because I make money with a few other sites just like it that don't confuse the crap out of me.
Treasure Trooper is 100% Legit. They do pay on time and will not scam you out of earnings. But for me the navigation and general feel of the website is enough to keep me from using this program
---
 What To Do Now
One thing I have learned with running this website is that not everyone agrees with everything I say, Imagine That. So if you can get over the fact that the site is extremely confusing you can join Treasure Trooper here.
Personally I would look elsewhere for a good paid to do site. Some of my personal favorites are SwagBucks, CashCrate, Inbox Dollars, and Paid Viewpoint. 
If you think that you are looking to earn more than just some extra spending money online check out Turn Your Hobby Into An Online Business.
Hopefully you enjoyed my Treasure Trooper Review! If you have experience with this company I'd love to hear about it in the comments section below.
Summary
Reviewer
Review Date
Reviewed Item
Author Rating