Here we go another Binary Options Scam. Binary Spotlight is another program that is a complete scam that makes some pretty bold claims all over its sales page.
Of course Binary Spotlight is not able to live up to these claims and will end up making you lose money trading binary options.
If you have read my other Binary Option Reviews there is nothing new here, just some good old fashion shady sales tactics and a product that does not work!
In this Binary Spotlight Review we will take a look at what makes this program a scam and why you should look for a different way to make money online!
---
Binary Spotlight Review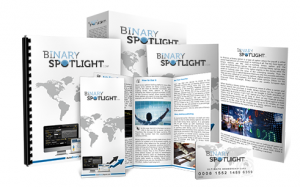 Website: BinarySpotlight.com
Price: Free + Funding Account
Score: 10 Out of 100
Verdict: SCAM!
In this Binary Spotlight Review I gave this product a very low score and have marked it a complete scam.
The main reason for this is the claims on the sales page are not true and not backed up. Also there is a lot of risk with trading, especially binary options trading.
Binary Spotlight makes it seem that their system eliminates this risk and will only earn you profit. That is simply not true.
Read on to see why Binary Spotlight is a scam!
---
Binary Spotlight Scam
False Claims
All over Binary Spotlight's sales page are false claims and lies that they are feeding you to make you join.
The first thing that jumps out to me is pictured below.

As you can see right off the bat they are promising you a large income per hour just by using this system.
This text is letting you know that this is going to happen "automatically" meaning you don't even have to touch it.
All you need to do is put some money into your account and boom you have instant income.
Sounds to good to be true, right?

Here is another screenshot from the sales page showing even more income in a shorter time period.
I have reviewed a lot of these Binary Options systems and they all promise the same thing, a lot of money in a short time period.
No product that is automatic is going to make you money, it will probably end up losing you all of it!
Is It Really Free?
The next lie that they tell you about Binary Spotlight is it's free. Although the program is completely free to join they do not let you start trading for free.
You have to put a minimum of $100 in your account before you can access the system.
So the answer is no, to use Binary Spotlight costs you money, it's not free.
They Can Only Make Money If You Do?
The screenshot above cracked me up…
This is not true at all. Binary Spotlight is not going to earn a commission on your earnings which is what is said on the sales page.
This product is making money when you deposit money into your trading account. That is the only time they earn money and they get it whether you make $100 or lose all the money in your account!
Binary Spotlight Free Credit

Another thing Binary Spotlight does to get you to join is offer a $300 free credit.
This credit is not free. You are required to make a deposit into your account before you receive any type of credit.
An issue with this credit is if you deposit $100 in your account and then get the $300 credit your account becomes $400.
Now if you end up losing that $100 investment, which most likely you will very quickly you can't trade or cash out your money.
Basically this credit is worthless and can only lead to you depositing more money and losing it.
Not Available In US?
To my surprise this product is not even available within the US. Lucky for us right! It still lets you join the program, but when you go to deposit money into your account you will be given the error picture below.
---
Should I Join Binary Spotlight?
I think I've made it very clear that Binary Spotlight is not a product that should join. Binary Spotlight is a complete scam that you should stay far away from.
Binary Spotlight uses false claims on their sales page to get you to buy and once you deposit money into your account all you will do is lose it.
Another thing that really makes me mad about this product is the mention of no risk and automatic.
Automatic systems don't work with making money online and if you know anything about trading or investing there is always a risk that you will end up with no money or losing money.
Binary Options trading is extremely risky and Binary Spotlight does not eliminate any of this risk!
---
Low Risk Options For Making Money
As I mentioned above Binary Options is a high risk type of trading, but if it's still something you're interested in I recommend staying away from these crappy products and finding a legit broker.
Trading within the stock market in ETFs is another great option, but once again find yourself a legit broker and go to town, but remember there is still a risk.
If trading doesn't seem like what you're into, I have another idea for you.
How about investing in your own online business. The start-up costs are extremely low and you can create an investment that can make you money for the rest of your life.
This is an extremely low risk opportunity and is a great way to create a new income stream for you and your family.
To see how you can get involved in this low risk opportunity visit Start Your Own Online Business. 
Thank you for reading this Binary Spotlight Review. You learned that this is a complete scam and you should stay away from this product. Hopefully you take advantage of my recommendation above and start a low risk online business today!
Summary
Reviewer
Review Date
Reviewed Item
Author Rating