1
Top 5 Must Have Apps To Make Money On Your Phone!
Here at Full-Time Job From Home, I cover a lot of ways to make money, and I have a huge list of apps you can use to earn money on your phone.
Today I'd like to narrow it down and show you the specific apps I use to make money while I'm on the go.
If you've been on my site, I'm sure you've heard of these apps before, but on this page, I'll tell you exactly how I use the app to make money.
If you have any questions about the apps on this page, make sure to leave comments below!
Here're the five apps I recommend everyone having and how I use them to earn money!
---
Top 5 Must Have Apps
Ibotta is an app that pays you to grocery shop. There're several similar apps, but in my opinion, Ibotta is the best available. They don't pay you to buy everything; they have offers for specific items and specific brands of an item.
Most of the rebates pay from $.25-$2.50, but some expensive items pay more.
I've been using the Ibotta app for about two years, and I always upload my receipts after going grocery shopping. I don't spend that much money on groceries, but I usually find at least one thing I bought available for a rebate inside the Ibotta app.
How To Get Paid
When you upload your receipt, Ibotta approves your rebate within 24 hours. The earnings go straight into your account balance, where you can cash out once you earn $20. At this time you can cash out via PayPal, Venmo, and a few gift card options such as Target, Old Navy, and Gap. I've included payment proof below, keep in mind most of the earnings are from referrals: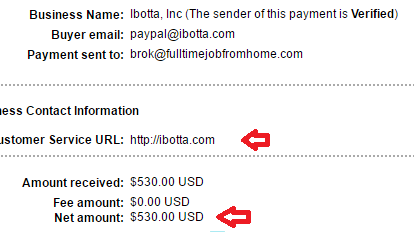 Last Month I Made

$13,841 Online
I Bet You're Tired Of Making Pennies Online. No More BS. If You're Serious About Making A Full-Time Income Online You Need To See The TRUTH. Stop Wasting Your Time With The Next Big Thing When There's Already A Proven Method That Works!
How To Join Ibotta
You have two easy options to join Ibotta. The first is visiting Ibotta.com and signing up for a completely free account. Option two is just downloading the Ibotta app on your mobile devices app stores and entering the code: xsolsia to be eligible for the $10 sign-up bonus!
---
BevRAGE –
Read Review
– NO LONGER AVAILABLE
The BevRAGE app is very similar to Ibotta, but for alcohol including beer, wine, liquor, and mixers. If you don't purchase alcohol you might as well skip this app, but it can be an easy way to earn some money for anyone that does!
Like Ibotta, BevRAGE will pay you to buy any beer, wine, or liquor and has brand specific offers that pay more!
Anytime I make an alcohol purchase I check the BevRAGE app to see if there's a rebate available. Most of the time there's at least a generic rebate where I can earn $1-$2 for my purchase.
How To Get Paid
Once you submit a refund, BevRAGE approves it within 24 hours. Within a few hours, you'll get paid the rebate amount directly to your PayPal account!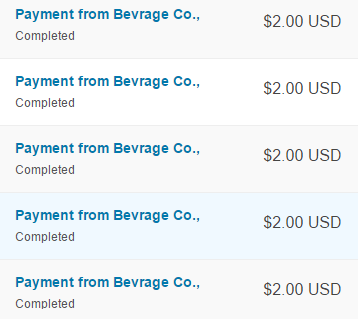 How To Join
There're two easy ways to join BevRAGE. The first is to visit BevRAGE.com and join for free. Option two is to download the app on your devices app store and enter the code FTJFH
---
Swagbucks is a rewards site that pays you to do several things like searching the internet, watching videos, shopping, and much more. It's probably my favorite rewards site out there and they have a pretty good app that makes it easy to earn money on the go. I like to use this app when I'm waiting in public. You can watch videos without sound and earn a few cents while nothing's going on. I've seen a lot of other bloggers mention doing the same thing while watching TV. You can watch videos and earn any time you're not using your phone.
Ways To Earn
Surveys
Videos
Offers
Search
Shopping
Invite Friends
How To Get Paid
You'll receive what they call "Swagbucks" which are basically just points. One Swagbuck is equal to $.01, so it makes it easy to tell how much money you've actually earned.
They have 100s of gift card options with most starting at $5. They also offer PayPal payments starting at $25.
How To Join
To use the Swagbucks app, you'll need to sign up for a free account. The easiest way to do that is on a computer or in your mobile browser. Visit Swagbucks.com to sign up for free, and you'll be eligible for a $5 sign-up bonus!
---
Paribus is a new app that I came across a few months back that automatically files price match opportunities for you recent purchases.
You do have to link your Amazon account or a credit/debit card so it can track your purchases, but it seems to be completely safe.
I've linked my Amazon account and credit card and have one price match filed on my behalf.
How To Get Paid
Paribus doesn't pay you, the store that you made the purchase from will rebate the amount on the method of payment for that purchase.
How To Join
It's a difficult sign-up process inside the app, so I highly recommend visiting Paribus.Co and joining for free there.
---
Ebates is a site that pays you cash back for all of your online shopping at over 2,000 stores. All you need to do is visit the store through the link on Ebates to be eligible for cash back on your purchase.
I use Ebates every time I make an online purchase; they make it easy to compare prices of specific items and see what store will give you the most cash back!
How To Get Paid
Unfortunately, Ebates only pays quarterly, but that's because it gives you time to return items that you order. You can choose to get paid via Direct Deposit, PayPal, or mailed check. Here's proof of one of my latest payment.

How To Join
To use the Ebates app, you'll need to an account. The easiest way is to visit Ebates.com and sign up for a free account. You'll be eligible for a $10 sign=up bonus once you make your first cash back purchase!
---
More Ways To Earn!
I really hope you enjoyed my list of my favorite 5 apps. If you have any questions about these apps or to recommend an app that you use. Please leave comments below!
If you're already using these apps or are looking for other ways to earn, make sure to check out my Top Rated Extra Income Sites.
Looking for a larger income? Have you thought about starting your own blog? Learn how you can get started for free with My #1 Recommendation!
Do you use any other apps to make money? I'd love to hear about them in the comments below!