The Social Element is a company that specializes in social media services, including campaign management and strategy. They have offices in London and New York but are currently hiring for a work from home Social Media Specialist and other similar positions.  
Please keep in mind that The Social Element is not always hiring; if that's the case, check out these work from home companies hiring now, or check out My #1 Recommendation to making a REAL income online.
In this The Social Element Review, I'll cover the requirements, responsibilities, application process, pay, schedule, feedback, and see if it's a legitimate opportunity worth pursuing.
---
The Social Element Requirements
Several requirements need to be met to apply. 
Experience using social platforms, including Facebook, Twitter, Instagram, and YouTube.
Fluency in social platform capabilities and offerings and desire to keep up-to-speed on new developments.
Experience executing a brand's social media strategy
Experience in Community Management or Customer Engagement
Solutions orientated approach
Collaborative, creative, and conscientious communicator
Excellent written and verbal communication skills
Excellent organizational and time management skills
Attention to detail
Sound judgment
Ability to maintain and uphold confidentiality at all times
Pride in what we do, what we create, in The Social Element community
---
Key Responsibilities
Day to day social media management on named accounts
Clear and effective communication with client contact/s when escalating user queries
Creation and on-time delivery of social media insights reports
Regularly sharing feedback and insights gained from social media management systems and performance with relevant teams
Execute proactive and reactive engagement strategies while ensuring alignment with brand TOV, guidelines, and contractual obligations (such as SLAs)
Continually grow and update best practices, always thinking of new and better ways to leverage social media platforms to achieve your clients' goals
Work closely with the Social Media Manager and Social Producer to ensure effective communication and alignment on service delivery
Assist in revising engagement tactics and recommendations to clients in response to platform developments.
Execute social media strategies and advise clients and Account Management on the performance of these strategies
Support other Services service lines when required, e.g., publishing, insights.
Attend client meetings as required
---
The Social Element Application Process
The application process is very simple. You will find the listing for the job here.
After you click the ''Apply Now'' button, a little form will pop up where you enter some basic information like your name, address, and phone number. After that, you upload your resume and your cover letter.
You should have your resume and cover letter handy.

You have the

option

to do a video cover letter instead of a written one if you prefer. Remember

 to provide The Social Element the link to the video in the space provided.
---
How Much Does The Social Element Pay?
There is no information on exactly how much this position pays, but Glassdoor does list some salaries of other positions. Based on the feedback, you can expect a wage of $13-$18 an hour. 
This appears to be a full-time employee position and not an independent contracting position. 
---
When Does The Social Element Pay?
I couldn't find any information on when the company pays. But as a full-time employee position, you can usually expect to get paid every two weeks or bi-monthly.
---
The Social Element Schedule
As stated above, this does seem to be a full-time employee position, and there is no schedule information listed. Full time usually means 40 hours. But it's hard to say if you can work anytime you want or if you'll be on a set schedule.  
The reviews on Glassdoor do indicate that some positions get to set their own schedule. But since you're working with companies, you'll at least have to do some work when they are available, if I had to guess.
---
The Social Element Feedback
The Social Element has 66 reviews on Glassdoor. There is a mixture of reviews that are mainly positive. The Social Element has a company rating of 4.2 out of 5 on Glassdoor. That is high compared to most companies. The reviews are thorough enough to get a good understanding of how the company operates and what it would be like to work for them.
---
Is Working at The Social Element a Scam?
Based on my research, The Social Element is a legit work from home company. If you're up for a challenging yet rewarding role where you will be working with well-known brands from around the world, and you have social media marketing, strategy, and campaign experience. This position may be a great fit for you.  
Go here to find the job listing. Click on the listing for the Senior Social Media Specialist, and then click Apply Now! Good luck!
If social media isn't your thing, check out these helpful links for some other ideas:
Have more information about working at The Social Element? I'd love to hear your thoughts on this review in the comments below!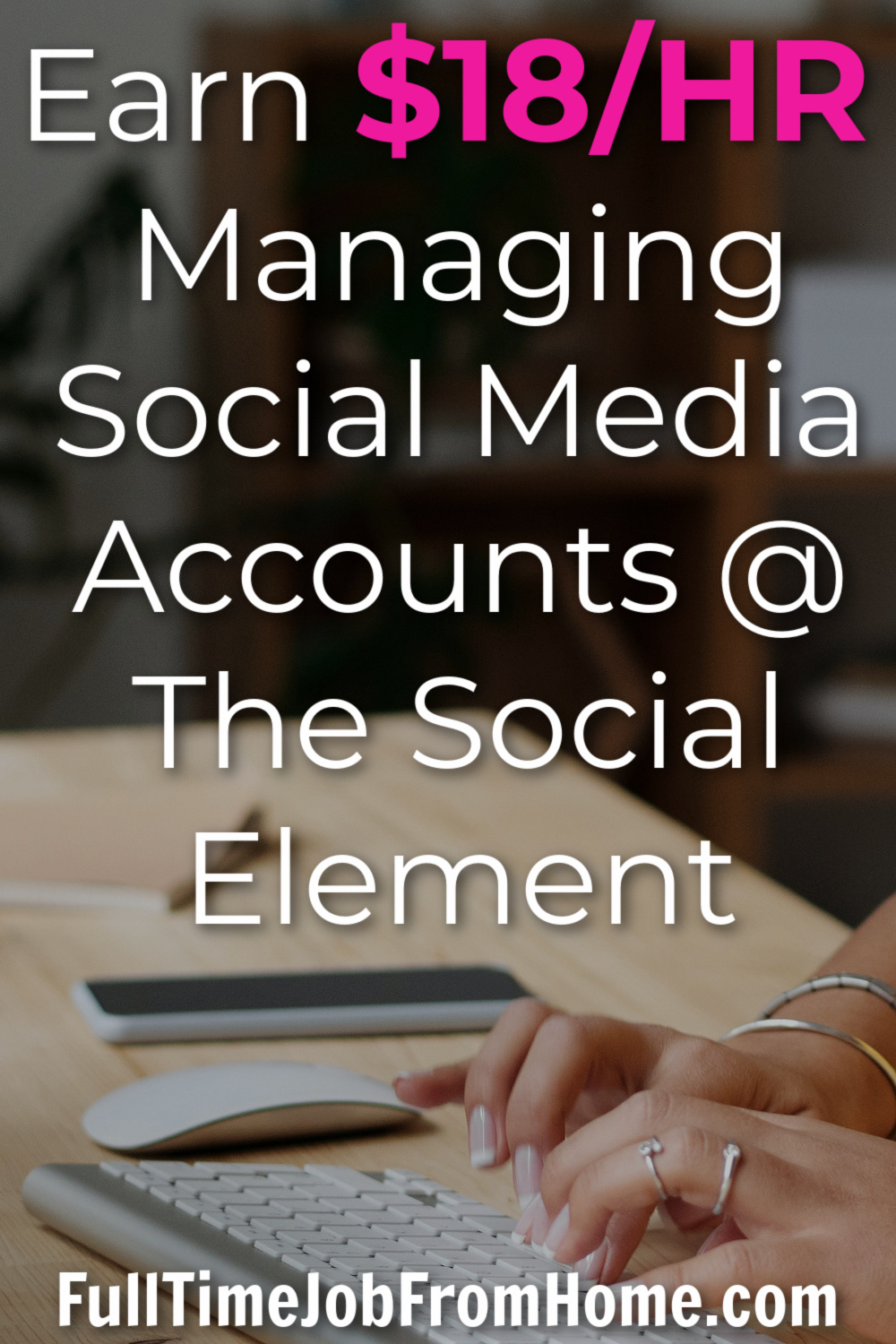 The Social Element
Comments Rating
( reviews)