The Chat Shop is a company located in the UK that specializes in live chat outsourcing and consulting. They are currently hiring for Live Chat Specialists.
Please keep in mind that The Chat Shop is not always hiring; if that's the case, make sure to check out this list of Legitimate work from home jobs hiring now or My #1 Recommendation to make a REAL income online.
In this Chat Shop Review, we will cover the requirements, application process, talk about the job, pay, schedule, current feedback, and if it's a legitimate opportunity. 
---
The Chat Shop Requirements
Not much is required to work for the Chat Shop. There are some skills required to qualify for the Live Chat position, including the ability to multi-task, use proper grammar, and have adequate typing speed.
Here are more details about the required skills:
Native-level English with spelling and grammar skills being outstanding

You must be organized with the ability to pay attention to details

Must have the ability to multi-task and keep a level head under pressure

It is important to be a person who enjoys learning new things

You should have a positive personality and a great attitude 

Typing speed of 65+ WPM, error-free (

test your typing speed here

)

Available to work 20-40 hours each week
You'll also be required to do some training. As a new agent, you will be expected and required to go through training that can be up to 100 hours. The training will be conducted Monday-Friday between 9 am and 6 pm for UK Agents and 12 pm to 6 pm UTC for US Agents. The Chat Shop's training is held online, with some training calls being held as well. All parts of the training will be very interactive and is not a self-paced or self-learning program. Please keep in mind that all parts of this training will require your complete focus and attention. Other commitments are not allowed during the training process.
---
The Chat Shop Live Chat Role
No chat will be the same. The training will help you do your best in this position, but it is up to you to add in the extra flare and really make this position your own. You will work together with other chat agents to represent a variety of customers for The Chat Shop. Every chat job will be different, and you will work across various industries, from real estate to ski lodges. This will definitely keep the job interesting and no two days will be the same.
---
The Chat Shop Application Process
 The Chat Shop's application process is straightforward and should take no more than 15 minutes. There is only a one-page application; you can apply here.
Have your resume and cover letter ready.

You will have to answer some questions about your home office and skills.

If the application is successful, you will do a live chat interview, an assessment test, and a phone interview.

References are needed if you are offered the position.
---
How Much Does The Chat Shop Pay?
The Chat Shop pays on a per-hour basis. According to Glassdoor, the pay range for the Live Chat position ranges from $9-$11 an hour. This is a 1099 independent contractor position, so you will be responsible for your income taxes based on the state where you live.
As with 99% of work-at-home opportunities, there are no 401k options or any other benefits provided. According to a reviewer on Glassdoor, there are opportunities to get paid for training, depending on the project's complexity.
---
When Does The Chat Shop Pay?
There is currently no information on when or how The Chat Shop pays their Live Chat Agents. Many companies pay independent contractors via PayPal. Remember that you will be responsible for your income taxes, so be sure to set money aside for taxes.
---
The Chat Shop Schedule
As a Live Chat Agent with The Chat Shop, you will be working a weekly schedule of 20-40 hours. There is currently no information specified as to a set time for these hours. Although keep in mind, the training will be a total of 100 hours with a set schedule. Training is held Monday through Friday, between the hours of 9 am and 6 pm for UK Agents and 12 pm and 6 pm UTC for US Agents. There is a likely chance that you will be assigned specific times to work based on availability and company needs.
---
The Chat Shop Feedback
The Chat Shop has 78 reviews on Glassdoor. On a 5-star scale, they rate 4.2 stars overall, with 83% recommending to a friend and 93% approving of the CEO. The reviews seem to be in-depth enough to get a good feel for how the company operates and what it would be like to work for them as an independent contractor. 
You will need to handle different call types as you may encounter customers who may not be in the best of moods regarding their situation. If you can keep a level head and calmly work them through the situation to achieve a positive outcome, then this position could be just right for you. The Chat Shop will expect you to go above and beyond to get the job done.
---
Is Working at The Chat Shop a Scam?
Based on my research, The Chat Shop is a legit work from home opportunity. If you love interacting with customers, providing the best service that you can, and helping them with your knowledge, then joining The Chat Shop's live chat team may be a great job opportunity for you. Also, if you love variety, and have the ability to work with different customers across multiple industries, then go ahead and apply for this position, as it will definitely provide that. Here's the link to start your application. 
Chatting from home isn't for everyone; make sure to check out these legitimate way to earn money:
Do you have experience working for The Chat Shop? Have thoughts on this review? I'd love to hear your thoughts in the comments below.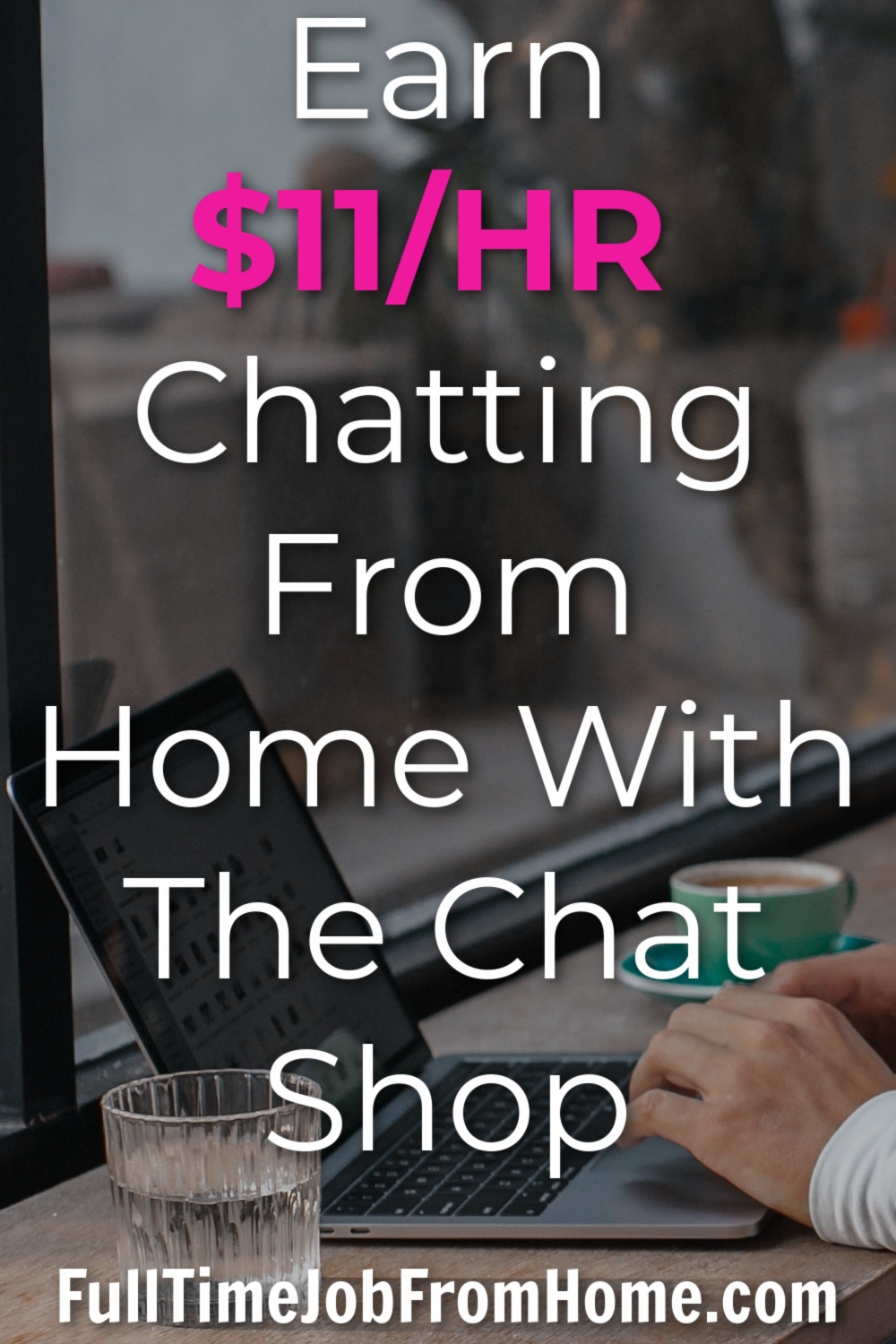 The Chat Shop Review
Comments Rating
( reviews)