With the passing of the 2018 Farm Bill Act and the deregulation of the hemp industry, the dynamics of hemp and CBD oil have completely changed. Hemp has been designated as an industrial cash crop and is 100% legal, and should not be overlooked as a viable business opportunity.
In this review, I am talking about the opportunity with Prime My Body, an industry leader in the CBD oil market. In my post of over 100 direct sales companies, I featured PrimeMyBody, and the industry has really taken off since then.
Direct Sales is by no means for everyone; make sure to check out My #1 Recommendation to making a passive income online.
In this Prime My Body Review, I'll cover the requirements, how to get signed up, how to earn, how to get paid, and feedback from other affiliates.
---
Requirements to Sell Prime My Body
There are not many requirements to be a Prime My Body affiliate.
Currently, you need to live in the United States or Japan to be an affiliate for Prime My Body. Coming soon are Mexico, Canada, and the European Union.
You'll need to pay $39 per year to be an affiliate. This gives you access to wholesale pricing and other business resources.
Although it's not a stated requirement, I would say that you need to be a user of the product to sell it successfully. That's going to be the case for all direct sales companies, and this one is no exception.
If you're trying to build a business, a monthly purchase of $89 or more makes you active. If you have a customer order, you don't have to make a purchase to stay active, but remember, you're using it! If you're just doing it to get wholesale pricing, staying active isn't a requirement.
---
How Do I Sign Up to Sell Prime My Body?
If you want to become an affiliate for Prime By Body, go here to sign up. That's my link, so if you know someone else who is an affiliate for Prime My Body, remember to ask them for their link!
When you click the link above, you'll then click on the Enroll Today button. Here's what they ask you for in the application:
Name
Email
Address
Country (As of today, only the US and Japan; other countries coming this year, such as Canada, Mexico, and the European Union)
You'll also create your affiliate user name and password (your user name will be what you share with people when you are sharing the products or the opportunity; I usually use my name for these, but if you're a professional, for example, a chiropractor who wants to offer it in your office, you might use your business name as your user name)
Next, you'll choose your starter package (more details below)
I signed up over a year ago, so I could only go so far in the process to remind myself of the application process! I have not yet been asked for my social security number, but I am 99% sure you'll be asked for this before you're completely checked out.
---
What's in the Prime My Body Starter Kit?
After you go through the process above, you can choose what package you want to enroll with to start your business. There are 3 options: Hemp Packages, Pet Packages, or Enroll Only. Here are more details:
Hemp Packages: there are 3 hemp packages, ranging from $267 for 3 bottles to $1068 for 15 bottles. You're getting full-size bottles of their main CBD product, Recept, that you can use to demo and also to sell for retail.
Pet Packages: there are 3 pet packages, ranging from $142 for 2 bottles to $505 for 8 bottles.
Enroll Only: this is your affiliate enrollment which gives you immediate wholesale pricing.
With the Hemp and Pet Packages, the $39 enrollment fee is automatically added to your cart at checkout. Remember, this is what you will pay yearly to be an affiliate. With all 3 enrollment options, you will receive a password-protected back office where you can view orders and commissions, receive online support, affiliate notifications, and also training resources. You'll also get a replicated website which is what you will give to your potential customers and team members.
Something to think about – when you sell something like CBD oil, it's all about your testimonial. How's it working for you, or what it's doing for you. If you don't plan on using it, then this company is not for you. Having said that, if you plan on using it, I recommend starting with at least the 3 pack. This gives you a bottle for yourself to use, a bottle to allow people to sample from, and a bottle to sell.
---
How Do You Make Money with Prime My Body?
Prime My Body is what they call a binary system. In a binary system, a big part of making money is also about sharing the opportunity and growing your team. Some people think this is easier, though I'm not one of them. Frankly, I prefer to know that I will make $25 on a $100 sale.
So for those of you who are like me, when you sell a bottle of Recept from your website, your customer pays full retail price. You get credited with $19 for that bottle. That's the difference between wholesale and retail.
But let me tell you as much as I can about the compensation plan. Here's their published rewards plan. It's lengthy and confusing. But to put it into perspective, most of the direct sales rewards plans can be confusing if you aren't familiar with it. I'll try to explain it here.
With Prime My Body, there are 9 ways to make money and various promotions.
Retail rewards. You earn the difference between retail and wholesale, currently $19.
Customer Acquisition Bonus. Enroll someone in a Preferred Customer auto-ship program and receive a 25% bonus on their first order. For subsequent orders, you'll get 50% of the order in points.
Fast Builder Rewards. You get a 25% commission on a new affiliate when they enroll with a package.
Team Building Rewards. When you have someone active on each side, and you reach 200 points on each side, you cycle. Each cycle is worth $20.
Group Volume. This is an accumulation of points from all purchases made in your group, not necessarily by your customers but everyone in your group. This helps you cycle.
Residual Rewards. This is a percentage that comes from affiliate and customer purchases downline from you.
Matching bonus. Every time someone below you gets paid, you receive a percentage of what they earned.
Leadership Bonus. This is for the top ranks, and the payout is $1000 up to $10,000 every month that you qualify.
Top 10 Rookie Bonus. In your first 30 days as an affiliate, you can earn a bonus of up to $500 for sales and sponsoring activity.
It is possible to rank advance quickly; it just depends on how much you share the opportunity. For more details about each of these ways to earn, take a look at the rewards plan.
---
When Does Prime My Body Pay?
All commissions are calculated in real-time and will be paid two weeks after the commission week has ended. The good news is the pay is weekly! They pay by check or debit card that they load. Direct deposit will be coming soon.
The only caveat is that the minimum payout is $25. So if you sell 1 bottle of Recept, you'll have to wait to get that $19 until you sell a second bottle or until your team creates enough residual to bump your rewards to $25.
---
Prime My Body Schedule
With Prime My Body, you can work whenever is best for you. You'll want to share it with people you know, share it on social media, and talk about it with everyone you encounter by working it into your conversations. There's no set schedule with direct sales. You work your business in the pockets of your life.
---
Prime My Body Feedback
Amy is in my upline. She started telling her family about it right away because she was having success using it, and naturally, she wanted to share it. She started making money in the first month.
I've been using it for almost a year, but I only recently decided I should share what I'm doing. The CBD industry is rapidly growing, and I think at some point, everyone will be using it, curious about using it, or will know someone using it. My friends might as well hear about it from me!
Having said that, I've been an affiliate for a year, and I haven't made any money yet. I'm that person sitting there with $22.56 in my account, waiting for it to reach $25 so I can receive a payout!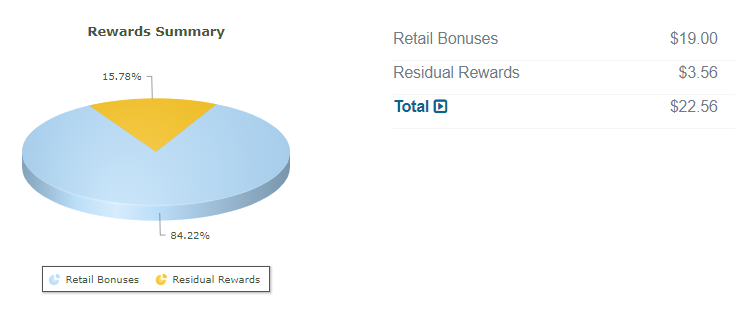 ---
Is Selling Prime My Body CBD Oil a Scam?
Based on my research and my personal knowledge, Prime My Body is NOT a scam! If you're looking for a hemp CBD oil company to get involved with, I highly recommend Prime My Body! Here's the link to get signed up. If you sign up, I'll get in touch with you shortly to get you into our team Facebook groups and to make sure I can help you in any way you need.
Prime My Body is not a scam, but direct sales are by no means for everyone, and the big earners are the people that have a large downline where others make them money, aka MLM. With that being said, anyone can make money in direct sales if you push your business. That's just not for me. If you're more interested in a work from home job, some extra income, or My #1 Recommendation to making a large income online, check out the links below:
Do you think selling at Prime My Body is a scam? I'd love to hear your thoughts on Direct Sales companies in the comments below.
Prime My Body Review
Comments Rating
( reviews)