You might have heard of Stitch Fix – the company that sends you clothes based on your predetermined style preferences. Well, Stitch Fix has a contracted position available for a Stylist. This is a part-time work at home position paying $15-$20 an hour.
Please keep in mind that Stitch Fix is not always hiring and might not be hiring in your area. If that's the case, check out these work from home companies hiring now or My #1 Recommendation to making a REAL income online.
In this Stitch Fix stylist review, I'll cover the requirements, application process, pay, schedule, feedback from current Stylists and see if this is a legitimate opportunity worth pursuing.
---
Stitch Fix Stylist Requirements
Your primary responsibility will be developing design solutions for real-life day-to-day clients. Here are the requirements for this contracted position at Stitch Fix:
You should have 5 or more years of prior work experience in a digital design role; management experience is not required
You need a strong online portfolio that demonstrates:

systems thinking
rational design process
production expertise across a variety of formats, for example, brand identity systems, websites, mobile, tablet, print, and packaging

You should have a formal academic background in Graphic Design, Digital Media Design, Communication Design, or equal work experience; MFA a plus
You'll need to have expert command of information design, visual hierarchy, page layout, typography, 2D design principles, and color theory
Able to interpret, translate, and extend existing brand guidelines into new projects
Fluent with common design software (InDesign, Illustrator, Photoshop, Keynote/PowerPoint) for the creation of visual design artifacts and presentations
Familiarity with contemporary internet technologies (HTML, CSS, responsive design)
Illustration/iconography skills a plus
Sophisticated communication and presentation skills so you can express design concepts to your team and client
Must be able to manage your time efficiently, work at home, and keep up with fast-paced project schedules
They also want someone who is a team player, goal-oriented, and committed to contributing to the company culture.
---
Stitch Fix Stylist Application Process
Click here if you want to get your application started with Stitch Fix for the Designer position.
The first step is to enter your zip code at the bottom of the page; if they're hiring in your area, you will be able to complete the application.
If they are not hiring in your area, you will get a notification stating so. Unfortunately, there's no way to get notified when they're hiring in your area; you'll have to check back if you're interested.
Once you determine if they are hiring in your area, you can apply with LinkedIn, which looks pretty easy; click the button that says, "Apply with LinkedIn." Or you can give them the following information:
Name
Email
Phone
City
Resume and Cover letter (can be attached from your computer, Dropbox, or pasted into a cell)
Have you previously been employed by Stitch Fix in any capacity?
Provide a link to your LinkedIn Profile
There's an empty cell to tell them why you want to work for Stitch Fix.
After the basic information above, there is a section on US Equal Opportunity Employment Information. Completion of this portion is voluntary. There is also a Voluntary Self-Identification of Disability section. This section is included because Stitch Fix does business with the government. Therefore they must reach out to, hire, and provide equal opportunities to qualified people with disabilities.
---
How Much Does Stitch Fix Stylist Pay?
 Based on reviews and different information out there. Pay starts at $14/hr after a year base pay is $15/hr, but reviews state that you can make $15-$20/hr based on how many clients you're working with at a given time.
---
Stitch Fix Stylist Schedule
The Designer position we're looking at is a part-time position. While the website doesn't specify when you have to work, since you will be working with a team and clients, you most likely will do a good portion of your work during regular business hours. Much of the Stitch Fix team works out of the office in California, which is Pacific Time.
I did find that you'll need to commit to at least 15 hours a week, and their website does specifically state "work when you want."
---
Stitch Fix Stylist Feedback
I found many company reviews for Stitch Fix on Glassdoor. Most of the reviews are from stylists.
A lot of the reviewers say that Stitch Fix has great people and culture. It sounds like the expectations from management are very high, with tight deadlines and a very fast-paced environment. Everyone has huge goals to meet, but as long as you're doing your job, they're happy. The company is still growing, so you need to be flexible and take changes in stride.
Several people said there is no room for growth.
---
Is Working for Stitch Fix a Scam?
Based on my research, working for Stitch Fix is not a scam. If you have a design background and you're looking for part-time work, this could be perfect for you! Here's the link if you want to apply.
Please keep in mind that Stitch Fix is not always hiring, or you might not be able to meet all the requirements. If that's the case, make sure to check out these other helpful links to ways to make money at home:
Have more information about working as a Stylist for Stitch Fix? We'd love to hear your thoughts on this review in the comments below.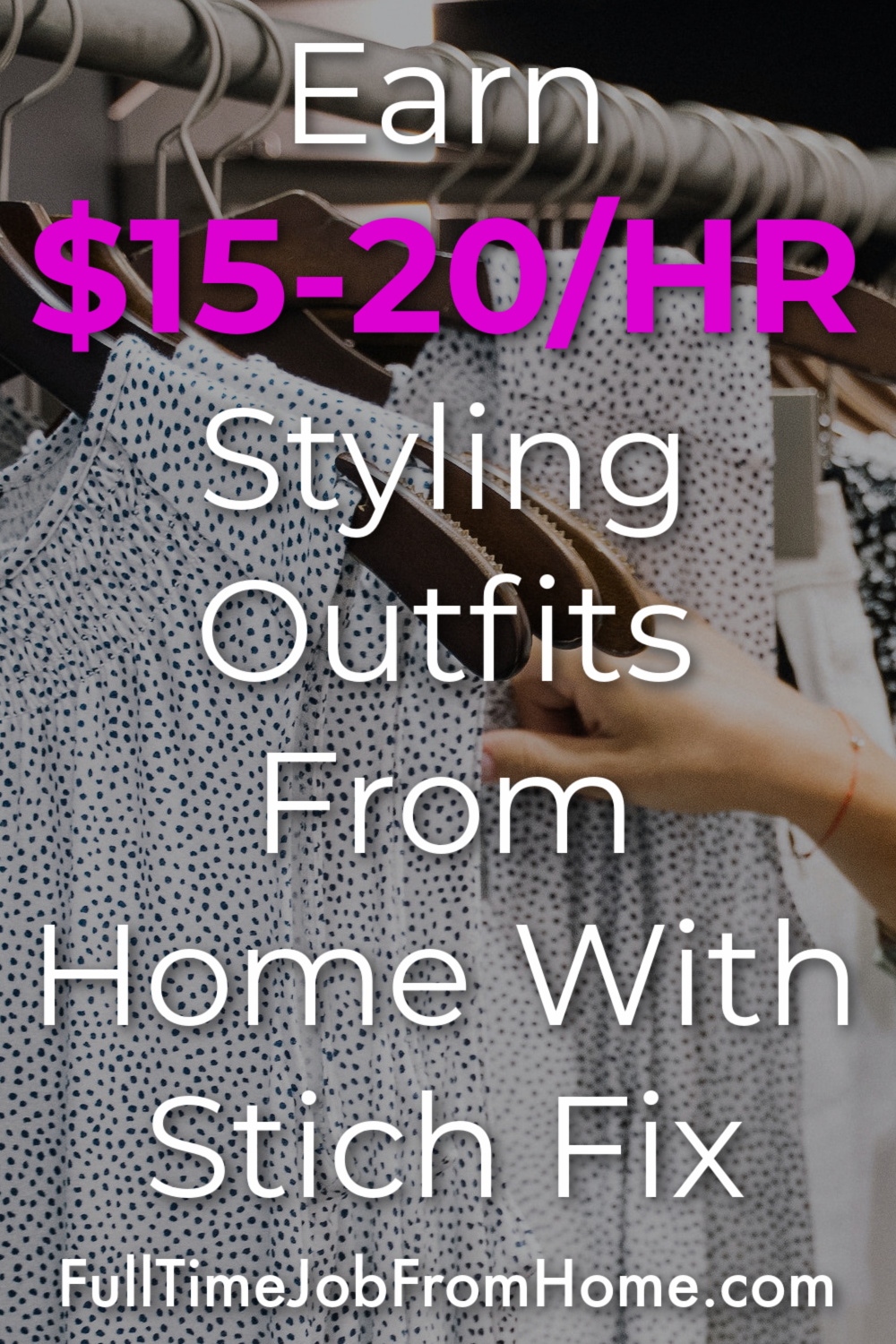 Stitch Fix
Comments Rating
( reviews)