Team Delegate has been providing executive virtual assistants for over 15 years. If you want to start a career as a virtual assistant, Team Delegate might be the place for you. In this review, I will unfold the opportunity and tell you how to get started.
If you have any interest in working at home as a Virtual Assistant, we highly recommend the course at 30 Days Or Less To VA Success. You can see our full review of the course here.
Let's get started with this Team Delegate review!
---
Team Delegate Requirements
I'll start off with what is required, then follow up with preferred skills. Here are the requirements:
You must live in the United States
You should have at least three years of experience as an administrative assistant or executive assistant
You need to have a full home office with a computer, webcam, and high-speed Internet
You'll need the current version of Microsoft Office, and keep it up-to-date
You'll need a smartphone with email capability
They will require a background check before starting, so you'll need to agree to that
Here are the skill sets they would like to see in the people they contract:
You need the discipline and ability to work independently, manage your work, and meet deadlines
The ability to be proactive to your client's needs
You need to have excellent attention to detail
You should take pride in your work
You will need to have strong written communication skills
Ability to follow both written and verbal directions
Strong customer service skills are desired
Great multi-tasking skills
You should be organized and able to manage multiple clients
You should be able to maintain confidentiality for your clients
---
Team Delegate Job
A virtual assistant is much like an executive assistant but works virtually. They usually take on administrative tasks for their client. Here are some of the things you would do as a virtual assistant:
Calendar management, including scheduling and sending reminders
Make travel arrangements
Social media management, including posting and moderating
Create PowerPoint presentations
Invoicing and expense reporting activities
Event and meeting planning
E-mail management
Procedure documentation
Create or manage newsletters and e-mail blasts
This is just an example list. Clients can have a wide range of things that they need assistance with. Anything that they need to have done, but don't want to do it – those are great tasks to pass off to an assistant!
---
Team Delegate Application Process
If you want to apply, click here. Click the "Apply Now" button. That will take you to the info page on the job and basically give you the same info I've given above. Scroll down and click the "Apply for this position" button. Here is what they ask for in the application:
Name, email, address, and phone number
They ask you to upload some things:

CV (this is your resume if you are unfamiliar with the term "CV")
Profile photo
Diploma or certificate
Cover letter (they also give you a text box for your cover letter)

How many hours per week do you want to work? You can choose 5, 10, 15, or 20.
Is there any day of the week that you can't work?
If so, tell them which days you can't work
Is there any time of day that you are unavailable?
What version of Microsoft Office do you have?
Do you have a smartphone with e-mail capability?
Explain any prior virtual work you have done
Explain why you want to work for Team Delegate
Explain your traits and qualities that will make you an asset
Have you ever been convicted of a felony? If so, explain the circumstances
Provide a link to your LinkedIn and Facebook profiles
They state there is no guarantee of hours, that you could start as low as 1 hour per week, and you'll max out at 25 hours per week. You need to acknowledge this statement with a yes or no.
How many years experience do you have as an administrative assistant or executive assistant?
They state the pay range is $15-$18 per hour based on experience. You need to acknowledge that this will be acceptable to you.
Do you have any social media management experience?
Are you proficient using any of these e-mail platforms: Outlook, Gmail, or Apple Mail
They list several programs and apps. Select all that you have experience using:

Concur
Expensify
MS Word
MS Excel
MS PowerPoint
Zoom
Skype
Go To Meeting
Asana
Teamwork Projects
Basecamp
Trello
Salesforce
Infusionsoft
Get Response
MailChimp
Constant Contact

Confirm that you live in the United States
If you have any trouble submitting your application, you can send your resume to this email: EK126@job.onerecruit.com. After submitting my application, I received an email stating that my application will be reviewed and I'll be contacted after all candidates have been reviewed.
---
How Much Does Team Delegate Pay?
Team Delegate pays their contractors $15-18 per hour based on experience. You'll be an independent contractor with a 1099 tax form. This means that you will be responsible for reporting your income based on the tax laws where you live.
---
Team Delegate Schedule
Your schedule with Team Delegate will depend on the schedule you have set with the clients who you work with. Since they want you to have a Smartphone with email, you'll possibly be working even when you aren't working. Be careful with this because it's hard to say how you will keep track of your hours and if you'll be compensated for this.
On the application, it appears as though Team Delegate limits work hours to 8 am to 5 pm. So I would consider that the basic hours you would work within.
---
Team Delegate Feedback
Glassdoor doesn't have any reviews for Team Delegate. I actually can't find any job reviews for them. I'll come back and update if I get hired or have anything else I can add about the process!
---
Is Virtual Assisting for Team Delegate a Scam or Legit Opportunity?
Based on my research, Virtual Assisting for Team Delegate is a legitimate opportunity. Regardless of the fact that I couldn't find any job reviews, I still believe it is a real opportunity that is worth considering if you want to become a virtual assistant. If you want to fill out the application, go here to get started.
If you have any interest in working at home as a Virtual Assistant, we highly recommend the course at 30 Days Or Less To VA Success. You can see our full review of the course here.
If you don't want to be a virtual assistant, check out these helpful links for some other work at home ideas:
How I Made Over $13,000 Online Last Month
Do you have experience with Team Delegate? We'd love to hear your thoughts on this review in the comments below!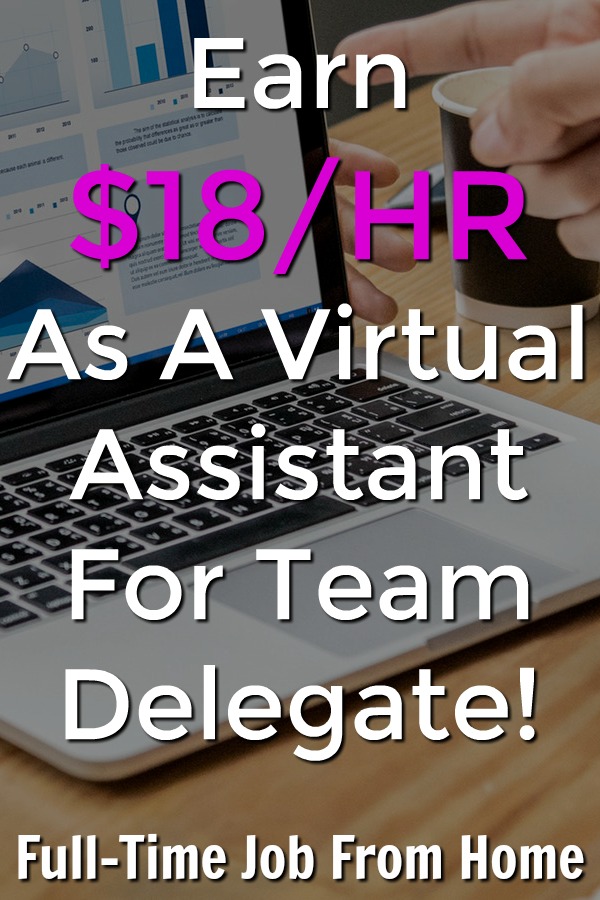 Summary
Reviewer
Review Date
Reviewed Item
Author Rating