Leggings have become very popular in the past few years, and several legging companies have appeared to fill this need. My Lala Leggings was started in 2016 selling locally only. But they have grown into a direct sales model and are continuing to grow.
Direct sales is a legitimate way to earn but most people shy away because of the "selling," check out My #1 Recommendation, it's how I made over $13,000 online last month and I didn't have to sell a damn thing!
In this review, I will tell you all about the Direct Sales Opportunity with My Lala Leggings and how you can get started selling them.
---
What Does it Cost to Join My Lala Leggings?
There are currently 4 different enrollment options. The price to join My Lala Leggings ranges from $10 to $110. I'll cover all of the options in the next section.
---
What's in the My Lala Leggings Starter Kit?
What comes in the My Lala Leggings starter kits? Leggings, of course!
Affiliate Enrollment Only: For only $10, you can get your affiliate code so that you can start selling. This is a great option if you don't have much money to invest to get started.

Affiliate Enrollment – 1 Pair Sample Leggings: 

This option is $18.99. I think this is the best option. With this enrollment, you get 1 random pair of leggings in the size that you choose.
Affiliate Enrollment – 2 Pair Sample Pack: This enrollment option is $27.99. Yes, you get another pair for just $9 more. But remember, they are random. You never know if you'll like the prints that you get!
Boss Babe Affiliate Enrollment – 10 sample items: This is $109.99. If you have the money for it, this would certainly be a fun enrollment kit. This would be for someone who might sell them at a vendor event or to friends.
---
How to Sign Up to Sell My Lala Leggings
If you want to give this a try, click here. From the main menu, select "Join My Lala." Then you'll scroll down and click on the link to "JOIN MY LALA LEGGINGS." This is where you'll pick which enrollment option you want. I think the best option is the 2nd one where you get 1 random pair plus enrollment for $18.99.
When you enroll, within 24 hours you'll receive an email with more information. This email is important as it's part of the enrollment process. If you've joined another mainstream direct sales company, you will notice that this process doesn't feel like it runs as smoothly.
The email you receive will ask you to give them your order number from your affiliate enrollment. This is when you can set up your unique affiliate link.
They tell you that you'll receive the email within 24 hours. I just received my email (I enrolled my husband to make sure I could explain the process).
So the second step is in the email which I received just about an hour later. In the email, there is a link which is almost hidden. It's actually not a link; you need to copy and paste it into a new window. This is where you "sign up."
Give your email which will be your username (must be Yahoo or Gmail)
First and last name
You'll make up your My Lala ID, which is the URL that you will give to people to order from you
You'll give your address
Phone number
Name of person who referred you (Please, if you click on the link to join, I would be grateful if you would enter my name, "Carrie Serres")
Enter your Order # (this is the order # from your affiliate enrollment package)
Enter your Tax ID or Social Security Number (this is required because you will need to claim your earnings as an independent contractor)
PayPal email so you can receive commissions
Last, you'll need to agree to the terms & conditions
---
What is the My Lala Leggings Commission?
My Lala Leggings commission is 25%. If you decide to grow your team, you'll make $5 when people enroll under you, and you'll also earn 5% commission on your second line sales.
Commissions are paid weekly via PayPal. They make payouts by 9 PM PST on Fridays for everything earned up until Wednesday the prior week. They have a $10 minimum payout. If you don't have enough to receive a payout, it will roll over to the next payout that you do have at least $10.
When you make your own purchases, you'll receive 25% off!
---
Does My Lala Leggings Have a Quota?
No – My Lala Leggings does not have a quota! There are no minimums!
---
Does My Lala Leggings Have Any Fees?
No – My Lala Leggings does not charge you any monthly fees! This is something that can always change, but as of right now, they do not charge for their replicated website.
---
My Lala Leggings Feedback
I joined My Lala Leggins back when I wrote the post 193+ Legitimate Work From Home Direct Sales Companies. First of all, I love leggings, so it was a no-brainer that I was interested. But there has to be a better reason than just that I like leggings. Here's what did it for me:
It was a very low cost to join – I joined for $18.99.
No quota. What this means is that I don't have to sell a certain amount every month to stay active. It's possible that if you join and never place an order nor receive any orders, your account could be canceled after a year of inactivity. But that's a long time and if you don't do anything with it after a year, face it, you weren't going to. Besides, you can re-join. (Note: The company doesn't state that they cancel after a year of inactivity, but I think it's something you could expect.)
No monthly maintenance fee. This is the one that really put me over the edge and made me join pretty much instantaneously. I do not pay My Lala Leggings ANYTHING monthly or yearly for the use of their website. Most direct sales companies charge you something on a monthly basis, so this is pretty amazing!
When I shop, I receive 25% off my orders!
It's more than just leggings! They have tops, dresses, cardigans, skirts, and even matching kid sizes!
I recently received my first commission payout. Here's my proof:
The con? Sure, there is one, and I mentioned it earlier in the post. My Lala Leggings is very new, so their process to join is a bit confusing. And when you want to shop, you have to enter a discount code which looks like it might change every time you use it. But seriously, those are the only drawbacks I've noticed. And they aren't even really drawbacks, just quirky little things to know when you're getting into a new venture.
I've emailed affiliate support a handful of times, and I always receive prompt and helpful responses.
My overall feedback? I LOVE it!
---
Is My Lala Leggings the Right Direct Sales Company for Me?
If you like leggings or enjoy getting new clothing, why not make a little money while you're shopping?! If you want to join, go here and click on "Join My Lala" in the menu. Scroll down and click "Join My Lala Leggings" and pick out your enrollment kit. If you join or have questions, please comment here, and I'll do my best to help you!
Do you like the sound of Direct Sales, but not into clothes? Check out my list of over 190 Direct Sales Companies to see what else is out there! Not into Direct Sales at all? Check out these helpful links for some other ideas:
How I Made Over $13,000 Online Last Month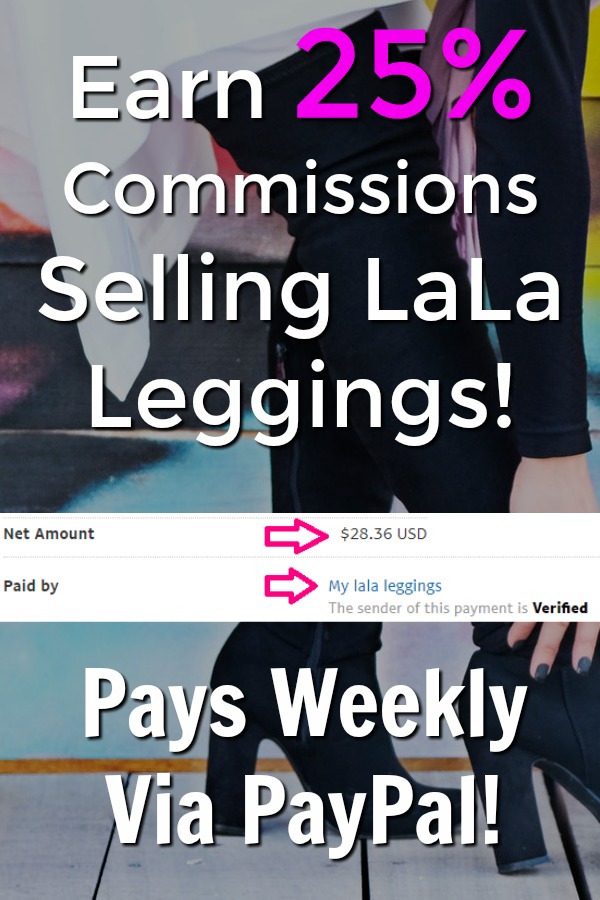 Summary
Reviewer
Review Date
Reviewed Item
Author Rating