In this review, I'll be taking you through a site called Surveyeah that pays you to complete surveys. If you are looking for more information on whether they are legit, scam or even pay out, I will be covering all of that within this Surveyeah Review.
The concept, just like other survey sites is simple, you give your opinions on various topics and in return get paid for your time.
However is it that simple with Surveyeah? Read on to find out as there are some aspects you should know about first before considering signing up for them. Make sure to check out all of the Extra Income Sites That Pay Me!
---
Surveyeah Review
Site Name: Surveyeah
Type: Survey Site
Verdict: Legitimate, but not recommended
Although I put Surveyeah down as being Legit, I found that making money was quite difficult as the opportunities were limited. This means that the potential here to make money is too low to be worth recommending. I'll be going into more detail in just a second on why that is.
The good news, as I mentioned, is that they are legitimate and also are available worldwide, however. If you are interested in making some extra cash through surveys, I will point you in the direction of these extra income sites that I have had success with over the years.
---
How Does Surveyeah Work?
Surveyeah is free to sign up, and it took me around 5 minutes to complete the registration. You will be required to select the country where you are residing in currently and then complete the short sign up form.
The only requirements to make an account are over 14+ and be from one of the 58 countries they support.
Do keep in mind that the amount of opportunities available to you does depend on where you live, for example, someone like me living in the UK found fewer surveys then someone who may live in the US.
However, this does go for the majority of survey sites out there.
The only way to make money with Surveyeah is through their surveys. Unfortunately, I found no additional ways such as a referral program that can give extra opportunities to make money.
As a Surveyeah member, you can expect to receive a minimum of 2 -4 surveys every month. These pay anywhere between £0.25 to £4. What's disappointing is that since joining four months ago I never got invited to a survey that pays over £1.44 and the length of that study was 25 minutes long.
---
Surveyeah Rewards
The payouts available are PayPal and Amazon gift cards.
You can request a PayPal payout once you have £10 ($10 or 10 euros).
For an Amazon gift card, you will need a cash balance of £20 ($20 or 20 euros)
It will also take between 24 and 48 hours from the request for your payment to come through.
---
Surveyeah Complaints
No Referral Program
Referral Programs can be a great way to make money. Referring some friends and family can provide you with some solid passive income. However, Surveyeah doesn't have one at the moment, and with a maximum of 4 surveys each month it's going to be hard to make a great deal with the panel.
With survey sites such as Swagbucks and Fusion Cash, on the other hand, they offer multiple ways to earn, which make it easier to earn a consistent income each month. You can get paid to not only refer other people but also watch videos and shop at your favorite stores.
Earning Potential Is Very Low…
While they say you can make up to £4 a survey I found the majority of mine paid £0.10 to £1. Below is one of the few invites I received.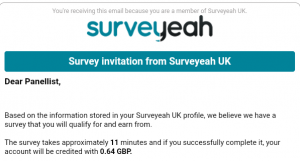 While the aim of sites like these it to make extra cash, I'm not 100% sure if it's even a survey site that is worth joining as if you do qualify and complete all the surveys you get invited to, you can expect an extra £0.40 to £4 a month.
That is quite low, and while survey sites may be frowned upon, there are still many other extra income sites that pay better than that.
Understandably with figures like the ones above you can see why surveys aren't everyone's cup of tea, which is why I also recommend the opportunity of starting your own business online. For those of you who are looking at making more of a full-time income. Learn how to make your own blog for free here.
Lack of Surveys
Like I mentioned there is a lack of surveys with Surveyeah, since joining in January I have only received 18 surveys, that is an average of only 3 a month. Below was the only month where I got the maximum of 4 survey invites.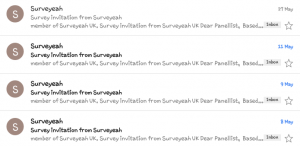 Having so few surveys and opportunities for that matter means that making money is nearly impossible which is how I've found my experience with them to be.
---
Is Surveyeah A Scam?
No Surveyeah isn't a scam and is legit. However, it's far from getting any recommendation from me. This is due to the fact its too hard to make any money with them, by the time you have started you will want to give up.
This shouldn't be the case, but luckily this doesn't go for all sites out there. If you are looking for sites that make it far easier to earn rewards then why not check out these extra income sites instead.
They won't make you rich by any means, but they do offer plenty of opportunities to help you make an extra $200 to $500 a month on the side
Extra Income Sites I Recommend
Do you think Surveyeah is a scam? Let's hear your thoughts in the comments below.