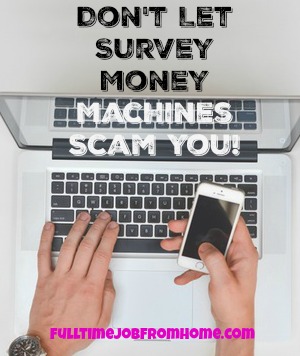 We have all seen it the landing page to a website that promises you surveys that will pay $25-$100 and guarantees you will make $200-$300 a day taking surveys. Well, that is simply BS. All the claims I made above happen to be on the landing page of Survey Money Machines, which is why I could not wait to sign up and give you all a review.
If you can't tell from the opening paragraph this company is going to be given a negative review simply because of false advertising from the beginning and a few other reasons. You will have to read more of this review to learn if Survey Money Machines is legit.
In this Survey Money Machines Review I will cover what it is, how it works, advantages/disadvantages, and my thoughts and verdict.
---
What Is Survey Money Machines

Survey Money Machines is a company that owned by Hailey Gates. Survey Money Machines started in 2005 and their mission is to refer you to survey sites that will make you money. All Survey Money Machines is a list of survey sites that you can sign up for.
---
How Does Survey Money Machines Work
Survey Money Machines works like this. Once you sign up for Survey Money Machines (Free) your prompted to sign up for as many survey sites as possible. Once you sign up for the sites you will begin to receive emails with surveys links. These surveys will come from all the different survey sites that you sign up for through Survey Money Machines.
---
You Just Said It's Free? How Do They Make Money
I know some are wondering so I have to explain. It's extremely simple actually. All the survey sites that are listed through Survey Money Machines have referral programs. All Survey Money Machines does is refer you to the sites and earns commissions on everything you earn through those survey sites.
Really it's not a bad idea. I am sure they tons of referrals, but that is not the problem with this site. The problems arise with false hopes.
---
Advantages/Disadvantages
Advantages
Completely Free
Does have a list of good survey sites. (I actually recommend some of them)
Disadvantages
False hopes on what you can earn
Tons of spam emails from Survey Money Machines
Your giving commissions to someone who lied to you from the beginning.
None of these sites pay as well as she claims
Claims that these survey sites are exclusive (

no

you can find them anywhere)
---
My Survey Money Machines Review
Website: SurveyMoneyMachines.com
Price: FREE
Score: 50 out of 100
Verdict:

Legitish

(I will explain)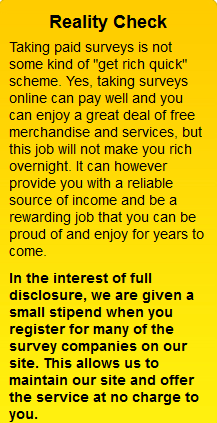 So far the review has been mostly negative, but right above I just said that this product is Legit. Hmmm I must be going crazy. Well let me explain this program is completely Free to join and have access to. I have a hard time calling a program a scam when they don't make you pay and aren't scamming you out of  money.
Updated 4/23/14
This company does make some false claims on their homepage, but it looks like they have made some improvements since I initially wrote this review.
Although they still claim that most of these surveys are going to pay you $10-$15 per survey and that you can make$50 an hour. A few banners have been added to the homepage to clarify their false claims.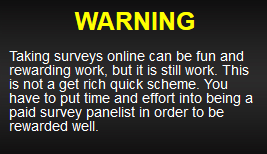 This makes me feel better about this company, because they are taking action to try to let everyone know that what they said before is not true, but still I would rather give my commissions to someone who is honest with me from the start.
---
Review Overview
Although I think Survey Money Machines gives people false hopes on taking surveys I think they are moving in the right direction for fixing that problem. Just keep in mind that you're not going to make tons of money from taking surveys ever, unless you have tons of referrals. Still then it's not going to make you a millionaire.
Most of the sites they have listed are completely legit and I recommend a few of them myself. I would rather see you sign up for those companies through an honest reviewer or a simple Google search.
To give you a straight answer there is nothing about Survey Money Machines that screams scam, other than the false advertising which they are improving on. This site is safe to use, but just know you will receive tons of spam emails and you're giving you referral commissions to someone who has lied to many people in the past.
---
Final Verdict
Overall I can not say Survey Money Machines is a scam because it is free. Still I am not a huge fan of the company and what they do. Really they are just looking for you to become their referral on all the survey sites they promote. Although you will not be wasting any money by joining Survey Money Machines I still don't feel like it's a program you need to join.
You can see how Survey Money Machines compares to My #1 Recommendation Below.

---
What Now?
If you came to this article looking to make tons of money with Survey Money Machines I am very sorry it's just not going to happen. I would like to show you the sites that I recommend taking surveys with here.
If you just learned that taking surveys is not what you're looking for I will let you in on a secret. Click here to learn how I make 95% of my income online!
Thank you for reading this Survey Money Machines Review. You now know that Survey Money Machines is not legit and you should stay away from this company. If you have had experiences with this company I'd love to hear about them in the comments section below!
Summary
Reviewer
Review Date
Reviewed Item
Author Rating