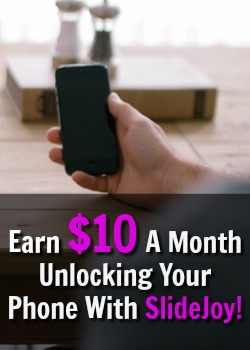 Now a days more and more people are looking to make money with their mobile devices. This has led to all kinds of new apps that allow you to make money anytime you're bored on your phone. One very unique app that I found is Slide Joy. Slide Joy actually pays you to unlock your phone.
What did you just say? Yeah I know sounds like a pretty crazy concept, but you will learn much more about how it works in my Slide Joy Review. This is a very unique opportunity so I am excited to show you more. Read on to learn exactly how Slide Joy works and how they can pay you for unlocking your phone.
---
How Does Slide Joy Work?
Slide Joy is extremely unique and obviously they are not going to just pay you for unlocking your phone. They are able to pay you for unlocking your phone because they will show ads every time you go to unlock your phone. You have the option of viewing the ad or just swiping right to skip it and enter your phone. Either way you get paid the same amount and every day your earnings are updated into your account.
Payments
Slide Joy has a few options for payments. My personal favorite is PayPal, but they also offer Square Cash, Google Play Credits, and Donations. All payments are available to you on the 15th of each month and you should receive payment within 3 days to your method of choice.
---
Slide Joy Review
Website: Slidejoy.com
Price: Free
Score: 88 Out Of 100
Verdict: Legit
I gave Slide Joy an 88 Out of 100 and marked it legit because it's an extremely unique way of making money with your mobile phone. There were a few things I didn't like about the app, but for the most part there are a lot more positives then negatives. I really liked the fact that you have the choice to easily skip the ad and open your phone. I was worried that this would be a burden and you would have to view each ad to get paid. It's just an added bonus that you get paid the same amount for both.
---
What I Liked
Unique
It seems like today you can make money doing just about anything online or with your mobile phone. Making money by viewing ads when you unlock your phone is something I would have never though possible, but here it is. I like opportunities like this because it gives you a break from the normal ways you make money and when you combine it with a few other incomes it can add up to a pretty penny.
Get Paid to Skip
One of the biggest concerns that I had when I heard about this app was that it would really suck having to view each or click on each ad. But Slide Joy makes it easy to skip the ad and go straight to your phone. The amazing thing with this is that you actually get paid the same amount for skipping the ad as you do for opening it in your browser.
Payments
I am a huge fan of getting paid by PayPal because it's so much quicker than other options. Slide Joy does not give you the ability to cash out at any time, but I am happy enough with being able to be paid by PayPal on the 15th of each month.
---
Slide Joy Concerns
Android Devices Only
One major concern is that this app is only available in the Google Play Store. I actually had to borrow a friend's phone just to write this review, because all my products are Apple. So obviously if you don't have an Android Device Slide Joy is worthless to you. But you can see some other ways to make money on your IPhone here.
You Won't Make Much
Surely you didn't think that viewing ads when you open your phone was going to make you rich, I hope not anyway. But from what I can see you should expect to earn a few extra bucks each month with Slide joy. Really if you don't mind seeing ads when you open your phone it's a pretty good little deal.
Slide Joy is what I like to call a supplemental Income Opportunity, which means it should be combined with similar ways of earning to build a larger income online each month. You can see the rest of my supplemental opportunities at all Scam Free Jobs.
---
Final Verdict
I gave Slide Joy a pretty good score and I do recommend you downloading this app if you have an android device. The only real big concern that I had with this products was there was no way to skip the ad, but it really works pretty easily and you can completely ignore the ad if you want.
Some people will get annoyed by it and you can decide if the ads are worth the few extra bucks each month. But to me this app is completely scam free and will pay you for your earnings.
---
What To Do Now?
Thank you for reading my Slide Joy Review. If you would like to learn more about Slide Joy visit there website here or download the app. Slide Joy is a supplemental Income Opportunity and I advise that you combine it with others. I have put together a list of all the Scam Free Opportunities I have reviewed and you can also find other opportunities available for mobile devices.
Some people are just not looking for a small income online and are looking to replace a full-time income. Supplemental Income Opportunities aren't going to get that done for you. If you would like to learn how I make a full-time income online visit Start Your Own Online Business.
Thanks again for reading this Slide Joy review. Hopefully you let me help you make money online by visiting the links above. If you have experience with this company I'd love to hear more about it in the comments section below
Summary
Reviewer
Review Date
Reviewed Item
Author Rating