Add Me Fast Review: Grow Your Social Networks With Add Me Fast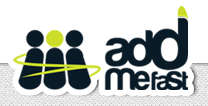 If you follow my website you will know that I am not usually interested in companies like Add Me Fast and I would never pay for social network followers because it is a complete waste of money on non engaging followers. But I have used this company before to grow my social networks so I thought I should do an Add Me Fast Review.
In this Add Me Fast Review we will cover exactly what Add Me Fast is and how you can use it to grow your social networks. We will also take a look at what I like and don't like about the company.
Continue reading on to learn how to grow your social networks with Add Me Fast!
---
What Is Add Me Fast?
Add Me Fast is a Follow and Like exchange community. Where you list your social networks and people will follow and like your social media accounts in order to earn points which can be exchanged for likes and followers on their social media accounts.
---
What Networks Can It Help Grow?
Add Me Fast does offer a lot of different social networks which you can see listed below. Within these networks you can get not only followers, but also likes on status and much more. You can see those listed out beside the network.
Facebook: Page likes, Post Shares, Post Likes, Followers
Instagram: Followers, Picture Likes
Twitter: Followers, Retweets, Favorites
YouTube: Subscribers, Video Views & Likes
Google Plus: Followers & Shares
Vine: Followers, Likes, & Revines
Myspace
Pinterest: Followers, Repins, Likes
Sound Cloud: Followers & Plays
Stumble Upon
Website Hits
---
How Does Add Me Fast Work?
1) Sign Up For Add Me Fast
2) Set Up Your Networks
Click on My Sites and add all of the social sites you would like to gain followers on. Set the price per follow and make it an active site by clicking finished! Now your sites are ready to gain followers.
3) Start Following Others To Earn Points
To gain points all you need to do is click on the social network you would like to follow people on and it will bring up accounts to follow. Each new account you follow will earn you points to put towards gaining new followers!
4) Get Followers On Your Social Media Accounts
Once you build up some points by following others and have your accounts added people will begin to follow you. All you need to do is make sure you have enough points to keep giving to the people who follow you!
---
Add Me Fast Review
Website: AddMeFast.com
Price: FREE (Please Do Not Pay For Points)
Score: 80 out of 100
Verdict: Legit
I gave Add Me Fast of 80 out of 100 for a few reasons. I do think this company is legit and it will help you add to your networks. You will be followed my 100% real accounts, but the engagement from these accounts will be small.
I think it's a good way to grow your social media accounts if you are really just concerned about the number of followers, but if you are looking for lots of engagement this method is not going to give you that.
Last Month I Made

$13,841 Online
I Bet You're Tired Of Making Pennies Online. No More BS. If You're Serious About Making A Full-Time Income Online You Need To See The TRUTH. Stop Wasting Your Time With The Next Big Thing When There's Already A Proven Method That Works!
---
What I Liked
Easy Way To Grow Networks
Add Me Fast is an easy way to grow your networks if the number of followers is your only real concerns.
Able To Grow A Number Of Different Networks
I also really liked the number of different networks you can using Add Me Fast. This gives you plenty of options and allows you to grow all of your networks in one place!
---
What I Didn't Like
Unfollow Right Away
One thing that kinda stinks about Add Me Fast is once people get credit for following they can immediately unfollow and not get punished. This really is unavoidable with companies like this because the reason people are following you is because they want points so people can follow them!
New Followers Aren't Engaging
Obviously with this program people are following you to get points not to actually hear what you have to say through your social media account. The people who follow you on Add Me Fast won't compare to the real followers you pick up from your website or other way of marketing your social media accounts, but this will grow the number of followers on your account if that is what is important to you.
Is It Like Paying For Followers?
I mentioned earlier in the review that I never recommend paying for followers because usually they are all just spam accounts that get shut down. So you are probably wondering isn't this like paying for followers. Well some might argue that it is, and I am basically on the border line with my view, but all of the accounts that follow you will be real accounts, but like mentioned above the engagement will be very low. But since these accounts are real you won't have the problem of being banned from having fake accounts following you!
---
What To Do Now?
So I have told you exactly how Add Me Fast Works and expressed what I liked and the few concerns that I have with the company. Overall If you want to grow your social networks Add Me Fast can help you do so.
If you would like to join Add Me Fast you can do so through the link above.
Thank you for reading this Add Me Fast Review. If you have any comments about the company or the idea of paying for followers, I'd love to hear about them in the comments section below.
Summary
Reviewer
Review Date
Reviewed Item
Author Rating