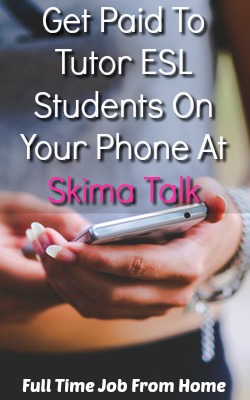 SkimaTalk is an online ESL teaching company that offers a work at home ESL teaching job. You do not need any experience to apply and if you're accepted you get to set your rate per session and get paid via PayPal monthly.
Sounds pretty good, but there're complaints some teachers and I have with this tutoring job.
In this review, I'll cover the requirements, application process, what it's like teaching here, and how you're paid.
If SkimaTalk isn't for you, I have a long list of 15 ESL tutoring jobs you should check out!
VIPKid, another ESL company is actively searching for new tutors. They pay up to $22 an hour! Learn more by reading my full VIPKid Review!
Getting paid to teach English is extremely popular right now, but I prefer a much more passive way of making a full-time income online, check out My #1 Recommendation, it's how I made over $13,000 online last month!
---
SkimaTalk Teacher Requirements
To become a SkimaTalk Teacher, you'll need to be a native English speaker and over 18.
You DO NOT need any teaching experience or teaching degree/certificate to become a SkimaTalk teacher (it will help you get more students though).
You'll also need a computer with internet access, a webcam, mic, and Skype. You can use your phone to tutor by downloading the Skype app.
---
SkimaTalk Teacher Application
If you can meet the requirements, which most of you should, you can start the application. The application starts by completing a teacher profile. Your profile contains a high-quality image, education, any experience, and anything else you'd like to share with students.
The next step is to record an introduction video. The video should include most of the information on your profile along with reasons why students should choose you as a teacher.
Once your profile is complete, you'll have to pass a SkimaTalk Teacher guidelines test (from what I've heard it's easy). If you pass you should receive an email within five days letting you know you are accepted.
---
How Does Teaching Here Work?
SkimaTalk has an Awesome FAQs page for teachers I highly recommend checking out. There's a lot of small details that I can't cover here, but it's information you should know.
Once you're accepted, the first step is to tell SkimaTalk what courses you can teach. There're different classes available so you need to let them know if there's any you can't or don't want to teach.
Once you let them know the courses, you can set your schedule out for eight days. All you need to do is let them know when you're available. Once you set your schedule, students can book teaching sessions (that last 25 minutes a piece) in those time frames.
Once you have a scheduled tutoring session, it's your job to call the student via Skype. You must call them on time. You'll chat with the student for 25 minutes and the last 5 minutes give them feedback.
Within 48 hours of a tutoring session, you must complete a student evaluation that measures different categories of the students English skill.
---
SkimaTalk Teacher Pay
When you first join your first three tutoring sessions are free, and it's considered your training (you do not get paid). After the first three tutoring sessions, you can set your rate for a 25-minute call.
From what I've seen most teachers have a rate of $8-$12 per session.
SkimaTalk makes payments via PayPal. Your January earnings are paid before the last day of February, but usually in the middle of the month. It seems that Skima takes 20% of your earnings as a fee.
---
SkimaTalk Complaints
Work For Free
Once you're accepted your first three tutoring sessions, basically 1.5 hours, is completely unpaid. They say they consider this a training period where you can get the feel of things, but you'll be teaching real students, so the company still gets paid.
You get to set your own rate after, but it's pretty crappy you don't get paid from the start.
5 Minutes Late Means No Pay
SkimaTalk has a very detailed FAQs that you should check out. While reviewing them, I found a few things interesting. First, they are extremely strict on starting your teaching session on time. If you're more than 5 minutes late, it's considered a no show by you.
For no shows, the company can deduct up to $9 out of your payment.
There's many other little rules and regulations in the FAQs, so I highly recommend looking at them before joining.
---
Is SkimaTalk A Scam?
SkimaTalk ESL teaching is not a scam; it's a legitimate company that pays its teachers. With that being said, there're a few things I wasn't happy about, like not getting paid for your first three tutoring sessions.
In my opinion, that's ridiculous, at least pay something for the "training" period. Overall the feedback from teachers is decently positive. There're some complaints, but most of them have to do with the different rules that teachers didn't know about, but they're clearly laid out in the FAQs and teaching guidelines.
My recommendation is to check those out before applying. If you think you can follow them, you can get started by visiting SkimaTalk.com.
From the comments/feedback of my readers, they really enjoy the ESL tutoring available on the PalFish app.
ESL tutoring not for you? Here's a long list of others way to make an Extra Income Online!
If you're looking to make a full-time income online, check out My #1 Recommendation, it's how I made over $13,000 online last month!
Are you already a teacher at SkimaTalk? Have more information about this ESL tutoring position? I'd love to hear your thoughts on this review in the comments below! 🙂