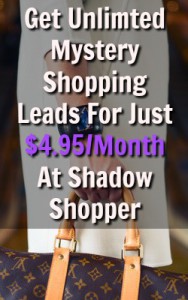 Mystery Shopping is a very popular way to make extra cash, but you have to be extremely careful when joining sites. Shadow Shopper is a mystery shopping site that offers some free training but makes you pay to apply for mystery shopping jobs.
To be honest, all Shadow Shopper does is post shops from other free companies. If you're a member of other mystery shopping sites, you'll probably have access to all the shops listed on this site already.
In this Shadow Shopper Review, I'll cover how it works, if it's worth paying for, and if it's a scam!
---
Shadow Shopper Review
Site: Shadow Shopper

Type: Mystery Shopping
Price: Free + $4.95 mo
Score: 50 out of 100
In this Shadow Shopper Review, I gave them a bad score. You can join for free, but all you get is some training. If you have no idea what mystery shopping is, it's worth reading, but you will get emails from them constantly after signing up.
The paid membership isn't worth it in my opinion. It seems that most of the mystery shopping jobs are legitimate (actually real), but they're all just re-posts from free mystery shopping sites.
In my opinion, Shadow Shopper is not necessary to find mystery shopping work. Just join a free mystery shopping site and complete the work in your area. I have an extensive list of legitimate mystery shopping sites you can check out.
---
How Does Shadow Shopper Work?
To get started with Shadow Shopper, you'll sign up for a free account. It only takes a few minutes to register and complete your profile. After you can see a long list of mystery shopping jobs in your area, but there's a catch.
As a free member all you can do is see the jobs available, you're not able to apply for any job.
So really as a free member, all you have access to is a list of jobs and their "university" where you can learn more about mystery shopping work.
---
Shadow Shopper Paid Membership
For $4.95 a month you can upgrade to a paid membership at Shadow Shopper. With the paid membership you'll gain access to a full list of mystery shopping work in your area and have the ability to apply for all jobs.
$4.95 might not sound like a bad deal per month but read my complaints to see why I don't recommend Shadow Shopper.
---
Shadow Shopper Complaints
You Can Get These Jobs For Free
The biggest complaint I have with Shadow Shopper is there's no reason to pay to get these jobs. It seems like all Shadow Shopper is doing is pulling jobs straight off other free websites and making you pay to access them.
If you do purchase a gold membership and apply for a mystery shopping job, you'll most likely be taken to another site to apply for the job anyways. I understand that some people are interested in getting a ton of mystery shopping jobs all in one place, but I don't think it's worth it in my opinion.
Mystery Shopping Jobs are already Filled
I've seen quite a few complaints from members where there's a job posted on Shadow Shopper and by the time they go to apply the position is already filled up. You'll see this on any free mystery shopping site as well, but it's pretty frustrating that you're paying for a list of mystery shopping jobs and don't even have first dibs to apply for work.
Emails Galore
If you decide to go with the Gold membership Shadow Shopper will email you when new jobs become available in your area, which is good, but if you just join as a free member, you'll get several emails from them every single day with mystery shopping jobs that you can't even apply for.
If you've already joined as a free member and know the Gold membership is not for you, I recommend blocking the email or canceling your account to avoid all the junk emails.
---
Is Shadow Shopper A Scam?
In my opinion, Shadow Shopper is not a scam, they pretty much live up to everything they promise, but I still DO NOT recommend this site. You can get all of these mystery shopping jobs for completely free on other sites.
Maybe if Shadow Shopper gave you first dibs on all shops, my opinion would be different, but it seems that you're getting last dibs compared to finding the job on other free mystery shopping sites.
For these reasons, I don't recommend joining Shadow Shopper. If you're still interested in Mystery Shopping, take a look at this long list of legitimate mystery shopping jobs.
Mystery Shopping is legitimate, but I'm not a huge fan, I prefer these ways of making an Extra Income Online.
Extra Income is great, but don't miss out on how you can make a much larger income online with My #1 Recommendation, or how you can work with me directly building your own profitable online business for completely free!
Do you think Shadow Shopper is a scam? Use other sites to get mystery shopping work? I'd love to hear your experiences in the comments below! 🙂
Summary
Reviewer
Review Date
Reviewed Item
Author Rating