Scribbr is an online proofreading and editing company that started in 2012 with its headquarters in Amsterdam. They have helped thousands of scholars earn their degrees. Scibbr's team of tutorial editors, spread across several continents, helps students across the world get excellent grades with their superior proofreading and editing. Scribbr offers services in at least ten different languages and is continuing to grow. 
Scribbr is currently adding editors to the waiting list for work from home freelance positions. In this review, I will help you understand what the company is about and help you decide whether or not applying to work at Scribbr is the best fit for you.
If you're interested in learning more about how you can make a full-time income from home proofreading, check out the free webinar at Proofread Anywhere. Caitlin will show you exactly how to start your own proofreading business and see if it's right for you!
In this Scribbr Review, we will cover the requirements to apply, the application process, the pay, schedule, and what others are saying about working for Scribbr. Let's get started!
---
Scribbr Requirements
There is a list of requirements to work at Scribbr that you must meet to be an editor with the company:
English must be your native language (or Deutsch, German, or French)

You need to have a bachelor's degree or higher

You need to be available to work a minimum of 10 hours a week

You'll need to be available to work in May and August when they are the busiest

You must be reliable, flexible and responsive

You must have the ability to meet deadlines

It will help you to be curious about different subjects

You need to have academic writing experience

You'll need to have Microsoft Word 2013 (or later) and a reliable Internet connection
---
Scribbr Application Process
Scribbr has a step by step process that you must follow if you want to work for them. You'll start the process by taking a language quiz that is approximately 30 minutes. If you pass the quiz, you'll get on the waiting list.
The next step is to complete an application. If you are accepted, you'll go through the Scribbr academy and get qualified to be an editor. It is quite a process, but it is worth considering based on very positive reviews! Here's where you go to get the process started. 
---
How Much Does Scribbr Pay?
According to Scribbr's website, they pay between $25 and $30 an hour in USD. Based on reviews, this appears to be a pay per word job, so $25 to $30 per hour is someone who is very fast at editing. I wasn't able to find when they pay or how often, but I did see in a review that the training is paid. 
---
Scribbr Schedule
I am not convinced that Scribbr will be a good full-time job as this company seems to be more seasonal, with its busiest times of year being May and August. Keep in mind that you will be required to work in May and August to help out with the high-demand season. These two months are when you are likely to make most of your money. You also must be available to work a minimum of 10 hours a week.
When you're accepted, you can choose the topics you're most interested in, and when new orders come in, Scribbr will choose the most qualified editor for the job.
Their website does say you can set your availability and that when new orders come in, you'll get an email or text notifying you of the work. The website also states that returning clients can request you specifically.
---
Scribbr Feedback
The feedback on Scibbr is pretty positive. There are currently 24 reviews on Glassdoor. They rate at 4.6 stars out of 5, and 98% would recommend to a friend! Here are the pros and cons.
Pros:
Great paid training
Pay per word can be good if you are a fast editor
Flexible hours, which everyone loves
Great side gig for a digital nomad
Plenty of income for someone who likes to travel and lives lite
Management is extremely caring
The company makes it easy for the editors to learn from each other and grow and succeed

Scribbr editors learn from one another and are apart of a community

Editors are able to exchange concepts and best practices with each other, thereby improving their editing skills

Coaching is available to further hone your skills

The Scribbr editor Slack channel permits editors to communicate with fellow editors from anywhere around the world, to exchange techniques, tools, and suggestions that will help make you a better editor
Cons:
Not enough work
Pay per word can be very low if the quality of what was submitted is poor and requires a lot of rewriting
The starting rate is lower, but it improves
It's seasonal work and can be unpredictable in the off-seasons
Get paid the same regardless of the incoming quality (which means you could spend a lot of time on one project, therefore making less)
---
Is Working at Scribbr a Scam?
Based on my review, editing for Scribbr is not a scam! This company is a great opportunity for an educated professional looking to earn extra money part-time from home, and for someone who has the flexibility to work more hours during the busiest seasons.
If you meet the requirements of having a bachelor's degree, are interested in editing as a side income, and will take the extra steps to get hired, Scribbr is a company worth checking out. Go here to start the application process!
Scribbr seems to be a great option for picking up proofreading and editing work, but it doesn't seem like a full-time job. Based on what I found, there's not enough work to keep you busy. If you're looking to proofread from home full-time, Scribbr is a great option but you'll need to find additional work elsewhere. One option is finding high paying clients yourself, make sure to check out this free webinar at Proofread Anywhere to learn how you can fill the gap between work from Scribbr.
Not interested in editing?
Check out these helpful links for some other ideas:
Work From Home Jobs Hiring Now
Extra Income Sites That Pay Me Each Month
How I Make a Full-Time Income Online
Do you think editing for Scribbr is a scam? We'd love to hear your thoughts on proofreading for Scribbr in the comments below!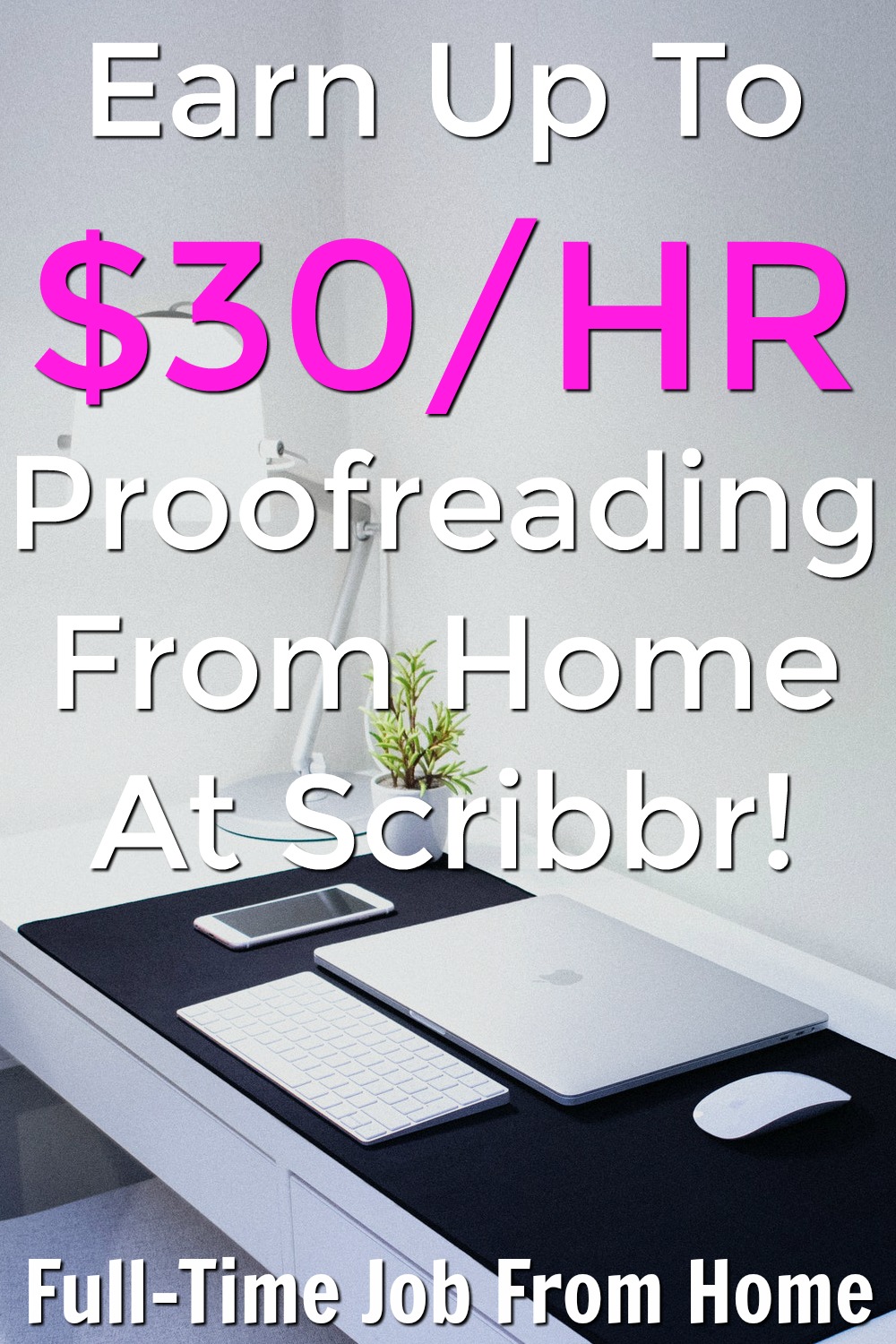 Scribbr Review
Comments Rating
( review)