Pei is a new app that pays you automatic cashback when you shop at participating stores. If you've been on my site before you've probably already seen a few sites like this, Drop and Dosh both pay automatic cashback, but it seems that Pei is going to be a really good option based on the number of stores they pay cashback at.
The biggest advantage of Pei App is all you have to do is link your credit/debit card and shop at participating stores; you'll earn cashback on your whole order.
In this Pei App Review, I'll cover how it works, the stores they pay cashback at, how they pay, some complaints, and answer is it a scam or a legitimate cashback opportunity.
Please keep in mind, Pei and other cashback shopping apps in no way will be a large income. You have to spend money to earn any cashback with these apps. If you're looking for a way to make a legitimate large income online, check out My #1 Recommendation.
Let's get started with this Pei App review!
---
Pei App Review
App: Pei
Type: Automatic Cashback
Verdict: Legitimate
In this Pei App review, I marked them legitimate. As mentioned, there're other apps similar to Pei, and the problem with them is they have very limited places you can earn cashback. Pei seems to be the complete opposite, with a lot of major retailers and restaurants paying cashback in the app.
I'm a huge fan of the automatic cashback feature of Pei; I hate scanning receipts or only getting paid for buying some items. With Pei, you earn a percentage cashback for your entire order, and as long as you linked your card when you signed up, it's all automatic.
With location-based apps, I usually have to say that if you live in a small town, it might not be worth it, but with Pei it seems that they pay cashback at enough stores that most towns will have several businesses to earn at. If you live in a large city, there will be tons of options.
As long as you're cool with linking a credit/debit card, I highly recommend checking out GetPei.com to get started with this app.
---
How Does Pei Work?
1) Join Pei For Free 
The first step is downloading and joining the Pei App for free; you can do so by visiting GetPei.com!
2) Link your Debit/Credit Card
Once you join, the next step is linking your debit/credit card so Pei can pay you automatic cashback. You can link multiple cards if you like and if you search for your bank and they don't come up, that means they are not available at this time.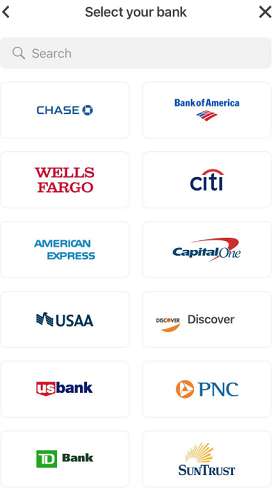 All major banks and credit card companies are available, and even most of the local banks in my area work.
3) Shop at Participating Stores & Earn
Once your card is linked, you don't need to do anything else. Just shop normally, and when you shop at participating stores, you'll earn 1%-10% cashback on your purchases (you must use the card you've linked.)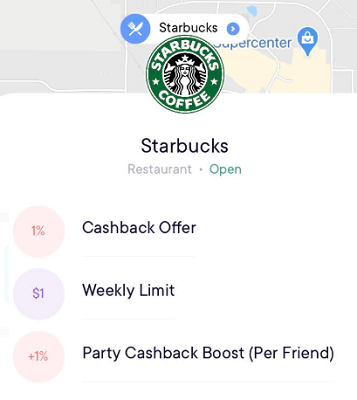 More on the participating stores later, but some major ones include Target, Starbucks, McDonald's, Subway, CVS, Chick-fil-A, and many more.
4) Get Paid!
When you make a purchase, your pending cashback should show up in the app within two days. The cashback stays pending for 5-7 days.
Once you earn $25, you can get paid via PayPal, Bitcoin, and gift cards.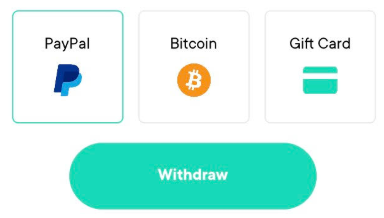 5) Earn more
There're several ways to earn more with Pei, such as the referral program, party cash (shopping with a friend,) and special bonuses that are available from time to time (at this time, they pay a $2 bonus once you earn $20 in cashback.)
You'll earn $5 for every friend that you refer, once they link a card and earn their first cashback (limit of 50.)

---
What Stores are Available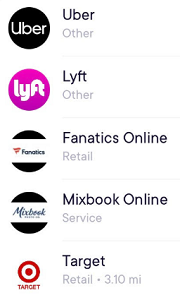 I'm not going to list all of the stores that Pei pays cashback at; I'll include a long list of stores that are popular chain stores that would be available in most places. Keep in mind that smaller stores, restaurants, etc. in your area might be on this app.
I live in a small town, and several of the mom and pop restaurants were available for cashback.
Here're some of the more popular stores that are available Target, Lyft, Uber, Starbucks, Chick-fil-A, Trader Joe's, Tace Bell, McDonald's, Sonic, Subway, CVS, Domino's, Panda Express, Walgreens, Great Clips,  PetSmart, several gas stations, several movie theatres, and much more.
Depending on where you live, you might have way more options to earn cashback!
---
How Does Pei Pay
Once you earn $25 in cashback, you can get paid by PayPal, gift card, and Bitcoin. In their FAQs, they mention that there is a small fee for cashing out via Bitcoin.
One great thing about payment is once you cashout, you should receive it immediately. Their FAQs state that it should be instant but may take up to two hours.
---
Pei App Complaints
I only have a few complaints when it comes to the Pei App, but if these are a problem for you, automatic cashback apps are probably not for you. I recommend looking at some other cashback shopping apps.
Link Your Debit/Credit Card
For me, this is positive, because linking the card is what makes this an extremely easy to useand earns me a passive income from my shopping. But I know that some people will have concerns linking their credit/debit card.
Here's what their FAQs have to say about security: "Pei uses the same process as Acorns, Robinhood, and Transferwise to link to cards. Pei even takes it a step further by implementing a 2 factor verification process that utilizes end to end, 256 bit encryption."
If you're like me, you're not sure exactly what that means but sounds secure, I guess. In all honesty, if you have any concerns with privacy or security, just skip this app. It's not going to earn you a ton of money, so no reason to even risk it.
But if you're like me, linking your debit/credit is actually an advantage to this app, and I've used several similar apps and never had any issues.
Location Services On
According to Pei's FAQs, you need to allow location services all the time to "maximize" your earnings. I'm still testing this, but I believe you can just set it to "Only While Using" and have no problems earning cashback as long as you open the app in-store.
*Will confirm this once Covid-19 is over, and I can go to stores lol
If you do have to keep location services on all the time, you might not be comfortable with privacy, and there's a chance it will run your battery down fast.
---
Is the Pei App a Scam?
The Pei App is not a scam. It's a legitimate automatic cash back app that I like and will use. As long as you're cool with linking your card and you shop at participating stores, this is an easy way to earn a few extra bucks a month.
When it comes to cashback shopping apps, please don't buy things you wouldn't normally buy, Pei is supposed to be passive, so if you shop at these stores just set it up, shop normally, and earn!
If you'd like to learn more or to join, visit GetPei.com. You'll earn a $5 sign-up bonus once you link your card and earn your first cashback!
If you're into automatic cashback, I recommend checking out Drop and Dosh. All of these apps are very similar, but they all have different stores on them, so if you don't shop at any store available on Pei, Drop or Dosh may be better options.
Earning cashback online isn't the only way to make an income from home; make sure to check out the helpful links below:
Work From Home Jobs Hiring Now
Extra Income Sites that Pay Me Each Month
My #1 Recommendation for Making a Huge Passive Income
Do you think the Pei App is a scam? I'd love to hear your thoughts on my Pei Review in the comments below!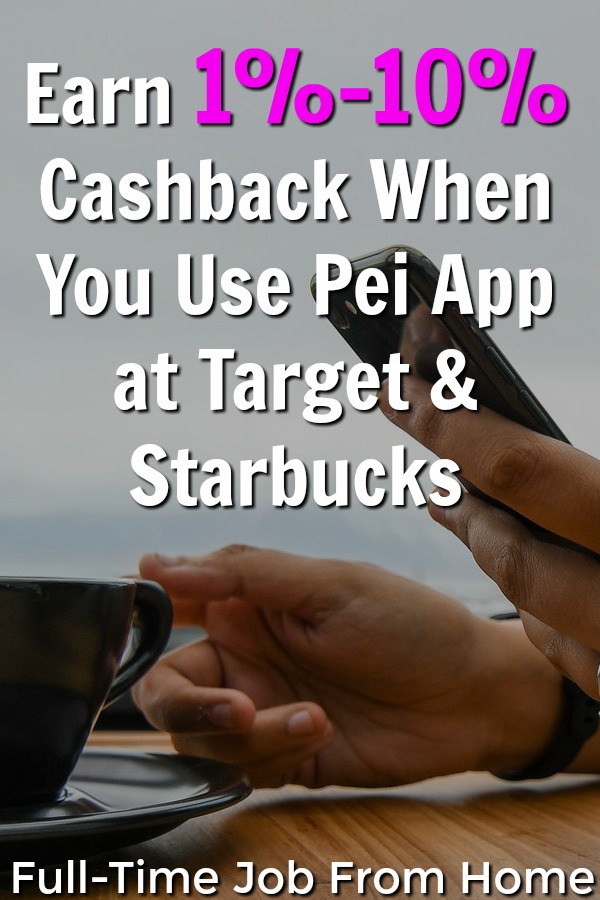 Pei App Review
Summary
Pei is an app that pays you automatic cashback to participating stores. As you shop at participating stores you'll earn points that you can exchange for PayPal payments, gift cards, and Bitcoin.
Keep in mind that you have to spend money to earn with Pei, so this obviously won't be a huge income. Some won't be a fan of linking a card, but I've done it and have had no problems.
If you shop at participating stores regularly, this is an easy way to earn some extra cashback once your card is linked. If you're not comfortable linking a card, my advice is just to skip this opportunity.
Ease of Joining & Setup

Ways To Earn

Easy To Earn

Income Potential

Reward Options Available

Minimum Cashout Amount

Payout Timeframe

My Overall Impression
Comments Rating
( reviews)
Pros
Automatic Cash Back (No Receipt Scanning)
Growing List of Popular Participating Stores
Referral Program
Cons
Must Link a Debit/Credit Card
$25 Cashout Amount