Today we are going to take a look at the Online Success Plan or what is also called Mo's Success Plan. From doing some research there is only one product, but has been marketed in the past under Mo's Success Plan and is now called Online Success Plan.
The reason for this is Mo's Success Plan is a Scam and the market had been saturated with negative reviews. They have started marketing the same product under the new name Online Success Plan to try to get some new positive reviews to make more sells.
In this Online Success Plan Review we will take a look at this product and see why Mo's Success Plan is still a complete Scam!
---
Online Success Plan Review
Website: MosSuccess.com
Owner: Jordan Daniels
Price: $97
Score: 20 Out of 100
Verdict: Scam
In this Online Success Plan Review I gave this product a very low score and decided this product is a scam. Don't worry in this review I will be telling you exactly why, but to give you an idea.
There is a lot of hype on this products sells page, unfortunately once you get inside the members area you're going to be let down.
You will be taught a theory that is out dated and doesn't work any more. Along with the this crappy theory of making money they don't even do a good job of teaching it.
This product won't help you make money online.
---
How Online Success Plan Works
It's a pretty hard product to get an idea of exactly what's going on, but with some research inside the members area I found exactly what they are selling.
Basically what you will be doing is given a pre made website that has affiliate products promoted on the site. Basically the training teaches you how to set up this site and then some ways to promote it.
Really there is no way this is going to be a long-term income generating machine as they say on the sales page.
There are a lot of disadvantage to this system which I go over later in this review!
---
Why Mo's Success Plan Is A Scam
Sales Page
Oh my goodness does this product have some BS on its sales page. Mo's Success and Online Success Plan is just like any other scam out there, A lot of hype and unfilled promises.
I have included a few screenshots from the homepage to prove my points.

The very first thing you see on the sales page is a guarantee of making $500 with this system. First off there is no guarantee that you will ever make money with any online system or business. It all depends on the amount of work you put into it.
Any product that guarantees results is most likely a scam.
The next issue I found on the sales page is the mentions on the news. The different features are actually included in the sales video and all of the mentions just have to do with making money online.
There is no mention of the actual product, Mo's Success Plan or Online Success Plan. All they say is making money online is legit. Obviously the creator of this product made it seem as if they were talking about his product.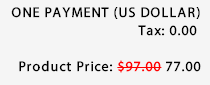 One thing I hate about products is down sales. The two screenshots above show me trying to leave the sales page of this product and then being offered the exact same product for $20 off.
This means that they want any money they can get out of you and they feel like this product is worth whatever you will give them!
System Won't Work
The next and main issue with this system is it doesn't work anymore. So I went over that you will be getting your very own pre-made "millionaire website."
There are two major issues with this system
Issue 1:
The site that you receive is exactly the same as everyone else's who has ever bought this product.
That means that there might be 1000s of websites out there with the exact same content on it!
Google doesn't like duplicate content and websites which means you will never get ranked in Google and get free traffic which you need to make sells and money.
Issue 2:
The website you're given is a one page website.
Google no longer ranks websites with little to no content well. Google is looking for websites that have 100s of content rich pages to rank high within search results.
Yet again another reason why your site won't have traffic.
Problem With Training
I just went over the two issues with Mo's Success and Online Success Plans system. But I want to expand a little bit more on why this system and training won't help you make money online.
Traffic is the key to making money online, and I've already told you that search engine traffic is out of the question with this system.
That leaves Paid Ad Traffic (cost you money) and social traffic basically.
The problem with Paid Traffic is that most people are looking to make money online because they don't have much money to spend. Of course if you choose paid traffic you have the chance of spending much more than you make.
Social is a viable option, but unless you have a huge network that is active and looking to buy you won't receive much traffic and won't make sales.
These are all reasons why Mo's Success and the Online Success Plan won't help you make money online!
---
Should I Purchase Online Success Plan?
The answer to this question is HECK NO! Mo's Success and the Online Success Plan is a complete scam. There is no reason for you to waste your time and money with this product.
The system no longer works and the training included does not give you any reliable alternatives to Google Organic Search traffic.
I can not recommend this product to anyone looking to make money online.
---
A Legit Work At Home Opportunity
Now that you know that Mo's Success and Online Success Plan is a scam let's talk about some scam free legit ways to make money online.
My #1 Recommendation for making money online is Wealthy Affiliate.
It's how I make money online and is the most scam free way to make money online.
To see exactly how I make money online and how you can too, visit Start Your Own Online Business.
Thank you for reading this Mo's Success and Online Success Plan Review. We have found that this product is a complete scam. If you would like to learn more about how you can make money online with a legit business use the links above to learn more!
Don't forget to share with your friends and leave comments if you have questions!
Summary
Reviewer
Review Date
Reviewed Item
Author Rating