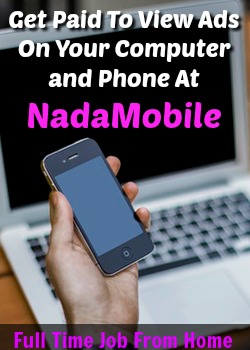 Nada Mobile is a new rewards site that's focused on viewing ads, basically watching videos for points. It honestly seems to be a pretty good site, especially the viewing ads portion.
This site by no means will make you rich, but if you're bored, you can earn some extra cash in your spare time viewing ads at Nada Mobile.
In this Nada Mobile Review, I'll cover the different ways to earn, how much you can make, how to get paid, complaints, and if this site's a scam!
---
Nada Mobile Review
Site: Nada Mobile

Type: Rewards, View Ads
Score: 73 out of 100
Verdict: Legitimate
In this Nada Mobile review, I gave them a decent score and marked it legitimate. I like that they have a few different ways to earn and the viewing ads portion is pretty good compared to some other sites.
I do have some complaints; the rewards are a bit lacking, and I thought they'd have an excellent mobile app since it's in the name (They do have an app for Android.)
Overall it's a pretty good rewards site that does pay, but I recommend some Extra Income Sites over Nada Mobile.
---
How To Earn At Nada Mobile
Viewing Ads
Viewing Ads is the main way to earn points at Nada Mobile. You'll earn 4 points for every ad you watch. Another word for this is getting paid to watch videos.
Most ads are 15-30 seconds long. Once you watch an ad, your 4 points are added to your account balance, and you'll need to click view next ad to start the next video.
Offers
The other way to earn at Nada Mobile is through the offers tab, which covers a wide variety of other ways to earn. You'll find paid to sign up, Surveys, paid offers, apps to download, and some free trials.
Offers are a great way to earn more; most offers pay 50-2500 points based on what's required of you. It's going to take a while to watch enough ads to reach the cashout amount; offers can get you there much quicker.
---
Nada Mobile Rewards
At this time the rewards at Nada Mobile are a bit limited. You can cash out via Amazon, Steam, and iTunes gift cards.
Amazon gift cards start at $3 or 3,000 points, while Steam and iTunes start at $10 or 10,000 points.
Once you request a cashout, your gift card code is emailed to you within 2-3 business days.
---
Nada Mobile Refer A Friend
The easiest way to earn more at Nada Mobile is through the refer a friend program. If you have the ability to get a lot of referrals, it's an easy way to make some extra cash.
You'll earn 500 points, $.50, for every referral you bring to Nada Mobile. They will also receive a 100 point bonus, $.10 when signing up through your link.
*There FAQs state that referral points and sign up bonus points are rewarded after the referral watches 250 ads. I've already referred a few people to this site and have earned points after they watched a few ads. I also received my sign up bonus after watching just 1 ad. So I think this information is outdated.
---
Nada Mobile Complaints
Is It Really That Mobile?
One thing that really surprised me is Nada Mobile doesn't have a mobile app Does Have an App For Android Devices. With that being said, it does seem to work pretty well on mobile devices when you visit the site on a browser.
Personally, I prefer to use apps, rather than visiting their actual website, but I guess it still works.
No Cash
My favorite way to get paid by extra income sites is via cash, preferably PayPal or Direct Deposit. At this time Nada Mobile's Rewards are a bit limited, the only one I'm interested in is the Amazon Gift Card.
They do say that more rewards will be added in the future, but who knows if that will happen.
Just Extra Income
Like any other rewards site, Nada Mobile is just extra income. Don't expect to make more than $10-$20 a month from this site.
If you're looking to make a larger income online, see how I make a full-time income at How to Start a Profitable Blog.
---
Is Nada Mobile A Scam?
Nada Mobile is not a scam; it seems to be a legitimate rewards site that does pay its members. With that being said, it's not my favorite extra income site. I wish the rewards were better and that they offered some type of cash payment.
Overall it's a decent rewards site that will pay you to view ads. If you'd like to learn more or to sign up, visit NadaMobile.com.
Nada Mobile is decent, but here're the rewards sites I recommend over it.
Extra income is awesome, but you could be making a much larger income running your own blog. Here's how you can start a profitable blog for free!
Do you think Nada Mobile is a scam? Let me hear your thoughts on this review in the comments below! 🙂
Summary
Reviewer
Review Date
Reviewed Item
Author Rating