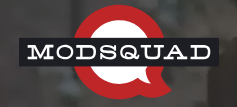 ModSquad is a digital engagement service provider. They hire "Mods," short for moderators, for forums, games, social networks, blogs, and community pages. Mods are hired as independent contractors. In this review, I will look at the Mod opportunity with ModSquad.
Moderating isn't for everyone, make sure to check all of the work from home companies hiring now!
---
ModSquad Requirements
To be an independent contractor for ModSquad, you'll need the following:
Computer
Secure, reliable internet access
Private, distraction-free workspace
Individual projects will all have specific requirements for skills and equipment. When ModSquad finds a project that you are a good fit for, they will contact you and give you specific details about the project and you have the opportunity to accept or decline the project.
---
ModSquad Application Process
If you want to join the ModSquad, go here to join. Scroll down until you see a big red button that says Start Here. Right off the bat, you can upload your resume. When you do that, the fields below are auto-populated with your information. Then you just review to make sure it's all correct. Here's the information they are gathering:
Name
Email
You can add a cover letter
They want you to upload a writing sample
Address
Phone
Are you 18 or older
What languages do you speak and with what level of proficiency
What mobile devices do you have access to
Are you and your workspace suitable for receiving phone calls
Are you willing to provide phone support (not all projects involve phone calls; some are just email or chat)
Are you legally authorized to work in the country you are located in
How many hours per week would you like to work
Describe why you are interested in working for ModSquad
What are your most relevant skills and experiences
Were you referred by someone
Acknowledge that you understand that ModSquad projects include moderation and other digital engagement services, and it is possible you will encounter explicit or mature content
And last, you can add comments before submitting
Within 72 hours of submitting the form, you'll receive an email to acknowledge the receipt of your application. If they don't have a project for you right away, they will keep your application on file. When they get new clients, they review the Mods to see who would be a good fit for the client. They will reach out to you if a project comes along that matches your skills. Unfortunately, it is possible that they won't ever find a match for you.
---
How Much Does ModSquad Pay?
Your pay with ModSquad will depend on several factors, including the demand for your skills and your experience. Your schedule, availability, performance, and the amount you work all play a factor in your pay as well. The payment structure can also vary between clients due to the length of a project, services needed, and skill level they desire.
ModSquad offers direct deposit. Per reviews on Glassdoor, the pay is $8 to $10 per hour. Remember that as an independent contractor, taxes are not removed from your pay, and you will be responsible for reporting earnings.
---
When Does ModSquad Pay?
ModSquad pays monthly, and they don't pay overtime.
---
ModSquad Schedule
Your schedule with ModSquad will be what you want. Many independent contractors who work for ModSquad also have full-time day jobs. You can choose which projects you take on, so you can set your own schedule.
ModSquad has an automated system which typically releases each project's client schedules on a monthly basis. You'll be able to select what works for you. Per one review, most projects ask for a minimum of 20 hours availability, but you can easily get up to 40 hours.
---
ModSquad Feedback
I found a decent amount of reviews on Glassdoor. I will run through some of the pros and cons.
Pros:
Opportunities for advancement
Remote work is great for flexibility and travel
Able to choose between jobs, including the different modes, such as email, chat, or phone
Can work on multiple projects at a time
Cons:
Can get boring
Can be taken off of projects at a moments notice
Not a reliable source of primary income
Pay is low for the work being done
Poor communication from the company
Lack of training
Constant change makes it difficult to keep up with policies
Limited growth opportunity
Hours can be cut from full-time to part-time without notice
---
Is Working for ModSquad a Scam?
Based on my research, ModSquad is not a scam. Like all work from home opportunities, there will be pros and cons. But if you need to work from home, it sounds like ModSquad could be offering a solution worth looking into. If you want to apply, click here. Remember to scroll down until you see the big button, "Start Here."
Not interested in this work at home opportunity? Check out these helpful links for some other work at home ideas:
Summary
Reviewer
Review Date
Reviewed Item
Author Rating