Masterra is a writers' marketplace which connects writers with clients. And they want you to write for them!
Freelance writing at Masterra is legitimate, but you'll have to bid on writing projects, which can be frustrating. You might be interested in writing for yourself the income potential is much higher, no need to bid with other writers, and you can write about anything you want! Check out My #1 Recommendation to learn more! I made over $13,000 in January with this method!
In this Masterra review, I will cover the requirements, application process, pay, schedule, feedback, and if it's a legitimate site to earn money freelance writing.
---
Masterra Requirements and Expectations
Here are the requirements to be a writer for Masterra:
You must have a college or university diploma from the United States, Canada, Australia, or Great Britain
They will also accept your application if you're a senior in college
You should have great English skills
You must be willing to provide information to prove your identity
You must be willing and able to provide a copy of your diploma or transcript (they do this to make sure you have sufficient knowledge in your subject matter, and you'll need it to complete the application process, although I was able to submit my application without attaching my transcripts)
You must be willing and able to take the required tests so that they are sure you have enough proficiency to work with them
You need to have knowledge of Microsoft Word because that is what you will use
---
What you Should Know about Writing for Masterra
There are some important things to note if you want to write for Masterra. Most of what I list below was found in their terms of service:
Once your content has been approved by the client and payment is complete, your written content will become the exclusive property of Masterra.
As the writer, you must submit completed content by the deadline provided by the Client, and follow all requirements that were laid out in the assignment description. You'll submit your work via the writer's account in the following format unless otherwise specified by the client:

Word document
12 point
Times New Roman
Double-spaced
300 words per page

The client reserves the right to cancel the order at any time and for any reason.
The client reserves the right to reject any bid.
The client and the Masterra website will not at any point be liable to a writer for any direct, indirect, or subsequent damages.
The writer (that's you) has the right to withdraw any bid at any time before acceptance from the client.
Clients are entitled to accept, reject, or request changes to your work within fourteen (14) calendar days from the time you submit it to them. If the client does not make a decision (accept, reject, or request changes) within the 14 days, your work will be considered approved and accepted.
The client has the right to reject submitted work at his discretion if it does not comply with the project description or the deadline.
Here's where I get a little nervous. They have a policy for "fines." This is also in the Terms of Service:
If you miss a deadline and the client doesn't want to continue, the order will be canceled, and you as the writer will pay a 10% fine (10% of the bid price)
If you miss a deadline and the client does want you to finish, you will still pay a fine, but the amount is determined based on how late it is:

less than 2 hours late  is 7%
2 to 5 hours late is 10%
5 to 24 hours late is 15%
more than 24 hours late is 20%

If you as the writer want to change the price after you've been selected for an order, maybe because you didn't pay close enough attention to the requirements, a 10% fine might be applied
If you submit poor quality, you'll pay a 20% fine, even if the client doesn't dispute your work
If you don't confirm an order you have applied for; you will pay a 10% fine
As the writer, you need to be responsive –  you'll pay $1 for each missed call or unanswered email
If plagiarism is detected and a client doesn't want to continue working with you, you'll be charged a 15% fine
If plagiarism is detected and the client does want to continue working with you, you will need to remove all unoriginal content and rewrite the order
Masterra reserves the right to impose other fines for violating the Terms of Service or for any behavior deemed harmful to customers, support representatives, and the Masterra service
---
Masterra Application Process
To write for Masterra, you'll start by going here to register. You'll give your name, email, phone number, and create a password. Next, check your email for the confirmation link. In the confirmation email, they ask you to click on a link to confirm your email address, and you'll also give them more information, including the following:
You'll make a nickname that will be displayed to clients
Upload a profile image
Add your PayPal payment info
Time zone
Availability
Education
Select subjects you are proficient in
Write about your writing experience
Write about yourself
Upon completion, a message was displayed. You'll need to take tests that are emailed to you. The HR manager will review your application and get back to you within three days of completing the tests. You should also expect a phone call from (they give the number).
---
How Much Does Masterra Pay?
As usual, Masterra is a contractor position, and you'll be responsible for your own income reporting based on the laws where you live.
You will set your own pricing for the projects that you bid. They give you tips and advice on how to properly price the projects you are bidding on.
Masterra pays monthly via PayPal. When you are paid for a job, it goes into your account. The minimum payout is $30. If you don't have $30 in your account, it will roll over to the next pay period.
---
Masterra Schedule
When you're filling out the 2nd part of the application, they ask if you are available 24/7. That doesn't mean that you need to be available to work at all times. It just means that you will be able to see jobs that require less than a 24-hour turn-around.
Your schedule will be what you make it. Since you bid on projects you want to work on, you can set your own schedule. If you're going on vacation, just don't bid on anything!
---
Masterra Feedback
I didn't find any feedback from writers, but I found a lot from users who seem very happy. They all say it's great work and affordable.
---
Is Freelance Writing for Masterra a Scam or Legit?
Based on my research, writing for Masterra is not a scam! Personally, the fact that they will fine you for a variety of reasons makes me very nervous. But, if you are a writer with a college degree, I feel like it couldn't hurt to give this gig a chance.
If you want to apply, go here and click on the big button to get started!
Again, freelance writing is great and if you can find great clients to work for, it's very rewarding. With that being said, taking the time to bid with other writers can be frustrating. If you're interested in making an income writing online and don't want to mess with finding writing gigs, check out My #1 Recommendation to learn how to get paid to write for yourself!
If writing isn't your thing, check out these helpful links for some other ideas:
How I Made Over $13,000 Online Last Month
Do you have experience freelance writing or writing for Masterra? I'd love to hear your thoughts in and experience with this review in the comments below!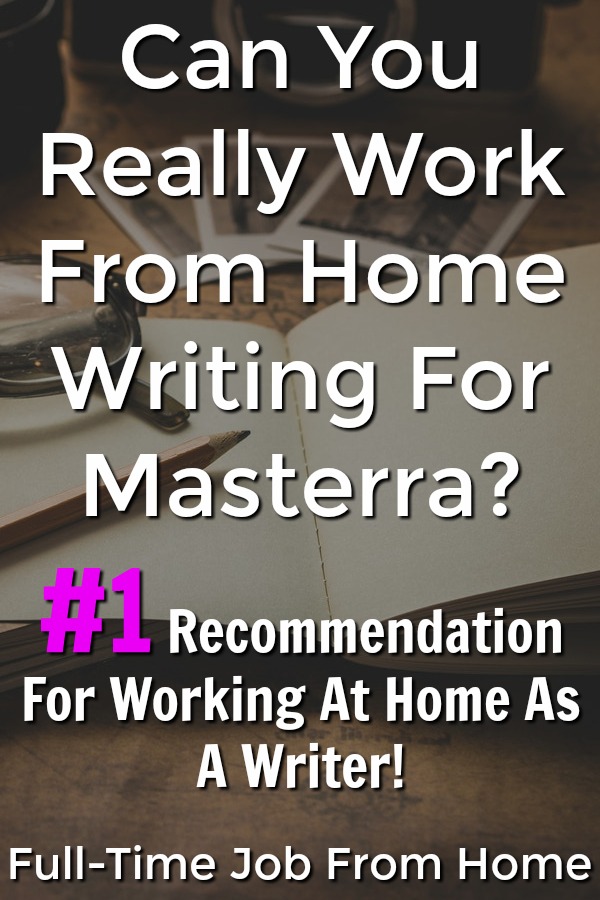 Summary
Reviewer
Review Date
Reviewed Item
Author Rating