CinchBucks is a rewards site that's only available in the United States. They pay you to complete offers, complete tasks, take surveys, refer friends, watch videos, and much more.
I decided to write a review to see if CinchBucks is a legitimate way to earn money or another scam that's a waste of your time.
Please understand that CinchBucks and other reward sites won't earn you much money. I consider these Extra Income sites, and although they pay, you'll be earning pennies for your time. If you're looking for a large full-time income, check out My #1 Recommendation, it's how I made over $13,000 online last month!
In this CinchBucks review,  I'll cover how to earn, how they pay, the complaints I have, and if it's a scam.
---
CinchBucks Review
Site: CinchBucks
Type: Rewards Site
Verdict: Legitimate, Not Recommended
In this Cinchbucks review, I marked them legitimate but it's not the best way to make money online in the world. They offer several ways to earn and have a few ways to get paid including PayPal and gift cards, but there's not really anything special about this site.
If you reach the $10 cash out amount, you will get paid, but don't expect to make much money on this site. The ways to earn just don't pay enough to make this a large income.
---
How To Earn at CinchBucks
Offers: One of the ways to earn at CinchBucks is offers, they have free and paid offers from several different providers. Free offers usually consist of signing up for a free site or email list. These don't pay much, usually ranging from $.25-$75. The paid offers require you to sign up for a free trial or actually make a purchase. These can range from $1-$10+ depending on how much you have to spend. Please keep in mind that free trials require a credit card and you'll be charged if you don't cancel the free trial.
Surveys: Surveys are another way to earn at CinchBucks, they have surveys from several providers. Once you fill out your profile you'll start to receive survey invitations. Even though you receive an invitation does not guarantee that you'll be able to complete the survey and get paid, you'll need to qualify for the survey. You'll need to answer a few questions about yourself and if you don't meet the demographics they are looking for you won't be able to complete the survey. Most of the surveys listed pay from $.20-$2 and range from 5-30 minutes to complete.
Videos: CinchBucks will also pay you to watch videos. You'll earn $.007 for every three videos that you watch.
Cashback: In this section, you won't actually earn cash back for shopping at stores, but it's more paid offers. You can earn $1-$5 when you purchase memberships or products listed.
Add-On: Cinchbucks has a Google Chrome add on that notifies you when new surveys and offers are available to complete. The add on does not earn you any money really; it just reminds you that there're new ways to earn. If you plan on using Cinchbucks, it can come in handy, but again won't really earn you more.
CB Codes: These are promo codes that they post on their blog and social media accounts. When you enter a code you'll earn $.05-$.10
Refer Friends: The most passive way to earn is by referring friends. They give you your own link and some promotional materials you can use to promote the site. You'll earn 20% of the earnings your referrals make for life.
---
How Does CinchBucks Pay?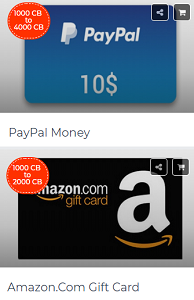 The minimum cash out amount at CinchBucks is $10 for all reward options. You can get paid via PayPal, Visa pre-paid card, or gift cards to Amazon, eBay, Walmart, Target, iTunes, and a few other options.
Once you reach the cashout amount and request a reward, it takes 7 days for Cinchbucks to process it. Once it's processed, you'll receive payment within 24-48 hours.
*PayPal has a 2% fee, some gift cards might have a $1 fee.
---
CinchBucks Complaints
Other than CinchBucks being an extra income site that won't earn you much money, most of my complaints have to do with the payment system.
Just Earning Pennies
Please understand that CinchBucks and all other reward sites are just an extra income. If you can make $10 a month with this site you'll be doing pretty good, the ways to earn just don't pay enough to make this a large online income. As long as you know that going in, you'll probably be happy with Cinchbucks, but if you're looking to make more, check out My #1 Recommendation, it's how I made over $13,000 online last month!
PayPal 2% Fee
I love getting paid via PayPal from the extra income sites I use, but with Cinchbucks you'll have a 2% fee taken out of your payment. Since the minimum cash out amount is $10, you'll always lose at least $.20 when you get paid via PayPal.
Over 1 Week To Get Paid
It can be frustrating when you're waiting to reach a cashout amount with an extra income site. When you finally hit it you want to get paid right away! With CinchBucks they say that once you cash out it takes 7 days to process it. After the 7 days, you'll get paid within 24-48 hours.
Some Gift Cards Have A Fee?
In their FAQs, they state that some gift cards have a $1 fee taken out. I looked through all the gift cards, and this is never mentioned on any of them, so this might not be the case anymore, but note that when you cash out a $10 gift card you might only receive $9.
---
Is CinchBucks a Scam or Legitimate?
CinchBucks is not a scam; it's a legitimate extra income site that you can use to make a few extra bucks online. Overall it's an okay site that has plenty of ways to earn and several ways to get paid.
If you'd like to learn more or to join, visit CinchBucks.com. I won't be using CinchBucks because I have found better ways to earn an extra income.
Please understand that CinchBucks and all reward sites won't make you much money, if you're lucky, $10 a month is all you will see. If you're looking for a large online income, reward sites aren't for you, check out My #1 Recommendation, it's how I made over $13,000 online last month!
I hope you enjoyed this CinchBucks review if extra income sites aren't for you, check out these links to other ways to make money online:
Work From Home Jobs Hiring Now
All The Sites That Pay Me Each Month
How I Made Over $13,000 Online Last Month
Do you have experience with Cinchbucks? I'd love to hear your thoughts on this review in the comments below!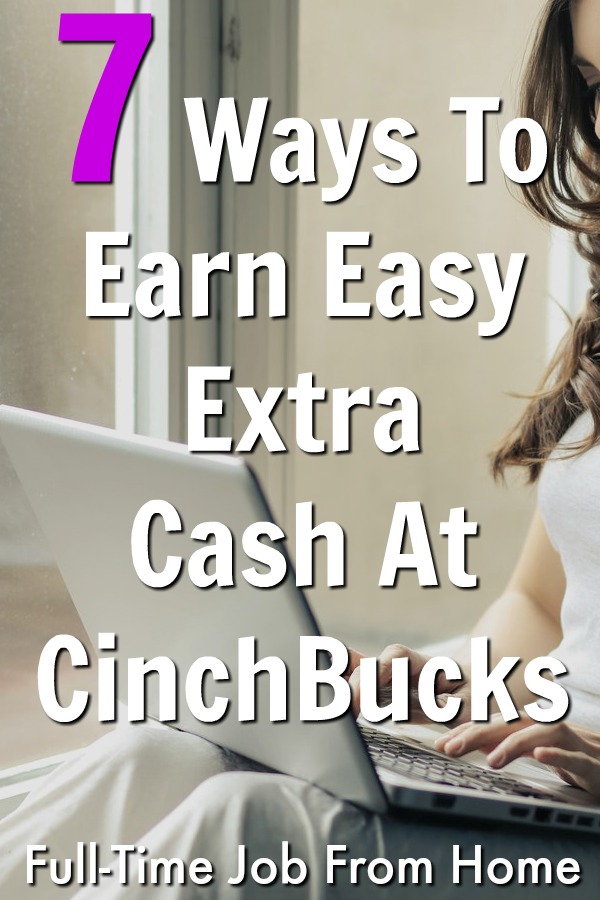 Summary
Reviewer
Review Date
Reviewed Item
Author Rating