Magic Article Rewriter Review Is This A Scam?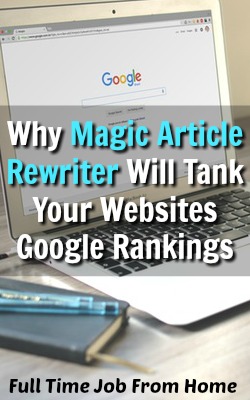 Article spinning is a big no-no to Google and search engines, but for some reason people continue to make products and software that spins articles. It's a known fact that this no longer works and can really hurt your site, but people keep creating and buying these products.
Magic Article Rewriter is a newer product that spins articles. On the sales page they claim to have found a loop-hole in the system where Google can't tell that your content is spun and rewritten, but let me tell you that any spun content especially by a piece of software is easy for Google to find.
In this Magic Article Rewriter Review we will see exactly how this program works and figure out if this product is a complete scam or worth you money.
---
Magic Article Rewriter Review
Website: MagicArticleRewriter.com
Price: $47.00 Plus Up Sells
Score: 20 Out Of 100
Verdict: SCAM! Not worth your time and money
I gave Magic Article Rewriter a low score and claimed it a scam, because the technique used in with spinning content no longer works within Google and search engines.
Since it is a black hat SEO tactic there is really no other reason to explain why this system won't work and is a scam, but for the sake of this Magic Article Rewriter Review we will cover how it works and what I don't like about it next.
---
How Magic Article Rewriter Works
The program is actually very simple. It's a piece of software that you will have to install on your windows computer. Basically the process is uploading the piece of content you want to spin, choosing what keywords you would like to keep, choose words you would like to use synonyms for, and manually rewrite each sentence if you have issue with what is being said. Here is some screenshots and a break down of the process.
Last Month I Made

$13,841 Online
I Bet You're Tired Of Making Pennies Online. No More BS. If You're Serious About Making A Full-Time Income Online You Need To See The TRUTH. Stop Wasting Your Time With The Next Big Thing When There's Already A Proven Method That Works!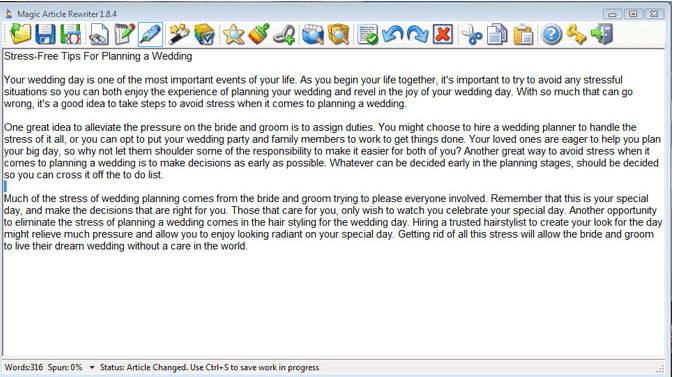 As you can see the first step of this process to is to either copy and paste, or to upload the content you would like spun.
Next you can enter in the words that you would like to be changed throughout the post with the synonym tool.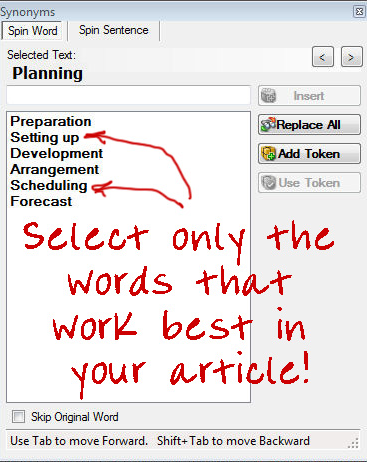 After you enter in your synonyms it automatically finds the word within the content and gives you a list of synonyms to choose from.
From this screen you can choose what synonym you would like to exchange in the post.
As you can see it's an extremely easy process using this tool, but the problem is that this method does not work any more. So now that you know how it works let's take a look and see why this program is a scam.
---
Is Magic Article Rewriter A Scam?
To be honest the program itself is not a scam, but the function of the program is to spin articles which no longer works, which basically makes this program worthless and a scam.
Since they are still saying that their program has found a way to beat the search engines I have to mark Magic Article Rewriter a complete scam!
Doesn't Work Anymore
There was a time when article spinning was pretty popular and some people had some good results with it. It's never really been what is consider White Hat SEO, basically SEO practices that Google approves or likes, but until recently it wasn't going to be a real burden on your site.
But now spun and copied articles not only won't get ranked, but it can actually get your whole website removed from Google and other search engines.
If You Wanted You Could Do This With Word
Not that you would ever want to do this, I don't recommended it, but if you did want to spin articles it can be easily done with Microsoft Word. Basically the functions you're paying for with Magic Article Rewriter are all functions that Word can do.
You can use the search function to find the words that you would like to change in your content and also use the synonym function to find words to replace them with.
Basically this program is worthless, but the owner has used false advertising on the sales page to try to get you to buy the product.
Not A Long Term SEO Tactic
One last thing I want to mention is some people will disagree that article spinning doesn't work and I can't say 100% it won't work for a while, but I know for a fact that search engines will eventually catch on your site will be destroyed by the consequences.
If your interested in having a thriving long-term website, article spinning should not be a SEO tactic of yours.
---
What SEO Still Works?
We have taken a look at Magic Article Rewriter and came to the conclusion that it's a scam. I highly recommend staying away from this product and other spinning software out there.
So you're probably wondering if article spinning doesn't work what does?
The answer is simple. It's basically content rich websites, that target keywords, and have great on page SEO.
If you would like to learn more about how you can get your content ranked on the 1st page of Google with this technique check out my #1 Recommendation. 
It's where I learned about SEO and their training is probably the reason you ended up here on my site.
Thanks for reading my Magic Article Rewriter Review. Hopefully I saved you some time and money from staying away from this scam. Don't forget to share with your friends and leave comments if you have questions
Summary
Reviewer
Review Date
Reviewed Item
Author Rating