In today's post, I will be bringing to you yet another review of a survey panel, today we will cover our Lifepoints Panel review.
For those of you who don't know Lifepoints is a new survey panel fresh on the block that claims to reward you for your opinion. It does have 5 million users currently signed up to the site, I will explain how a little later.
Whenever I see sites claiming to have a ton of members I always wonder if that is true and how well do they pay.
Before we get started, please understand that taking surveys will never be a large income. You'll be earning pennies and is usually a terrible hourly rate. If you're serious about making a large income online, check out My #1 Recommendation, it's how I made over $13,000 online last month!
Looking to find out whether Lifepoints is legit? I have got you covered for the next couple of minutes.
---
LifePoints Review
Site Name: LifePoints
Type: Survey Site
Verdict: Not Recommended
You may be expecting me to say Lifepoints is legit however I found many concerning aspects and for now, am labeling them as not recommended. They may be a new site but there're plenty of complaints about the company.
Lifepoints is a US-based company owned by Lightspeed LLC which is the business that owned Global Test Market and MySurvey. Those two survey panels I mentioned were closed down for certain countries worldwide so those who were signed on to them have been brought over to LifePoints.
---
How Does Lifepoints Work?
The way Lifepoints work is fairly self-explanatory in that you sign up, complete a survey and get rewarded.
The first step is to make an account, this process will take you around 5 minutes in total. Here you will be asked to input information such as where you live and also create login details for yourself to use to access the Lifepoints dashboard, like I say straightforward stuff.
Once that's done you will need to verify your email address and voila you can start earning money. Also worth noting you do get 10 points just for signing up, sounds nice initially until you find out that its only worth a few cents and you will need another 5,400 to cash out.
---
LifePoints Surveys
Now let's talk about the actual making money part. The only way to make money is through their surveys.
Once you're a member, LifePoints will start sending you invites to different surveys, these can be online or mobile and some will require a video.
The amount you get paid depends on the survey. Most surveys take between 10-15 minutes to complete which is pretty typical.
After signing up you can fill out profile surveys which don't pay out. These profile surveys increase your chances of getting more paid survey invites, and are set up to learn more about you and match you to the right studies.
---
LifePoints Rewards
You're probably wondering what rewards are available and in this case, there are a number of options for you. These consist of:
PayPal
Gift cards for retailers such as Amazon, iTunes, and Starbucks
Donate your earnings to charity
To cash out you will need a balance of 5,500 points which equates to $5. The rewards are sent out within 10 business days, PayPal money will be put in your account and Gift Cards will be sent via email.
In the FAQ they have a policy of no returns/refunds so once you have requested a payment it seems that is final.
---
LifePoints Complaints
Reputation Was Poor With Previous Sites
This is normally the section where I would go over a number of things I don't like about a site, however, I will summarise most of the bad aspects here.
I have reviewed MySurvey and Global Test Market in the past which are panels this company owned and I do see repeated complaints from them.
The reputation of MySurvey and Global Test Market wasn't great, complaints such as bad support, points missing, and closed accounts were always common with the older sites.
Unfortunately, even though they may have changed their name it doesn't mean that the ones that operate the company have changed.
On Survey Police which is a credible site that reviews survey panels many of the LifePoints members and former members to the previous panels have shared their frustration with the site and how it has gone downhill a lot over the past 3/4 years.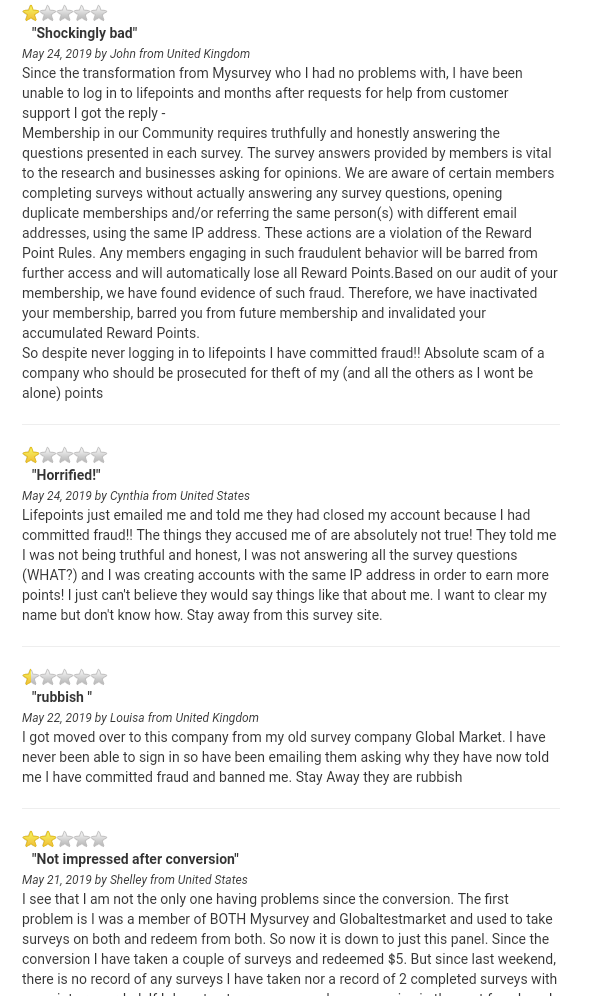 It's normal to find negative reviews; however, in this case, I found pages and pages of 1/2 star reviews which were normally followed up with a lengthy paragraph.
Complicated Points system
Another problem I found with LifePoints is its points system, which is quite hard to follow. When I take a survey I want to know exactly how much time it will take and how much I'll get paid, in terms of Dollars.
With LifePoints you'll be earning points, and sometimes it's hard to determine exactly how much a point is worth.
---
Is LifePoints A Scam?
When I first came across LifePoints I did think they were genuine however having had time to review them carefully I can't recommend a panel with so many problems; it would be wrong for me do so.
No one wants unresponsive support and accounts closed down without any reason, which is why I advise you to avoid LifePoints and stick to some of the better sites out there. There are a few good reviews; however, these are overshadowed by the bad ones.
Believe it or not, many survey panels are consistently regarded as quality extra income sites, take Swagbucks and Fusion Cash, for example, these are great reward sites that pay well and don't close down accounts without a good reason.
Please keep in mind that even the excellent survey sites will never be a large income, if you're serious about making a large passive income online, check out My #1 Recommendation, it's how I made over $13,000 online last month!
If surveys aren't for you, make sure to check out other ways to make money from home below:
Extra Income Sites I Recommend
How I Made Over $13,000 Online
Do you think LifePoints is a scam? Let's hear your thoughts in the comments below.
LifePoints
Summary
LifePoints is a new survey panel owned by Lightspeed LLC. Two well known survey panels, Global Test Market and MySurvey combined to make LifePoints.
Just like the two parent panels, LifePoints has a lot of complaints about not receiving credit, getting locked out of your account, and not getting paid.
Join this panel with caution, and always remember that taking surveys is going to be a tiny income even if you're using a legitimate site!
Ease of Joining

Ways To Earn

Surveys Available

Income Potential

Reward Options

Minimum Cashout

Payout Timeframe

Overall Impression
Comments Rating
( reviews)
Pros
PayPal Payments
Payouts Starting at $5
Cons
Originally Global Test Market and MySurvey
Plenty Of Negative Reviews
Small Income
You Didn't Qualify and Don't Get Paid!