Today I'd like to talk about a company that hires a work at home ESL teaching position. The company is called LearnTalk, and they allow teachers to join in the US and several other countries.
What sets LearnTalk apart from similar companies is they don't require you to be a native English speaker. As long as you're fluent, and can pass their application process you have a chance of being hired.
Tutoring English online is extremely popular right now, but I prefer a much more passive way of making a full-time income from home, check out My #1 Recommendation, it's how I made over $13,000 online last month!
In this LearnTalk ESL Teacher review, I'll cover the requirements, levels of teaching, application process, pay, schedule, and feedback from current tutors.
VIPKid, another ESL company is actively searching for new tutors. They pay up to $22 an hour! Learn more by reading my full VIPKid Review!
---
LearnTalk Levels/Requirements
LearnTalk has a few different teaching levels you can apply for, so first I'll cover the main requirements, and then I'll talk about the levels.
Now that you know the technical requirements lets cover the teaching levels and what's required.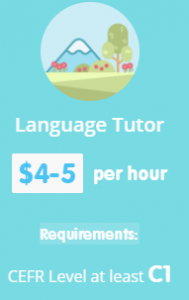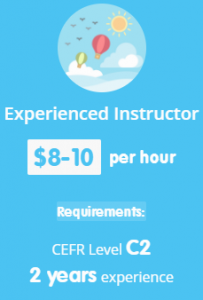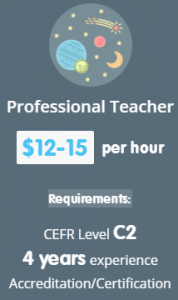 As you can see you can apply to be a tutor as long as you're a CEFR level C1. The other levels, of course, pay more but also have more requirements.
One thing they mention is just because you come in as a tutor does not mean you won't get promoted if you're doing great work. So even if you can only meet the lowest level, you could still earn more eventually.
---
LearnTalk Application Process
The LearnTalk application process is all online and can be done within 24 hours of starting the process. Here are the steps:
Fill Out Form On Their Website (Basic contact info)
Internet Speed Test
Grammar Test
1-Minute Video Introduction
Evaluation/Demo Lesson
The first four steps can be done in one sitting all online and shouldn't take more than 30 minutes to complete. LearnTalk will review your application and get back with you. If you're accepted, they schedule a final evaluation and demo lesson.
If all goes well, you can begin to sign up for tutoring spots.
---
LearnTalk Teacher Pay
Teacher pay at LearnTalk is based on your teaching level. They pay by the teaching session which lasts 25 minutes. Tier 1 pays $2, Tier 2 pays $4.50, and Tier 3 pays $6.50.
All payments are made via PayPal.
*On their website they mention that there pay rates equal out to most sites after the hidden fees. Not sure if that's exactly true so if anyone has experience with other companies feel free to leave a comment below and confirm.
---
LearnTalk Teacher Schedule
The schedule is flexible in the sense that you can work as little or much as you'd like and can sign up for time slots freely. With that being said, like most ESL teaching positions, you must cater your working schedule to when the students are available. Most students are in Spain, and the peak hours are 7 am EST- 4 pm EST.
As long as you have time to work in those hours you can pick a flexible schedule and work as little as you please.
---
LearnTalk Teacher Feedback
Unforatently I couldn't find any feedback from current teachers. They have a glassdoor listing, but it seems like the only review is someone who worked in their office. I'll go ahead and link to the Glassdoor page here and hopefully over time there will be some new reviews added by the work at home teaching position.
---
Is Teaching at LearnTalk A Scam?
LearnTalk seems to be a legitimate company, and I like that they hire non-native English speakers as well. Unfortunately, there's not any feedback that I could find from current teachers, but I hope that changes soon so I can update the review.
If you have any information or experience with LearnTalk, it'd be awesome if you could share it in the comments below.
If you're interested in applying, visit LearnTalk.es!
VIPKid, another ESL company is actively searching for new tutors. They pay up to $22 an hour! Learn more by reading my full VIPKid Review!
ESL Teaching not for you? Make sure to check out these helpful links:
How I Made Over $13,000 Online Last Month