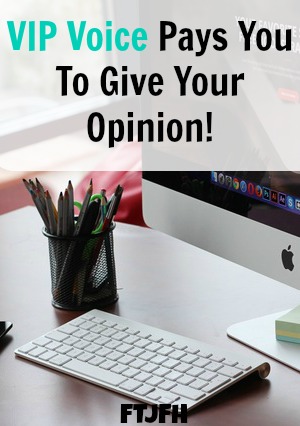 VIPVoice is no longer available, check out all the Sites that Pay Me Each Month
Price: Free
Score: 70 Out Of 100
Verdict: Legit
Recently I came across the company VIP Voice and needed to do a review on it. Vip Voice is not a scam, but I can't say that I recommend joining. There are a lot of things about VIP Voice that I just really don't like. I don't want to get into these things in my introduction so you're going to have to read on.
VIP Voice is a company that will pay you for taking surveys. VIP Voice is part of the company NPD Research a company that gets paid for doing market research for big companies, which is perfect for us because that means we get to take surveys.
In this VIP Voice Scam Review you will learn how VIP voice works and why I don't recommend joining this company.
---
VIP Voice Review
VIPVoice is no longer available, check out all the Sites that Pay Me Each Month
I gave VIP Voice a 70 out of 100 and marked this company legit because they will actually pay you for your surveys. But I do not recommend joining VIP Voice. The biggest reason for this has to do with how you cash out your earnings. Instead of exchanging your points for gift cards at set amounts you actually have to bid on them.
This is the first company that I have seen set up this way and I think it's a terrible idea. But if you like the idea VIP Voice might be a good survey site for you to join.
---
What I Liked
VIPVoice is no longer available, check out all the Sites that Pay Me Each Month
Referral Program
Really the only thing that I liked about VIP Voice is that they do offer a referral program. The referral program is a bit different than most of the programs I take advantage of. Usually you earn a percentage of your referrals earnings either 10-20%. But with VIP Voice you will earn 250 VIP points for every referral that signs up and completes their first survey.
Personally I am not a huge fan of this kind of referral program, but it seems like more and more sites are switching to this. I prefer a referral program where they can earn me money for life even if it's just a percentage.
One other thing about the referral program is they only offer it by email invite. They do not give you a referral link or any type of banners that can be placed on social media or a website.
---
What I Didn't
VIPVoice is no longer available, check out all the Sites that Pay Me Each Month
Prizes
The prize system for VIP Voice is the worst I have ever seen. This is the #1 reason why I can't recommend VIP Voice to you, because instead of being able to exchange your points for gift cards you can either spend your points on sweepstakes or bid on prizes.
It seems like most of the auctions are for big random items and then a few different gift cards. From first glance it looks like most auctions for gift cards can be won with 5000 points and the larger items like a trip to mexico for 1,000,000 points. To me this is just a stupid way to do it, but who knows it might be something that you like. It doesn't look like they ever have more than 10-15 auctions at a time so it's not like your going to steal something for just a few points.
Point System
Another thing that I hate about VIP Voice is they work on a point system and since all prizes are bid on there is no real value to each point. You could pay 5000 points for a $10 gift card or you could pay 10,000.
I am a fan of sites that say I have $10.00 and that I am going to get paid $10 not here is some points now go bid on items to see if how many extra points you can spend on something that should be worth 5,000 points.
---
Final Verdict
VIPVoice is no longer available, check out all the Sites that Pay Me Each Month
VIP Voice is completely legit you will get rewarded all the points you earn and if you win an auction you will receive you prize But I can not recommend joining VIP Voice because of the point system and the bidding on prizes. There are just too many other great survey sites out there that don't make you win an auction just to cash out your points.
Luckily for you I have put together a list of the 30 best survey sites. Some of the ones I really recommend are Paid Viewpoint, Cash Crate, and SwagBucks. I am not against survey sites. I actually get paid by a few each month, but like I said above VIP Voice is not one of my top 10 or even top 30.
---
What To Do Now?
VIPVoice is no longer available, check out all the Sites that Pay Me Each Month
If you think that VIP Voice is what you're looking for in a survey site you can join by visiting VIPVoice.com. VIP Voice is not something I recommend, but I do have a few survey sites that pay me each month. You can see all the survey sites by visiting companies that pay me or all scam free jobs. 
If you are familiar with survey sites you know that they are not going to make you rich. You can usually earn $10-$25 a month based on how many surveys you actually complete. Some people are looking for a much larger income online. If you would like to learn how I make 95% of my income online with Affiliate Marketing visit Start My Own Online Business.
Thank you for reading my VIP Voice Scam Review. If really hope you let me help you make money online by using the links above to find the perfect online job for you.
Summary
Reviewer
Review Date
Reviewed Item
Author Rating