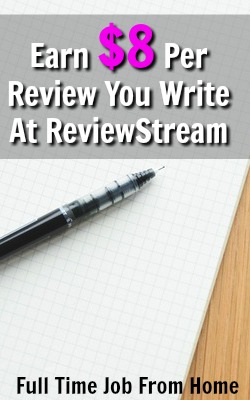 I recently came across a pretty cool site called Review Stream. Basically Review Stream is going to pay you to write reviews of products you've purchased and used. If you've ever written a review on Amazon after buying a product, it's a similar concept, but with Review Stream you can get paid for it.
I decided to write this review because even I was really confused when visiting the site and trying to see how it all worked. In this review I'll cover what reviews they'll pay for, what should be included in your review, how much they pay, and of course is Review Stream legit or another scam!
If you're interested in freelance writing, make sure to check out 30 Days Or Less To Freelance Writing Success. It's an awesome course to learn how to start/grow a freelance writing business. For a limited time, get a copy of their free ebook: 200 Freelance Writing Niche Ideas!
---
What Type Of Reviews Are They Looking For?

Review Stream is looking for reviews on products. If you've purchased a product and used it you qualify to write a review. If you visit their website you can see reviews of products in all kinds of categories from Baby Items to Video Games.
As long as you have valuable information from using a product, most likely you can get paid to write a review.
---
What Should Be Included In A Review
To get your review accepted here are the guidelines you should meet. First off the review has to be your own words, no plagiarizing obviously. If you do you're account will banned for life. Another thing is your review must be exclusive to Review Stream. Meaning if I published a review on their site I couldn't publish on my own website or another site that will pay me for the review.
The rest of the guidelines are more specific. You need to be specific on what you're reviewing. For instance put the full product name in the title not "a cool little gadget".
When reviewing places such as restaurants you need to include the specific address, just to give the reader the exact location you visited.
The most important requirement is including your opinion. Just don't lay out the specs of the laptop, describe exactly what you liked and disliked. Your opinion is what makes the review unique and other buyers relate.
They do not have a length requirement, but they're not looking for short nonsense reviews. I'd say your review needs to be over 500 words. Really that's pretty short, most of the reviews on my site are over 1000 words and some much longer.
---
How Much Does Review Stream Pay?
The rate per review actually changes day to day. I've watched the site for about a week and it seems that it varies in the $7-$8 range most of the time. As a rule of thumb you'll get paid around $7 for every review that's accepted.
Review Stream pays via PayPal each month and does have a minimum cash out amount that's kinda screwy. Basically the minimum cash out amount is 10x what your first review price is accepted at. For example if your first review pays you $7 your cash out amount is $70 for that month. If you don't reach the cash out amount earnings do roll over.
---
How To Make More With Review Stream?
Yes Review Stream does pay you to write reviews, but there's a few ways to earn more with this site, which I cover below.
Every Vote Pays Program
The first way to earn more with Review Stream is through the voting program. For every up vote you get on a review you'll receive $.10. Basically this is Review Streams way of rewarding you for submitting great reviews that visitors enjoy.
It seems there's no limit to how many votes your reviews can receive.
Reply and Earn Program
Another way to earn more at Review Stream is through replying to questions. Visitors have the ability to leave questions about products and reviews. If you see an unanswered question that you know the answer to, you can reply and earn $.10.
There's no limit to how many questions you answer.
Referral Program
Review Stream does have a referral program where you can earn a percentage of your referrals earnings for writing reviews and replying to questions. Basically you earn 2% of your referrals earnings. So if your referral writes a review for $7 you get $.14.
Yeah that's not much, but your referral will need to earn $70 to cash out so most likely you'll earn at least $1.40 from that one referral.
---
Is Review Stream Legit Or A Scam?
Review Stream seems to be completely legit and scam free. Personally I haven't used the site to make money so I don't have any payment proof for you, but there's a lot of happy members in the forums.
Honestly I think Review Stream is an easy way to make some extra cash writing short reviews if you don't have a website to publish reviews on, but I'm not a huge fan of the varying minimum cash out amount. It would be much better if they just made it a flat amount for everyone!
Overall I think Review Stream is a decent place to publish reviews, but in my opinion to reach the cash out amount you'll need to review 10 or so items. If you did that you could have a great start on your own website where you can make way more than $7 a review. To learn more about this for free, check out Wealthy Affiliate.
But if you're not interested in starting your own website and the large income possibility that comes with it, you can learn more about Review Stream by visiting submit a review.
Keep in mind that Review Stream is a pretty confusing site, so it will take some clicking around to really figure it out, but if it's something your interested in you'll eventually get it.
If you're interested in freelance writing, make sure to check out 30 Days Or Less To Freelance Writing Success. It's an awesome course to learn how to start/grow a freelance writing business. For a limited time, get a copy of their free ebook: 200 Freelance Writing Niche Ideas!
If your interested in posting reviews on your own website (that's how I make money online) visit My #1 Recommendation to learn how to do this for Free. Writing not your thing? You can see some other great ways to make money online at these extra income jobs.
Do you think Review Stream is a scam? Have proof it's Legit? Let me hear your experiences and thoughts on this review in the comments section below!
Summary
Reviewer
Review Date
Reviewed Item
Author Rating