Scripted.com Review Is it Legit?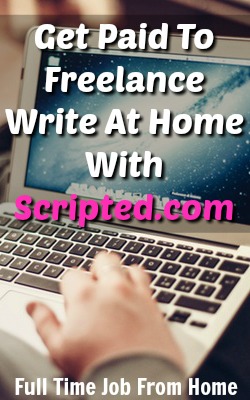 The internet is full of written content. You may not realize it but everything on the internet that you browse through every day is someone's content. As you can imagine there is a huge market for written online and scripted.com is a great way to find and sell your own written content.
Scripted.com is a marketplace where business and really anyone can buy content from writers. Business can hire experienced writers who specialize in different fields to write a variety of different types of writing.
In this Scripted.com Review, we will be taking a look at the writing for money side of this program and will cover if it's legit and if it's worth your time.
If you're interested in freelance writing, make sure to check out 30 Days Or Less To Freelance Writing Success. It's an awesome course to learn how to start/grow a freelance writing business. For a limited time, get a copy of their free ebook: 200 Freelance Writing Niche Ideas!
---
How Does Scripted.com Work?

As I mentioned above Scripted.com is looking for experienced writers, so it's not the easiest site to get accepted too, but take a look below at the process to getting started.
Sign Up For A Free Account
Choose Your Expertise (your hobby or what you know about)
Submit some previous writing having to do with your expertise
Wait, If Approved you can begin applying for jobs
Once you get a job write your work
Make edits for clients
GET PAID!
That is basically the process the key to this site is getting accepted to become a writer. It's not an easy task, but if you're a good writer and have some knowledge in a field you can make it happen!
---
How Much Money Are We Talking?
Once you become accepted you can begin to take on writing jobs. What I have found is there are multiple types of content you can write from short blog posts to tweets. Most of the short blog posts 500 words or so are paying around $20. Which compared to most writing sites is a good rate.
It really all depends on the type of content you choose to write, but I'd expect to make at least $20 for each writing assignment.
---
Scripted.com Review

Website: scripted.com
Price: FREE
Last Month I Made

$13,841 Online
I Bet You're Tired Of Making Pennies Online. No More BS. If You're Serious About Making A Full-Time Income Online You Need To See The TRUTH. Stop Wasting Your Time With The Next Big Thing When There's Already A Proven Method That Works!
Verdict: Legit
I gave Scripted a pretty good score because they are a very good high-quality content site for writers. All orders are backed and guaranteed payment if you meet the client's demands and there have a great support group if you ever have any problems.
There are some concerns that I will cover next, but overall a great site to join for writers if you can get accepted.
---
What Are the Scripted Concerns
Hard To Get Accepted
The number one concern with Scripted is the tough application process. I saw on the site that they only accept 18% of all applicants so you can see they only take top-notch writers. I understand why they do this, because they want to make sure that the content that business buy is great and worth the money, but it leaves some of us good but not great writes on the outside looking in.
I'm not a fantastic writer, but I think I can hold my own. I have turned in my application and am waiting to see if I get approved. Once I know I will update this post to give you a better understanding of what quality of writer can get accepted!
Hard To Find Information
I review a ton of making money online opportunities and one thing most of them have is an FAQ section that makes all the information easy to find. One problem I found is that it's hard to actually the little details such as payments, how much you get paid, and types of content you can create.
Lucky for you I have included all the information I have found from digging deeper into the program, but it does concern me that it's not easily available for someone looking to sign up.
PayPal Only
One thing I found while digging deep into this program is that they only pay by PayPal personally that is my preferred method of payments, but some people don't have or like the system.
If you are going to apply for Scripted.com you will need a PayPal account to get paid. No way around it.
---
Is Scripted.com Legit?
From everything I have covered in this Scripted.com review I have come to the verdict that it's completely Legit. There are some minor concerns with this program, but nothing to make this program a scam.
Of course, the big concern is going to be getting accepted into the program as a writer. What I recommend is if you do think scripted is right for you to go ahead and apply. It never hurts to try.
If for some reason you don't get approved or just feel like you don't want to sell the content you write I have a great way that you can make money creating content for yourself.
It's how I make money online and involves creating a website and writing your own content. I know sounds difficult, but I have a program that can teach you exactly how for completely free! To learn more about how I make money online and you can to visit Start Your Own Online Business.
If you're interested in freelance writing, make sure to check out 30 Days Or Less To Freelance Writing Success. It's an awesome course to learn how to start/grow a freelance writing business. For a limited time, get a copy of their free ebook: 200 Freelance Writing Niche Ideas!
I hope you enjoyed my Scripted.com Review. Make sure to share with your friends and check out the link above to find out how I make money online. Once again Scripted.com is legit so why not take your chances and apply!
Summary
Reviewer
Review Date
Reviewed Item
Author Rating