When I came across a site that pays you to draw I was pretty intrigued, so you're also probably wonder is Get Paid To Draw A Scam? I took a detailed look at this product and I believe this product is a scam, but I will let the information in this Get Paid To Draw Review do the talking.
Get Paid To Draw is a site very similar to  Paid Online Writing Jobs. Basically what this site does is give you a bit of training, show you sites that you can join where you can get paid to draw, and has a mediocre job board.
There really isn't anything about this product that can help you get paid to draw online. If you do purchase this product you will be paying for the training which isn't worth the price.
Read the rest of this Get Paid To Draw Review and I will show you why I mark this product as a scam!
---
Get Paid To Draw Review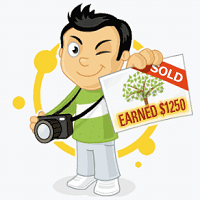 Website: GetPaidToDraw.com
Price: $74 Coupon Making It $37
Score: 25 Out of 100
Verdict: Scam
In this Get Paid To Draw Review I marked this product a scam, because I don't feel it will help you get paid to draw in any way. The information that you're paying for can be found on the internet for completely free and the list of sites you're given are free to join and can be found anywhere.
Basically you're paying for a few tips on how to get started and a list that can be found anywhere online through a simple Google search.
The job board that they include is basically dead. It's full of people looking to draw, but not anyone looking to pay people to draw, which is obviously the exact opposite of what you want!
I do not recommend this product to anyone, if you're looking to get paid to draw you can find all the information you need online for completely free!
---
What Is Get Paid To Draw?
Sales Page
Get Paid To Draw's sales page goes right along with the norm. They show a special story of a college kid who was able to make a huge income, drawing simple pictures, and being lazy. This is pretty typical to any scam sales page, because they want you to feel like it's easy, anyone can do it, and you can make a bunch of money.
Here is a screenshot explaining exactly what I mean: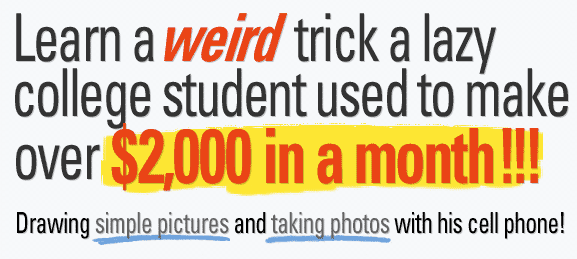 As you can see they do everything I talked about above. The fact is if you're going to make money online you can't be lazy, it's not THAT easy, and a huge income is rare and never guaranteed. These kind of claims and promises on a sales page is the first big sign that Get Paid To Draw is a scam.
Training
The training within Get Paid To Draw is pretty good. They actually do have some training on how to get started and some helpful tips on drawing for an income. Problem here is that training like this can be found for free online, and the sites you join to post drawings at all include detailed training as well.
Although the training is pretty good there really isn't a need to pay for it. If you're like me, there is no reason to pay for something when you can get it for free….legally.
List Of Sites
When purchasing this product you will be given a list of sites to join. These sites are where you will be posting your pictures and drawings for sale and use. Get Paid To Draw doesn't actually pay you for any pictures it just gives you sites where you can get paid.
Some of the sites on the list are pretty good, but there are some that have a pretty bad reputation. The big problem with this is you can find these sites anywhere online for completely free.
I wouldn't pay for this list because there are no special sites that pay more or guarantee you an income from drawing. I'd just stick with the free information you can get from a Google search.
---
Is Get Paid To Draw A Scam?
From the research I've done Get Paid To Draw is a scam. I do think making money online by drawing is a legit way to earn, but this program is not going to help you become successful at it. As you can imagine the field is very competitive and will take some work to get started in, but Get Paid To Draw won't give you a leg up.
My recommendation is if you would like to get paid to draw do a simple Google search and find some free information on sites to join. Most of these Free sites have training to help you get started.
I will say that there is not much money in drawing unless you become successful, so don't expect to have money overflowing your pockets with this method.
If you would like to see some other ways I recommend making money online visit All Scam Free Jobs.
If making a bit of side cash isn't what you're looking for check out my #1 recommendation for making money online at Start Your Own Online Business. This is how I make money online and you can get started today for completely free.
I hope you enjoyed this Get Paid To Draw Review. This product is a scam, make sure to stay away from it and take advantage of the recommendations above. If you have any questions about this product make sure to leave comments below!
Summary
Reviewer
Review Date
Reviewed Item
Author Rating