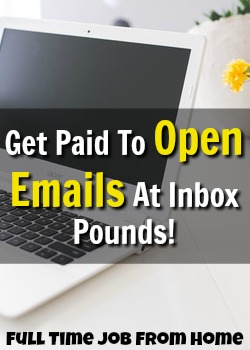 Inbox Pounds is what I like to call a rewards site. You can get paid to do things like taking surveys, open emails, and much more.
Inbox Pounds is the UK version of a site called InboxDollars, I've been using it in the US for a few years, so I thought I'd check out Inbox Pounds to see if it's a scam.
Overall, Inbox Pounds seems to be an excellent rewards site that pays and offers many ways to earn. If you live in the UK, this is a perfect extra income opportunity for you!
In this Inbox Pounds Review I'll cover how to earn, how to get paid, the complaints I have, and if this site is a scam.
---
Inbox Pounds Review
Site: Inbox Pounds

Type: Rewards
Score: 90 out of 100
Verdict: Legitimate
In this Inbox Pounds review, I gave them a good score and marked it legitimate. There're a few things that I don't like about the site, but it's a good rewards site that will pay you your earnings.
I like that they have many different ways to earn cash, including reading emails, which isn't offered anywhere else.
I wish they had a PayPal or some other automatic payment option, but they do pay, so I guess cheque will have to do.
If you'd like to learn more or to join, visit InboxPounds.com.
---
How To Earn At Inbox Pounds
Offers
There's a broad range of offers available at Inbox Pounds, but you'll earn money by signing up for free trials and other free sites. Some offers are completely free, while others require you to enter your credit card or make a purchase.
Most free offers pay .20-2 pounds, while paid offers can pay 5-15 pounds. This is the easiest way to make the most cash, but be careful doing free trials. If you don't cancel your membership you may get charged after the trial period is over.
Surveys
Inbox Pounds has an extensive list of surveys available every day. You can see the estimated time to complete, what the survey's about, and how much it pays. You do have to qualify for surveys, so just because you can start the survey, doesn't mean you'll be able to finish it and get paid.
Most surveys pay .40-3 pounds, but some do pay more.
Tasks
Tasks are usually very easy and don't take much time to complete, but the payments are pretty low. Tasks vary, but an example would be putting a list into categories or providing feedback on website design.
Most cash tasks pay from .3-.10 pence but take less than a minute to complete.
Search
Inbox Pounds has a search bar on their site, and you can set it as your default search engine. You'll earn .01 pence per 2 qualified searches with a limit of .15 pence a day (30 searches). You'll receive a .05 pence bonus every week you search at least four days.
A qualifying search is one that's done naturally. Busting out 30 searches right in a row won't earn you cash and will probably get your account terminated.
Paid Email
You'll earn .01 pence for every email you receive and confirm. All you need to do is look for emails from Inbox Pounds and click the "confirm this paid email" link inside the email.
The emails will contain a link to another site; you can usually earn .20-3 pounds for signing up for the site that links in the email.
You can expect to receive 1-5 emails per day.
Games
Inbox Pounds doesn't have games you can play for cash, but they do link to a site called GSN Cash Games. I do not recommend using this site to play games; you'll need to deposit real money into your account and compete against others to win cash.
If you do decide to play games, you'll earn a percentage back on your initial deposit at GSN Cash Games.
Refer Friends
The last way to earn cash at Inbox Pounds is by referring your friends. You can refer friends via email, social media, banners, or just copy your link and paste it around the web.
You'll receive 10% of your referrals earnings. This is the best way to generate more income, and the best part is others make cash for you!
---
How Does Inbox Pounds Pay?
After you earn 20 pounds at Inbox Pounds, you can request a payout via mailed cheque only. Checks are processed ten days after you request a payout. Checks are cut on every Wednesday so you should receive your check within 2-4 weeks after asking for a payout.
If you're a gold member (already reached the cash out once before) your payments will be processed a bit quicker.
*Inbox Pounds says that they will soon be releasing Amazon Gift Cards and MasterCard Prepaid cards as payment options soon!
---
Inbox Pounds Complaints
Slow Payments
I found that Inbox Pounds will be releasing some new payment options shortly, so this complaint may change, but for now Cheque is the only form of payment, and it's going to take over two weeks to get your payment.
Hopefully, when they release Amazon and Master Card gift cards you'll be able to get your payment instantly or within a few days. But it says it takes them 7-14 days to verify your earnings, so I'm assuming the new payment options won't be instant.
Just Some Extra Cash
Inbox Pounds is what I like to call an extra income opportunity. This site won't make you rich; you can except a 10-30 pounds monthly income, depending on how active you are on the site. If you don't think making an extra income is worth it, I'd recommend staying away from Inbox Pounds.
As long as you know that this site is just extra income you should be pretty happy getting paid to view emails!
---
Is Inbox Pounds A Scam?
Inbox Pounds is not a scam; it's a pretty good rewards site that pays UK members. I do have a few complaints about the site, but it's a great site overall. Hopefully, they will release the new payment options soon, and they will be much quicker than waiting for a cheque.
If you'd like to learn more or to join, visit InboxPounds.com to get started. You'll earn a 1 pound sign up bonus just for signing up and confirming your email!
If Inbox Pounds doesn't sound like enough cash for you, check out My #1 Recommendation. It's how I started this website and now make a much larger income online than extra income sites can give you!
Do you think Inbox Pounds is a scam? Already received your cheque? Let me hear your thoughts and experiences with Inbox Pounds below! 🙂
Summary
Reviewer
Review Date
Reviewed Item
Author Rating