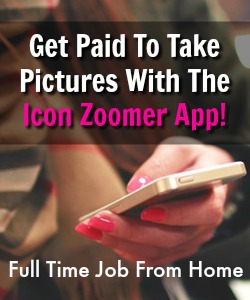 IconZoomer is an app that came out a few years back that pays you to share photos you take on your smartphone. This app is available on Apple and Android mobile devices almost worldwide.
This app is a really cool idea, but over the last few years, there's been a lot of complaints and people calling it a scam. I don't think Icon Zoomer is a scam, but it might not be the best way to earn some extra money with your smartphone.
Please understand that using IconZoomer and other extra income apps will be a tiny income if you're serious about making a full-time income online, check out My #1 Recommendation to learn how I made over $13,000 online last month!
In this IconZoomer Review I'll show you how it works, how it pays, cover complaints, and see if this app is legit or another scam!
---
How Does IconZoomer Work?
1) Join IconZoomer

You can join IconZoomer by visiting their website or by downloading the app on your smartphone. You'll need to access their website to complete you profile, but need the app to upload your photos!
2) Complete Assignments (Upload Photos)
You'll see a list of assignments that you can complete. Basically assignments are the different pictures they will pay you to upload. For example one assignment right now is show us where you've put a rug in your house.
Simply snap a photo on your smartphone and upload it to earn points.
3) Exchange Points For Cash
Every assignment you complete earns you points. These points can be exchanged for payments through Amazon, PayPal, and Donations.
---
IconZoomer Review
App: IconZoomer
Price: Free To Join
Score: 70 out of 100
Verdict: Legit, Not Highly Recommended
In this IconZoomer Review, I gave them an okay score but did mark it legit. Later in this review, I'll cover some complaints and concerns other members and I have came across with this app.
Overall the app is a cool way to earn some extra income, but there's some problems and this isn't going to give you much of an income.
IconZoomer is a unique way to earn money with your smartphone, but needs some major improvements before I highly recommend it as an app to use.
---
How Does IconZoomer Pay?
IconZoomer pays via PayPal, Amazon Gift Cards, and Donations. Points you earn from uploading photos can be exchanged for any of these cash out methods.
For most members, you'll earn 5 points for every photo you upload. Every payment method starts at 200 points and earns you 10 Euros, or roughly $11. So you'll need to upload 40 pictures before reaching the cashout amount!
If you're in the US I highly recommend using PayPal because they'll just convert the Euros to USD in your account, I'm not sure how well the Amazon gift card will work.
---
How To Earn More With IconZoomer?
IconZoomer does have a way to earn more, which naturally happens as you continue to upload more photos. There are 3 levels of members Bronze, Silver, and Gold. I've listed the requirements and benefits of each below.
Bronze Member
When you join you'll become a Bronze member. At this level, you'll earn 5 points for every assignment that you complete.
Silver Member
You become a silver member once you've uploaded and completed 26 assignments. At the silver level, you'll earn 7 points per picture instead of the normal 5.
Gold Member
Once you've uploaded 51 pictures you'll become a gold member. At gold, you'll earn 9 points per picture you submit!
As you can see if you upload pictures and complete assignments you'll naturally rise in rank and begin to earn more. You'll be Silver before you even get paid and Gold shortly after reaching the cash out amount!
---
IconZoomer Complaints & Concerns
Mobile App Limited
This is something that I noticed right away and most members have complained about. The mobile app only shows you assignments, allows you to take pictures, and see your account balance.
To fill out your profile, cash out, and see most information, you'll have to access their website. Really it's not a huge deal, but a site that's built around taking pictures on your phone should have a better app that gives you more information.
The current version of the app seems to be working properly, but there's been a lot of complaints over the last few years of the app crashing and not working. From what I can see they've made improvements and fixed the problems over that time, but something to think about for the future.
Payments
I've already covered that IconZoomer is a UK based company and pays in Euros. Really this is not a huge deal with PayPal because they just convert it to your currency, but this makes some people not trust the app.
I've never been paid by this app, but have found proof that they've made payments to US members via PayPal without any issues.
---
Is IconZoomer Legit Or A Scam?
I have to say IconZoomer is legit and scam free, but it's not a great way to make extra money with your smartphone. Yes, It's a unique and cool way, but I really hate that the app is so limited. I do like that they make payments via PayPal, but the whole Euro thing concerns some people.
I'd say if you're happy earning a few extra bucks sharing photos this might be a cool app to check out. Know that it's not going to be a large income obviously and that there have been problems with the app in the past.
If you'd like to learn more or to join visit IconZoomer or just download the app on your smartphone.
Personally, I don't use this app, but I do make extra income online with my smartphone. Check out some of the extra income apps and sites that I recommend and get paid by all the time!
If a few extra bucks isn't worth your time and you're serious about making a large online income, check out My #1 Recommendation to learn how I made over $13,000 online last month!
If earning free gift cards isn't for you, check out these helpful links:
Extra Income Sites That Pay Me Each Month
How I Made Over $13,000 Online Last Month
Work From Home Companies Hiring Now
Have you tried IconZoomer? Think this app's a scam? Let me hear your thoughts on this IconZoomer Review in the comments below!
Summary
Reviewer
Review Date
Reviewed Item
Author Rating