How To Save And Make Money With Coupons!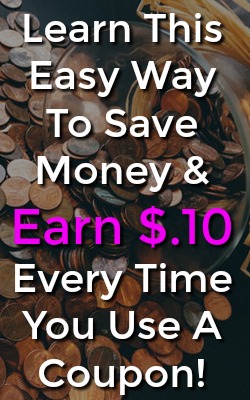 If you've been on this blog before you know I'm all about making money any way that I can but today I'd like to cover a way you can save money with coupons and also earn cash at the same time.
To do this, we will be utilizing a site called Swagbucks. Swagbucks is a rewards site that pays you to do things like shop, watch videos, visit websites, refer friends and much more. Once you earn some money, you can exchange points for 100s of gift card options and cash payments!
On this page, we will focus on how you can utilize Swagbucks to save money shopping with coupons and also earn money by cutting the coupons from Swagbucks.
Let's get started, here's an easy way to save and make money with coupons and Swagbucks.
---
How To Save & Make Money With Coupons
First, let's cover exactly how you can earn money by using Coupons from Swagbucks. Here's a step by step process.
1) Sign Up For Free + $5 Sign-Up Bonus
The first step is to join Swagbucks for free. You can do so by visiting Swagbucks.com. All new members are eligible for a $5 sign-up bonus!
2) Visit Coupon Center
Once you've joined and confirmed your email you can visit the coupon portion of Swagbucks that is powered by coupon.com. They usually have $550-$600 worth of savings available at any time.

The way it works is you clip coupons online, print them, and Swagbucks will pay you $.10 for every coupon you redeem in-store.

Last Month I Made

$13,841 Online
I Bet You're Tired Of Making Pennies Online. No More BS. If You're Serious About Making A Full-Time Income Online You Need To See The TRUTH. Stop Wasting Your Time With The Next Big Thing When There's Already A Proven Method That Works!
3) Sort and Find Coupons
Once you're inside the coupon center you can sort by category and find the best coupons available for you.

4) Clip Coupons & Print Them
Once you find a coupon you'd like to clip, just hover over it and click. The coupon will be added to the batch of coupons you'll print.

Once you're ready, click on print coupons. The site will generate the coupons, and you can easily print them to take to your local grocery store!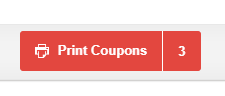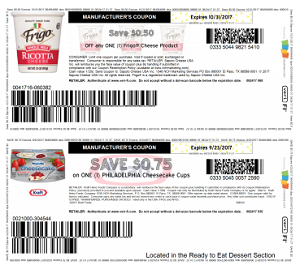 5) Shop and Redeem Coupons
Once you have your printed coupons, all you need to do is redeem them in store. Swagbucks automatically tracks the coupons that you print and will pay you $.10 for every rebate that you redeem.
6) Save Money & Earn Cash!
When you use the coupons you'll be saving money, and you'll receive $.10 for every coupon that you use. You can exchange these points for gift cards starting at $3 and PayPal payments starting at $25!
Join, Save, and Earn $5 Bonus!
---
How Does Swagbucks Pay?
Swagbucks has hundreds of gift card options to tons of stores starting at $3. They also have PayPal payments starting at $25. Once you earn $3 you can cash out a gift card, and you should receive it via email within seven days but usually quicker. Here's a screenshot of a few of the popular gift cards available: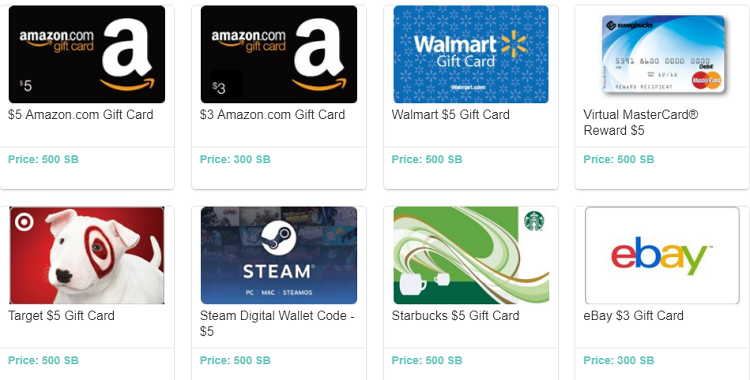 ---
Proof Swagbucks Pays
I've been using Swagbucks to make money since 2013 and have actually made over $877 using the different ways to earn. Below I've included screenshots of proof of my earnings plus proof a payment to my PayPal account!
(88,731 SB = $887.31)

Sign Up For Swagbucks and Earn $5!
---
Other Ways To Earn
Cutting coupons is not the only way to earn at Swagbucks, below I've listed some of the main ways plus how much you can earn with each method!
Shop – Earn 2%-10% cash back shopping at your favorite online stores!
Search – Occasionally earn $.08-$.25 for searching with their search bar.
Watch Videos – Earn a few cents for watching 2.5-5 minutes of videos.
Take Surveys – Earn $.50-$2.50 per 15-30 minute survey.
Visit Websites – Earn a few cents for every website that you visit!
Complete Offers – Earn $.50-$10+ for signing up for free sites and paid offers!
Refer Friends – Earn 10% of your referrals earnings for life!
---
How To Join Swagbucks
Now that you know how you can make money using coupons, that Swagbucks pays, and the other ways to earn it's time to sign-up for completely free.
At this time Swagbucks is offering a $5 sign-up bonus to all new members!
To learn more or to join, visit Swagbucks.com!
Do you know of any other ways to make money with coupons? I'd love to hear your thoughts on this easy way to earn in the comments below!
I make a full-time income online blogging. Learn how you can get started learning where I did for completely free!