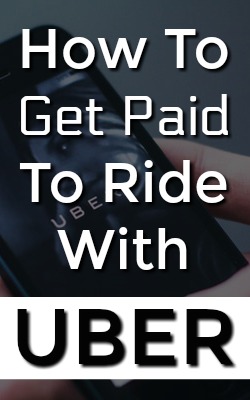 Most of us know about the opportunity to make money driving with Uber, but today I'd like to show you how you can earn money for riding with Uber!
To make this happen, we will be using a new app called Drop. Drop is available in the US and UK and pays you cash back to several leading retailers, including Uber.
Below I'll take you through the process of getting signed up and how it works. If you have any questions, feel free to leave comments below.
Keep in mind that you'll have to ride with Uber to earn any money, so this is just a way to earn some extra cash back. This opportunity won't make you rich! Make sure to check out all of the ways I make an Extra Income Online.
Let's get started, here's how to earn money riding with Uber!
---
How To Earn Money Riding With Uber
As mentioned, we will use a new app called Drop to earn money for riding with Uber. Below I've laid out the process of joining and earning when you use Uber.
1) Join Drop For Free & Earn $1
The first step is to join the Drop app for free. You can do so by visiting EarnWithDrop.com! Once you download the app, you'll earn a $1 sign-up bonus just for joining!
2) Link Your Credit/Debit Card
Once you join Drop for free, you need to link a debit/credit card. Luckily Drop automatically detects purchases you make at their participating retailers. That means once you connect your card you'll automatically earn for riding with Uber!
3) Accept Offer & Start Riding
Once you're inside the Drop app, there are several offers you need to accept before you'll earn. Make sure to choose Uber as one of your offers to be eligible for cash back. Once you accept the offer, it's time to start riding with Uber, like you usually would!
4) Earn Cash Back
As you ride with Uber, you'll earn 15 points per $1 spent. You can also earn 10-20 points shopping at other stores like Walmart, Target, McDonald's and many others.
5) Exchange Points For Rewards
Once you earn 5,000 points, you can exchange for awesome gift card rewards. Once you cash out, you'll receive your reward within a few minutes via email.
---
How Does Drop Pay?
Once you earn 5,000 points you're eligible to cash out gift cards to Starbucks, Aerie, Old Navy, Dunkin' Donuts, iTunes, Amazon, American Eagle, Gap, Nordstrom, Groupon, AMC, Banana Republic, Whole Foods, Barnes & Noble, Applebee's, Apple, JCPenney, Hotels.com, Best Buy, and American Airlines!
Once you request a gift card, it should show up via email within a few minutes of cashing out!
---
Proof Drop App Pays
Just so you know that the Drop app pays, here's proof that I cashed out a $5 Starbucks gift card: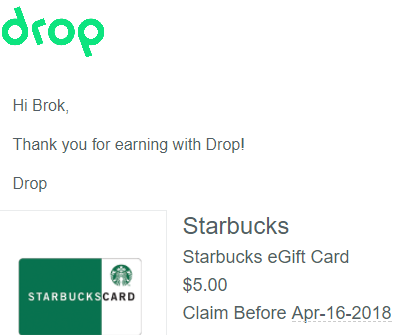 ---
Other Ways To Earn
Once you join the Drop app, you might as well take advantage of the other ways you can earn. Drop pays you cash back at several other retailers including Walmart, Target, CVS, McDonald's, and more to name a few.

All you need to do is use the credit/debit card you linked when shopping at participating retailers to earn!
---
How To Get Started?
I hope you enjoyed this guide of getting paid to ride with Uber. If you have any questions, feel free to leave comments below this post.
Getting signed up with Drop is free and easy, you can start by visiting EarnwithDrop.com to download the app.
Once you join, you'll earn a $1 sign-up bonus!
If making money riding with Uber isn't for you, make sure to check out these helpful links:
Make a Full-Time Income Blogging
Do you know of any other ways to make money with Uber? Have experience with the Drop app? Let me hear your thoughts in the comments below!