3
How To Earn Money Booking Hotels!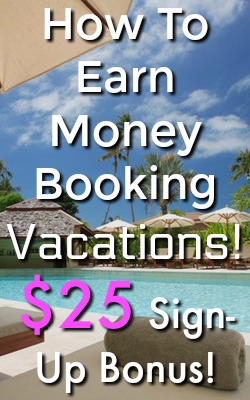 If you travel a lot, you probably spend a great deal of money on hotel stays throughout your trip. Today I'd like to cover a new app that will pay you to book hotels rooms.
The app is completely legitimate, has paid me (I'll show you proof later,) and is even offering a $25 bonus when you book a hotel through their app.
Of course, this process isn't going to make you rich, but it's an easy way to earn money back when you have to book a hotel anyways!
Keep reading to learn more about the process of getting paid to book hotel rooms.
---
How To Make Money Booking Hotel Rooms
I'm going to walk you through the process of how you can earn money back when booking hotel rooms.
1) Join Dosh App For Free – $3 Sign-Up Bonus
The Dosh app is completely free to join and use. You can join by visiting Dosh.Cash. Once you sign up, you can link a debit/credit to earn up to a $3 sign-up bonus! You'll be eligible for the $25 bonus once you book your first stay!
2) Visit Travel Tab and Enter Your Trip
Once you've signed up, visit the Travel tab inside the app. Just like most travel booking websites. They have a form where you can search where you're traveling to, the dates, and the type of hotel/room you're looking for.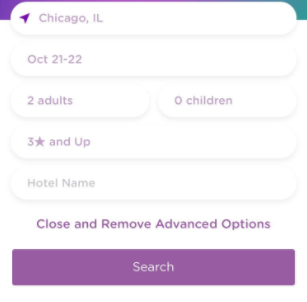 Once you enter in all of the information, just click search to see the available hotels.
3) Select From Available Hotels
I was surprised to see that you can earn cash back at most hotels. In my area I could only come up with one hotel that I knew of that wasn't available on the app. So you should have plenty of options!
Last Month I Made

$13,841 Online
I Bet You're Tired Of Making Pennies Online. No More BS. If You're Serious About Making A Full-Time Income Online You Need To See The TRUTH. Stop Wasting Your Time With The Next Big Thing When There's Already A Proven Method That Works!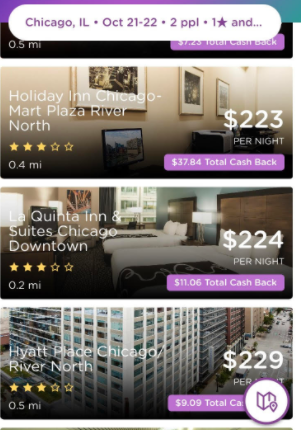 When you click search, you'll see a list of all the hotels available, how much it cost per night, and how much cash back you'll earn for booking on the Dosh app. You can easily sort the hotels by rating, price, and most cash back.
4) Select From Available Rooms
Once you select a hotel, you'll see all of the different room options, the features of the room, and how much they cost per night.
Find the best room for you and then continue to book the room.
5) Book Your Stay
Once you select a hotel and room, it's time to book your stay. You'll see the total price after taxes and fees and see the amount of cash back you'll earn!
You can easily book the stay by using one of the credit/debit cards you have linked to your Dosh app wallet.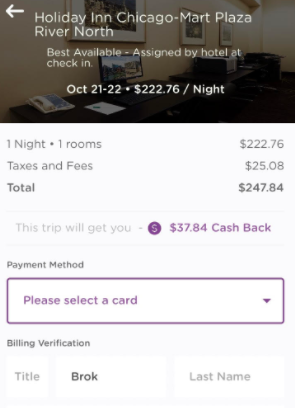 Once you book the stay through the Dosh app, the process is similar to booking a stay anywhere online. You'll receive a confirmation email with all of your booking information.
According to their FAQs, when you check in to the hotel you'll need a photo ID and the credit/debit card you used to book the stay.
6) Earn Cash Back!
Once you pay for your stay, cash back will credit in your Dosh app wallet within two business days! If it's your first booking, you'll also earn a $25 bonus!
Once funds are available, you can cash out via PayPal or Direct Deposit!
---
How Do You Get Paid?
Once you earn $15, you can get paid via Direct Deposit or PayPal. I recently cashed out via PayPal and had my money in my account within just a few minutes. I'm sure with Direct Deposit it takes at least a few days to show up!
---
Proof They Actually Pay?
Unfortunately, Dosh uses a different company to process their payouts, so the PayPal payment doesn't say anything about the Dosh app on it. With that being said, I've shown a screenshot of where I had $16 in my account, where I requested a payout, and proof I was paid $16 to my PayPal account. Hopefully, that's good enough 🙂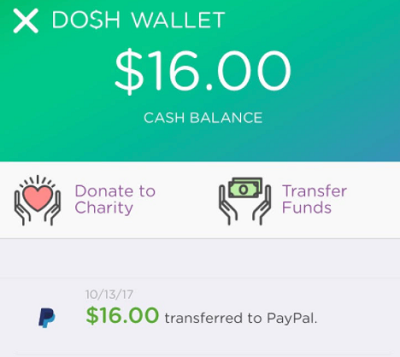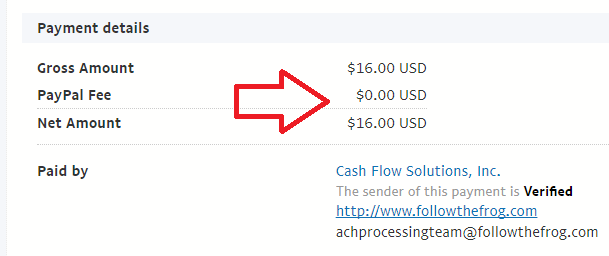 ---
Other Ways To Earn
In-Store Cash Back: Dosh pays 2%-10% cash back to popular restaurants and retailers.
Online Cash Back: Dosh pays cashback to around 100 online retailers. Most ranging from 2%-10% cash back!
Refer Friends: The last way to earn more is by referring your friends. You'll receive $5 once your friend joins, links a card, and makes their first cash back purchase!
---
How To Get Started For Free
Joining the Dosh app is completely free and only takes a few minutes to get started. You can join by visiting Dosh.Cash you can earn up to a $3 sign-up bonus once you link a debit/credit card!
Do you have experience with the Dosh App? Know of any other ways to earn money booking hotel rooms? I'd love to hear your thoughts in the comments below!