Hello Essay is a proofreading and editing service geared towards students. They offer full and part-time work-from-home editing positions for people with the right background.
With great pay and a flexible schedule, you can't go wrong with Hello Essay! In this review, I will figure out if these claims are true!
If you're interested in working from home as a proofreader, we highly recommend the course at Proofread Anywhere. It will teach you how to find long-term high-paying proofreading jobs for yourself, so you earn more than a company finding work for you. Make sure to check out their free webinar to see if it's something that's right for you!
---
Hello Essay Requirements
Hello Essay is looking for elite writers and editors with experience in diverse topics. Here are their requirements:
Native English speaking
College graduate from a top-tier university, graduate degree strongly preferred
Expertise in an area of academia or admissions (they target college admissions applicants and students, so this is important to your prospective clients)
Evidence of significant writing and editing experience
Understanding of writing nuances, terminology, and best practices
Knowledge of formatting styles such as MLA, APA, and Chicago
Knowledge of the difference between American and British English
Microsoft Word 2007 or later, or the ability to edit .doc and .docx documents
PDF reader (Adobe or Preview)
---
Hello Essay Application Process
You will start the application process by signing up with an email and password. Once you sign up, you are immediately dropped into a new page and asked to create your profile. This is basically your application.
Here's what you need to provide for your profile:
PayPal ID (If you don't have one, give them the email you will use to sign up for PayPal; if you are hired, you will be required to have a PayPal account to receive payments)
Name
Title (this is what best describes you; for example, "Former Admission Officer" is better than "Great Essay Editor")
Education (they want to know your most recent degree, but allow room for more than one degree)
Specialties (select "Academic" or "Admissions" and indicate the specialties that best represent your expertise)
Language Fluency (Hello Essay only edits in English, but they do allow for international students to provide documents in their native language, so they want to know what languages you can read fluently)
Upload a profile picture
You can tell them all about yourself in an "About me" section
Last, remember to email your resume to work@helloessay.com
---
How Much Does Hello Essay Pay?
Hello Essay pays per word, with a minimum base salary for projects that are under 1,250 words. In general, they say you should expect to earn $20 to $40 per hour. All payments are made through PayPal.
PayPal will be required to report your earnings. As a freelance position, taxes will not be withheld, and you will be responsible for them.
---
When Does Hello Essay Pay?
Hello Essay pays immediately for jobs when they are completed.
---
Hello Essay Schedule
The schedule is flexible. You can work as much or as little as you want. But it was mentioned in a review on Glassdoor that you can't rely on Hello Essay for even part-time work. Jobs pop up in the queue, and they don't sit there for long before they are claimed. You only have six hours to complete jobs, so you can only claim work when you actually have the time to complete it.
---
Hello Essay Feedback
A current freelance editor states on Glassdoor that Hello Essay is an excellent company for side freelance editing work. The online interface for finding jobs is easy, and the salaries are clearly posted.
When you have issues, the staff responds quickly.
It was stated in a review that the time limit for completing work is short. When you claim a project, you have 6 hours to complete it, regardless of the length, or you could lose the job. Even large jobs don't take six hours, but you can't take on jobs with the intention of working on them a few hours later.
Another con is that the work queue is sporadic. Some days you will get several opportunities, and then a few days could go by without any work. Jobs are claimed quickly, so you have to be paying attention and ready when jobs appear in the work queue.
I found in the FAQs that Hello Essay will try to match what the client is looking for with the appropriate editor based on the editor's area of expertise. And clients will be able to choose their editor. So there must be a mix between your area of expertise and what you see available in the queue.
---
Is Working at Hello Essay a Scam?
According to my research, I think Hello Essay is legit. It sounds like if you have the necessary skill set, you can make a good amount of money for your time. Here's the link to start the application process.
If you don't want to mess with applying for a position, you could be earning a large freelance proofreading income. Make sure to check out the free webinar at Proofread Anywhere to learn more!
If you're looking for a full-time online income and editing isn't your thing, check out My #1 Recommendation, it's how I made over $13,000 online last month!
If editing isn't for you or you don't meet the requirements for Hello Essay, check out these helpful links for some other work at home ideas:
How I Made Over $13,000 Online Last Month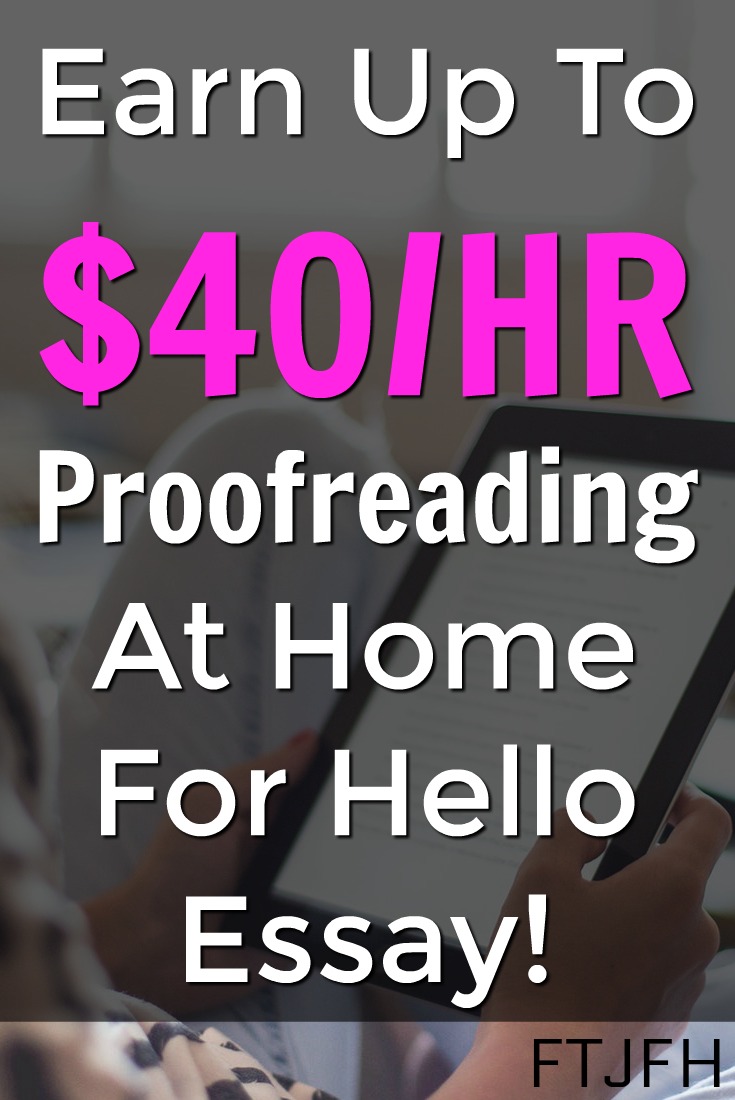 Summary
Reviewer
Review Date
Reviewed Item
Author Rating