8
Get Paid To Receive Emails At InboxDollars!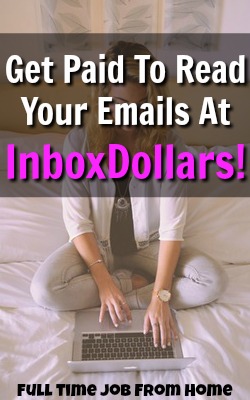 Welcome back to my series of ways to make extra income online. Today I have another way to earn cash for something you already do!
There's an excellent site called InboxDollars that will actually pay you money for opening emails. Below, I'll show you how to get started with this company and how you can make some extra cash viewing emails.
I've made around $90 on this site over the last year, so I'll also include payment proof.
For any UK readers, InboxDollars won't be available, but you can check out InboxPounds, it's the same thing!
Let's go ahead and get started, here's how to get paid to open emails.
---
Get Paid To Open Emails at InboxDollars
1) Sign Up For Free Earn $5!
The first step is to get signed up. You can do so by visiting InboxDollars.com, just for signing up you'll earn $5!
Click on "Free Join Today" and then fill out the information required to sign up. It should look very similar to the screenshot below. 🙂
Fill in the info then click "Sign Me Up"!
2) Visit Paid Email Section
There're a few ways to get paid to view emails. You can either wait for them to send you paid emails directly to the email you signed up with, or visit the Paid Email section of Inbox Dollars and view the emails.
Last Month I Made

$13,841 Online
I Bet You're Tired Of Making Pennies Online. No More BS. If You're Serious About Making A Full-Time Income Online You Need To See The TRUTH. Stop Wasting Your Time With The Next Big Thing When There's Already A Proven Method That Works!
Either method works fine. I've included an example below. All you need to do is view the email and click "Confirm this PaidEmail" to earn $.02, but you can also click the link in the email to sign up for a site and get paid more!
Just click on "Confirm this PaidEmail" to earn $.02!
3) Earn Cash Other Ways
PaidEmail is not the only way to make money at InboxDollars. You can also take surveys, complete offers, play games, search the internet, watch videos, listen to the radio, and refer your friends.
Keep viewing emails, but you can also earn more cash other great ways!
4) Get Your Money!
Once you've earned $30 you can request to get paid via Check!
---
Does InboxDollars Actually Pay?
Over the last year or so, I've earned around $90 from viewing emails at InboxDollars. I've included payment proof below with a picture of a check that I received from InboxDollars.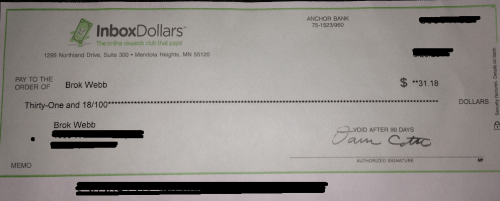 ---
How To Join InboxDollars
If you're interested in getting paid to view emails every day. You can join Inbox Dollars for free and receive a $5 sign up bonus! All you need to do is visit InboxDollars.com to get started!
Like mentioned, InboxDollars also has a UK version called Inbox Pounds which is very similar and is also a great!.
Join Inbox Dollars & Earn $5
Inbox Dollars is only extra income. If you'd like to learn how to make a much larger income online, visit how to start your own online business. It's how I was able to stop messing with extra income sites and make a large passive income online! 🙂
It does require work, so if you're not up to the task, here's some other great ways to make an extra income online.
Thank you for reading, has InboxDollars paid you for opening emails yet?