Today I'd like to share a new app called Gambeal, that's similar to apps like Ibotta, but they pay you to purchase food from restaurants instead of grocery stores. The app is fairly new and at this time only available on IOS devices, but hopefully it will expand to the Google Play Store soon.
As mentioned you'll earn cash back for eating out and uploading your receipts from restaurants. The money you earn can be exchanged for PayPal payments.
If you have any questions about Gambeal or have experience with the app, please leave comments below.
In this Gambeal app review, I'll cover how it works, how you get paid, show payment proof, and make sure it's not a scam.
No longer Recommended Please check out Ibotta or Dosh.
---
Gambeal App Review
App: Gambeal App
Type: Cash Back
Verdict: Legitimate
In this Gambeal App review, I marked them legitimate and as an app that I recommend. I've been using Ibotta for several years now, and I love it, but it requires you to buy specific items in the grocery store. With Gambeal you can get paid to eat at restaurants, and you don't have to get specific items.
All you need to do is eat at a restaurant/fast food place that fits into one of the available categories and spend $5-$10 based on that categories requirements. Once you upload a qualifying receipt, you'll earn $.25-$.75 based on the categories payout.
Once you redeem some rebates, you can get paid via PayPal, which is my favorite way to get paid!
If Gambeal isn't for you, feel free to check out these sites that I recommend that I've been paid by!
---
How To Earn At Gambeal
1) Sign-Up For Free
As mentioned, at this time Gambeal is only available on IOS but should expand to the Google Play Store eventually. Signing up is completely free and only takes a few seconds. You can visit Gamble.com or just download the app in the app store. Create an account, and you'll have access to the app in a few minutes.
2) Make Qualifying Purchases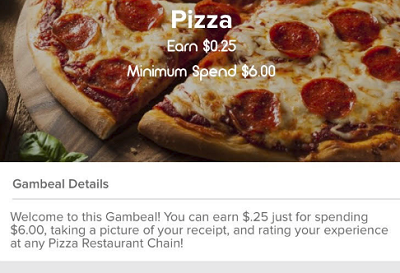 These categories may change by the time you read this, but at the time of this review, you can earn by uploading receipts in the following categories. Asian, Pizza, Burgers, Ice Cream, Tacos, Coffee, Donuts, Beer, Gas, Wine, Breakfast, Sandwich, Fried Chicken, and Grocery Stores.
The way it works is not like Ibotta where you need to purchase specific items at a particular store. You need to buy a certain dollar amount at any store in that category. For example, in the Burger category, you'll get paid $.50 to spend $5 at any burger chain. It does not matter if it's McDonald's, Burger King, etc., they both work.
3) Upload Receipt
Once you make a qualifying purchase in an available category, it's time to upload the receipt. Open the app and visit the corresponding category and click on upload receipt. Allow access to your camera and take a picture of the full itemized receipt. If it's a long receipt, you can take multiple pictures.
Once you're satisfied with the pictures, submit the receipts for approval. Within 24 hours, usually much quicker, you'll get a notification that your receipt is approved, and funds are available for cash out.
4) Share Experience
Next, you'll be asked to share your experience. It wants you to answer if you'll return and write a few words about how it all went. Once you're done the process is over and you can choose to share with your friends if you'd like!
5) Repeat Until You Reach Cash-Out Amount
Repeat this process with other receipts until you earn $20, at that point you can cash out via PayPal!
---
How Does the Gambeal App Pay?
Once you earn $20 by uploading receipts in the Gambeal app, you can request a payout via PayPal. Within 48 hours, usually, much sooner, Gambeal will approve your cash out and send money directly to your PayPal account.
*At this time you can enter any PayPal email so if you sign up with a different email, it's no big deal.
Below I've included payment proof of my latest payment from Gambeal: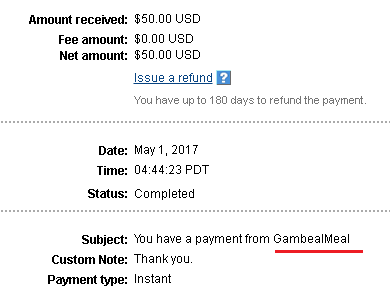 ---
Is the Gambeal App a Scam?
In my opinion, the Gambeal app is not a scam. I've been using the app for awhile now and have been paid, which I included above. I really like that this app pays you to buy anything in one of there categories and most of rebates have to do with eating out. If you have any questions about this app, please let me know! If not you can join by visiting the link below!
If you'd like to learn more or to join, visit Gambeal.com to get started with the app for free!
If you'd rather wait until you see payment proof I understand, here're some of the other extra income sites I highly recommend.
Extra income not enough? Check out My #1 Recommendation to learn how you can make a much larger income online!
Do you have experience with the Gambeal App? I'd love to hear your thoughts on this review in the comments section below!
Summary
Reviewer
Review Date
Reviewed Item
Author Rating