ExtraBux.com is an online cash back shopping portal, similar to a site called Ebates that you've probably heard of. Extrabux offers cash back to over 2,500 online stores.
Getting paid cash back on your online purchases is not a new concept, and there're many cash back shopping portals out there. Just like any other sector, not all the sites are created equally.
In this Extrabux review, I'll cover how it works, how to get paid, the things I liked, my complaints, and if this cash back shopping site is a scam!
---
ExtraBux Review
Site: ExtraBux 
Type: CashBack
Verdict: Legitimate
In this ExtraBux review, I marked it legitimate. It's a completely scam free site that does pay you for your online shopping, but I have to say it's not my favorite cash back shopping portal.
You'll see later in this review, that you have to wait 90 days before your cash back is approved. It's a long time to wait compared to some other sites.
Overall, Extrabux is legitimate and a pretty good cash back portal, but I prefer Ebates & Swagbucks over it.
---
How Does ExtraBux Work?
1) Join ExtraBux For Free, Earn $5
The first step is to join ExtraBux. It's completely free to join, and you'll never have to pay to get cash back from them. When you join through this link: ExtraBux.com you'll earn a $5 sign up bonus once you complete you first cash back purchase.
They make it easy to join through email or Facebook.
2) Find Your Favorite Stores
ExtraBux offers cash back to over 2,500 stores. You can browse stores by category or just search for a store/product you're looking to buy.
Once you find the store, you'd like to shop at, visit the link through ExtraBux. A new tab/window will open with the store of your choosing.
3) Shop Normally At Your Favorite Store
Once you visit the store, you can shop normally. Feel free to visit multiple pages of the website and browse items. When you're ready, add the items to your cart and complete check out as normal.
4) Earn Cash Back
Once you complete checkout, you should send cash back show up on your account as pending within 48 hours of purchase. If you don't, you can contact them to get it resolved. Cash back stays pending for 90 days after you can cash out once you earn $10 in cash back.
---
How Does ExtraBux Pay?
Once you earn cash back, it's pending in your account for 90 days. After the 90 days, it's available for cash out. You can cash out your earnings once you earn $10 or more. You can choose to get paid via PayPal or mailed check. PayPal payments should show up within 48 hours of cashing out.
*Some countries have additional payment options.
---
ExtraBux Payment Proof
After a few months of shopping, I was able to earn enough cashback to cash out. Below you can see proof of a $25 Amazon gift card that I cashed out.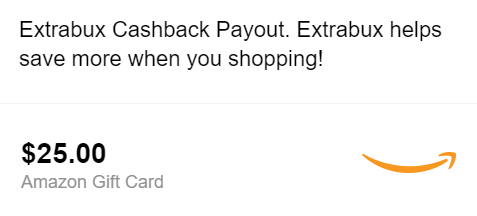 ---
ExtraBux Invite Friends Program
The easiest way to earn more at ExtraBux is through the invite friends program, otherwise known as refer a friend. Extrabux gives you your own link to share with your friends. You'll earn $5 for every friend that joins and makes a purchase. You'll also earn 5% of your friend's cash back earnings for life.
Just for signing up through you, your friend will earn $5 when joining. You can sign up now by visiting ExtraBux.com you'll earn $5 for signing up through me!
---
ExtraBux Browser Extension
One way to make sure you're always earning cash back is by taking advantage of the ExtraBux Browser extension. It's an easy to install extension that notifies you that you could be earning cash back when you visit an online store.
When you visit an online store, you'll get a notification that you could be earning cash back. As long as you accept it and make a purchase, you'll still earn cash back, even though you didn't visit through ExtraBux first.
If you decide to use Extrabux, I highly recommend using the browser extension to never miss a cash back opportunity.
---
ExtraBux Complaints
Long Wait For Payments
I wish that you could get paid by Extrabux quicker. They require you to wait 90 days before cash back is approved. Sites like Swagbucks only require you to wait 30 days.
Luckily, once you earn $10 and wait the 90 days, you can cash out rather quickly.
Cash Back Not Approved
You'll see this with all cash back websites, but there seems to be some complaints about not receiving cash back. It shows up as pending on their account but is never approved and according to the complaints the support was not helpful.
After researching, there're not many complaints like this, but you should know a few people have had this issue.
---
Is ExtraBux A Scam?
ExtraBux is a legitimate cash back shopping portal. They offer cash back to over 2,500 stores and have decently high cash back rates. With that being said, I wish you did not have to wait 90 days to get cash back approved.
If you'd like to learn more or to join, visit ExtraBux.com to get started.
ExtraBux is pretty good, but here's a long list of other cash back portals that I recommend over ExtraBux.
Earning cash back for your online shopping is great, but what about in-store shopping? Make sure to download the Ibotta app to learn how you can get paid cash back for grocery shopping.
Extra income not enough? See how you can start a profitable blog with My #1 Recommendation for completely free!
Think ExtraBux is a scam? Have more information about this legitimate cash back website? I'd love to hear your thoughts on this review in the comments section below! 🙂
Summary
Reviewer
Review Date
Reviewed Item
Author Rating