Enago has been providing editing, translation, and publication services since 2005. They operate globally and have helped researchers produce better publications in over 125 countries. Enago is currently looking for freelance editors in the areas of medical and life sciences, physical sciences and engineering, economics and business management, and arts and social sciences.
These freelance positions won't be for everyone. Enago contracts highly educated and experienced freelance editors. In this review, I will cover the requirements, application, pay, and schedule.
If you lack editing experience, you may be interested in the course at Proofread Anywhere. It's a course that teaches you how to work at home and find clients for high paying editing jobs. Make sure to check out their free webinar to see if it's right for you!
Editing is a great way to make money online, but I prefer a different method to make a passive income online, check out My #1 Recommendation to learn how I made over $13,000 online last month!
---
Enago Requirements
Enago looks for editors with the following qualities:
They want people who are proficient in English
Are good at editing, restructuring, and perfecting articles that have been written by non-native English speakers
They want editors who have 5 or more years of relevant academic editing or proofreading experience
They also look for people with extensive subject matter expertise
Here are some other qualities they like to see:
Master's, Ph.D., or postdoctoral research experience
Having certificates or experience in academic editing, publishing, scientific communications or journal article writing
Experience editing English as a second language manuscripts
They prefer to see knowledge of academic writing styles (APA, CMS, AMA, CSE, and IEEE)
They love to see members of noteworthy editing and publishing associations (EFA, EASE, and BELS)
Enago editors are responsible for the following:
Perfect grammar, punctuation, word choice, and sentence structure
Proper flow, transition, terminology, coherence, and correctness of the content (this is why they look for subject matter experts)
Manuscript format that conforms to academic writing conventions (citation style, layout, and headings)
Ensuring that the authors' intentions are kept intact even when making extensive revisions
---
Enago Freelance Editors Needed for these Subjects
Life Sciences – Within the life sciences area, there are 14 different subjects:

Agriculture
Biochemistry
Bioengineering
Biosciences
Botany
Genetics
Microbiology
Neurosciences
Pathology
Zoology
Environmental Biosciences
Forensic Sciences
Pharmaceutical Sciences
Social Biosciences

Physical Sciences and Engineering – Within the physical sciences and engineering area, there are 12 subjects:

Astronomy/Astrophysics
Chemistry
Computer/Information Sciences
Earth Sciences
Energy and power
Engineering
Environmental Sciences
Material Science and Engineering
Mathematics
Physics
Statistics
Systems Science

Economics and Business Management – Within economics and business management, there are 3 subjects:

Business Management
Economics
Finance

Arts, Humanities, and Social Sciences – Within the arts, humanities, and social sciences, there are 9 subjects:

Education
Humanities
Law
Library and Museum Studies
Media/Communication
Philosophy
Psychology
Recreation and Sports
Social Sciences

Medical and Clinical Sciences – within the medical and clinical sciences area, there are 7 subjects:

Dentistry
Medicine
Alternative Medicine
Health Management
Nursing
Obstetrics and Gynecology
Rehabilitation Sciences
---
Enago Application Process
If you want to apply for a freelance editing position for any of the subjects listed above, go here to complete the application.
The Enago website says you can join their freelance team in 3 simple steps:
Submit the application from the link above
They'll send you a sample test, designed to test your skills and expertise in the subject
If you pass the test, you will receive a contract, a freelance agreement, the Enago terms of service, and any other relevant documentation
Here's what you'll be asked in the application form:
Name and contact info
Year of birth (not marked as required)
Country of residence
Native language
Education
Experience
Years of academic editing experience
Any publication, journals, or editing companies you've worked for
Subjects you have edited
List your fees in US Dollars for 1000 words for copyediting and substantive editing
The number of words you can edit for Enago (words per week)
How many hours you are available each day (looks like 3 hours is the minimum they are looking for)
Why are you applying at Enago
What type of editing are you applying for (copyediting, substantive editing, developments writing/editing, or peer review journals)
Upload your resume in Microsoft Word
---
How Much Does Enago Pay?
It sounds like Enago doesn't pay very well. You can see the feedback below for more comments about pay. I didn't find any other information about how much they pay, by what means, or how often.
---
Enago Schedule
On the application, you will select how many hours you can work per day: 3-5 hours, 5-7 hours, or more than 7 hours. You can also choose if you are looking for full or part-time. Obviously, you need to complete your assignments on time. But in general, your schedule should be what you want it to be.
---
Enago Feedback
They have a ton of editor feedback all over their website. Of course, since they've published it, they probably wouldn't include any negative comments. But there is quite a bit of positive feedback.
Glassdoor reviews are a little less favorable. Here are the pros and cons.
Pros:
Flexible work you can do from anywhere
Interesting topics you can learn about
Cons:
Difficult to advance
Low rates – someone said they spent 45 minutes proofreading and filling out paperwork for a project, and only received $1.36
One reviewer said they felt exploited by the way their credentials are displayed on the website to drum up business
Complaints of lots of useless paperwork
One claimed to receive $6 to edit 1000 words, and never received a raise
Someone claimed to miss one comma in a 70,000-word document, and all payment was withheld
Non-native English speakers conduct audits
Someone was fired for subpar performance; when asked for the audits, was told they are confidential
---
Editing for Enago a Scam?
Based on my research, Enago is not a scam. Having said that, I would be cautious based on the Glassdoor reviews. But if this is your thing and you're qualified for it, here's where you go to get started.
It seems that you'll need to meet some serious qualifications at Enago and even if you can, pay seems pretty low. I highly recommend checking out the course at Proofread Anywhere. The course will teach you how to start your own online proofreading side gig, which usually means much higher pay because you take out the middle man! Make sure to join their free webinar to learn more!
If editing isn't your thing, check out these helpful links for some other work at home ideas:
How I Made Over $13,000 Blogging!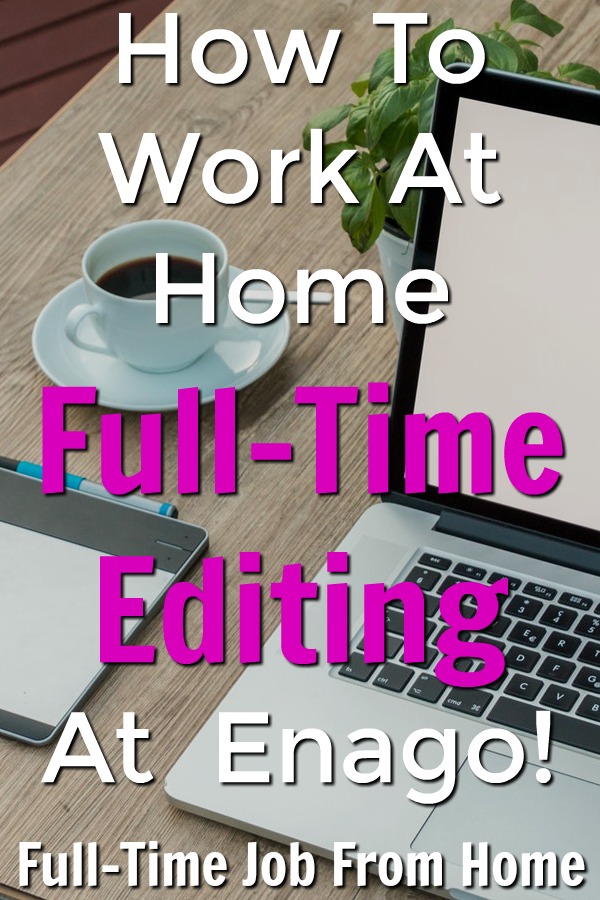 Summary
Reviewer
Review Date
Reviewed Item
Author Rating