OutSec is a British based online secretarial company. OutSec secretaries do a variety of typing and transcribing for their clients. They're looking for people who can work daytime hours in the UK. If you're in the US working a day job and want something extra, you can do this in the early morning before you go to work.
If you're interested in getting paid more to transcribe, I highly recommend the course at Transcribe Anywhere! Make sure to join their free 7-day course to see if transcribing from home is right for you!
In this OutSec review, I will cover the requirements, application process, pay, and if it's a legitimate opportunity.
---
OutSec Requirements
OutSec is currently only accepting applications from people who can work during office hours in the UK. The United Kingdom is 6 hours ahead of the Central time zone in the United States. So you would need to be available between the hours of approximately 2:00 AM and 11:00 AM. Preference is given to people who have at least 4 hours of availability, Monday through Friday. Here are the other things they look for in applicants:
They prefer you to have a minimum of 2 years of typing experience
You should have a specialty in one of these areas: property (surveying or real estate), legal, medical, financial)
You should have a minimum typing speed of 70 words per minute
You'll need to provide references from 2 employers
You need to fully know the English language
Previous experience working in an office setting in the UK will be an advantage
You must be willing to sign a Confidentiality Agreement as well as a Code of Professional Conduct and Business Practices Statement
You need a computer with Windows XP, 7 or 8
You'll need reliable Internet access that you can use the entire time you are on shift
You need Microsoft Word 2002 or newer
You will need to install Java applet to access the OutSec interface
You can operate Macs
Your computer needs to have a sound card and speakers
You'll need quality headphones for transcription
You'll need to have a transcription program which allows playback of sound files while using a foot pedal (they recommend the Olympus AS4000 Pro Release 4 – it's pricy but comes with everything you need to transcribe. Don't purchase anything unless you are contracted to work for them!)
Other programs will work – just make sure you can play .dss and .wav files
---
OutSec Application Process
If you're interested in typing for OutSec, go here first to check the vacancies. If you want to apply, follow the link to the application form, or go here. Here's what's on the application:
Name, email, address, phone
Educational qualifications ('A' Level, which means advanced level; 'O' level, which means ordinary level)
What secretarial qualifications do you have
What additional qualifications do you have
What is your typing speed (you can do a free 60-second test here)
What is your availability
Do you currently work for any other transcription company
Do you already own the transcription equipment that will be necessary
If so, give them the information about the equipment that you have
Do you have a computer with broadband internet
What operating system do you have
What specialty typing experience do you have
Are you familiar with any accents
Current and previous employment information
Provide information for 2 references
If your application is successful, you will hear from OutSec within 14 days. If you don't hear from them, then you were not successful at this time. They receive too many applications and can't respond to everyone.
---
How Much Does OutSec Pay?
I haven't found an actual number yet, but they know "if you pay peanuts, you get monkeys!" OutSec is confident that their pay structure is very competitive. They have a standard formula, so you always know how much you will be paid per audio minute.
---
When Does OutSec Pay?
You will not be an employee, rather a "member." You will invoice OutSec at the end of each month. OutSec makes a monthly direct deposit payment to UK-based typists on the 15th of the month, from the previous month's invoice. All other typists will be paid by PayPal with the exchange that is equivalent to UK Sterling.
---
OutSec Schedule
OutSec Members submit a form weekly that outlines their availability for the following week. Clients will be chosen for you based on appropriate skills and availability. You will be trained to work with that client. Then when the client has work to be done, the head of your department will notify you that there is work available.
OutSec is based in the UK, and they need people to work UK "office hours." But they want people from around the world, as long as you can work when needed. Preference is given to people who can work 4 hours during the UK office hours.
---
OutSec Feedback
I'm not finding any job reviews for OutSec. I hate when I don't hear real feedback! What I did find is that they have a small presence on LinkedIn. And they are verified by Google along with an address and phone number.
On Google, they have a five-star rating, but all of the reviews are from clients. Either way, seeing that they are making clients happy is always a great sign!
---
Is Typing for OutSec a Scam?
Based on my research, OutSec is not a scam. If you qualify, the application should be quick and easy enough to find out what they are offering to pay. If you want to apply, go here to get started! If you've worked for OutSec, please post a comment and tell us what you think.
If typing isn't for you, check out these helpful links for some other ideas: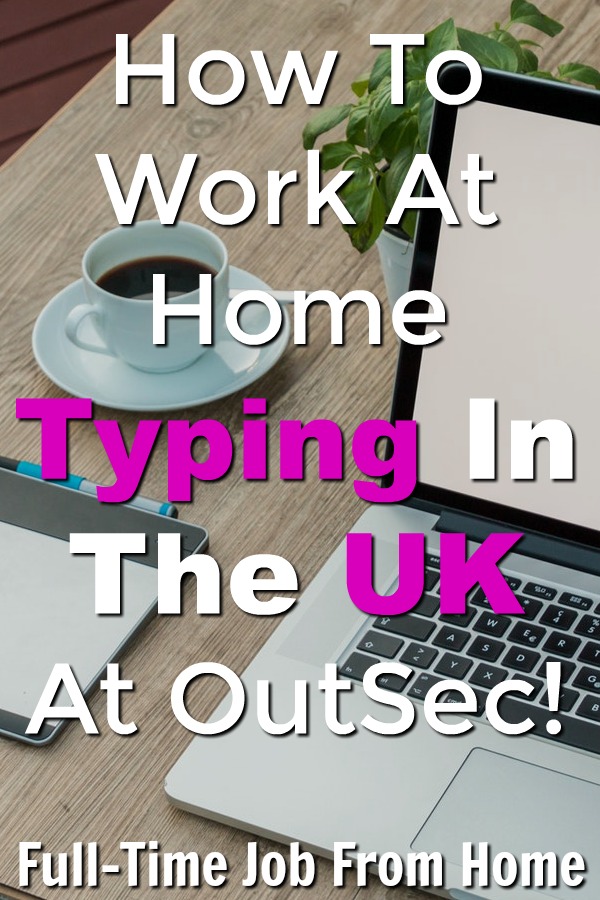 Summary
Reviewer
Review Date
Reviewed Item
Author Rating